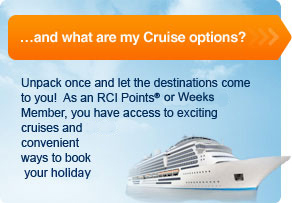 NEED MORE INFORMATION?
For advice about your Membership and guidance on how to use your Points, RCI® Reservation Consultants are ready to help.
call 1300 368 0800 (AU)
or    0800 368 800 (NZ)


The ways you can enjoy great cruises with RCI are as follows:
1. Exchange your Points or Weeks towards the purchase of a cruise holiday

Exchange your Weeks, Points or Credits towards the purchase price of a cruise and save up to $1800 per cabin. With just one Cruise Exchange, members can save on up to 4 cabins, allowing them to share the savings with friends and family holidaying on the same cruise.*
Cruise holidays open up a brand new world of holidaying uniting the best of resort and touring holidays. Cruises are one of the most economical ways of holidaying. Combining a relaxing journey and amazing destinations with all-inclusive meals, entertainment and accommodation, means a little less strain on holiday budgets. And the added benefit of Cruise Exchange stretches holiday dollars even further.*
To search for your dream cruise holiday, click here »
2. Purchase a cruise at RCI member-only special rates

Choose from thousands of cruise holidays at great rates! When purchasing a cruise for cash, you can travel any time, only subject to availability and do not exchange any Points or weeks.
For more information, click here »