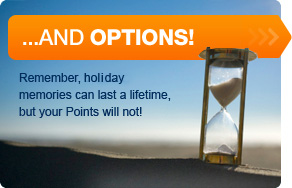 So many options!
Who do i call?
From advice about options to guidance on how to use your Points, RCI Reservations Consultants are ready to help.
call 1300 369 476 (AU)
or&nbsp&nbsp&nbsp 0800 569 476 (NZ)
Weekdays from 7am - 7pm
Weekends from 7am - 1pm
(Local times for Eastern Standard Time) Additional Contact Details

How helpful was this Points to Remember page?

Option 1:

Exchange your Points

Why let your Points expire, when you could exchange them for a great holiday at an RCI® affiliated resort?
The RCI Points® program gives you the flexibility to take a full week or just a few days - whatever is available that suits your schedule!
Option 2:

Send a friend on a holiday!

Do you have Points you are unable to use?
When you purchase an RCI Guest Certificate, friends and family can enjoy a great RCI holiday as a gift from you.*
Option 3:

Extend your Points!

Points which you do not use within one Use Year are automatically saved into a second Use Year.**
Need more time? For a small fee you can extend your Points for a third year.
Option 4:

Transfer your Points!
If you do not plan to use your Points, you can transfer them to another RCI Subscribing Member, which is FREE!†