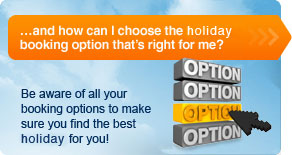 NEED MORE INFORMATION?
For advice about your Subscribing Membership and guidance on how to use your Points, RCI Reservations Consultants are ready to help.
call 1300 369 476 (AU)
or&nbsp&nbsp&nbsp 0800 569 476 (NZ)
Weekdays from 7am - 7pm
Weekends from 7am - 1pm
(Local times for Eastern Standard Time) Additional Contact Details


As an RCI member, you have three main holiday booking options, which provide you with more choices and increased flexibility. Here's an overview of each holiday booking option…
What is an Exchange Holiday?

An RCI® Exchange Holiday is the result of exchanging your Points for a holiday at an RCI affiliated resort. You can choose to return to your home resort, a resort in your home group of resorts, or select another available resort from a choice of thousands, based on your available Points. With the RCI Points program you can select the size of accommodations to suit your needs, and you have the flexibility to make reservations in nightly increments – you don't have to book a full week. In any Use Year, you can take as many Exchange holidays as your Point balance will allow.
For details and a tutorial on how to find your perfect Exchange holiday on RCI.com, click here >>
What is a Holiday Rental?

A Holiday Rental gives you access to the timeshare resort holiday experience you've come to expect, without exchanging your Points. You can purchase a week at the available destination of your choice, and choose from thousands of options at fantastic everyday low pricing. Remember, you can still book Holiday Rentals regardless of whether you have Points remaining in your account.
For more detail on Holiday Rentals, click here >>
RCI Points subscribing members can also purchase Nightly Stays at RCI affiliated resorts for stays of less than 7 nights. For information and availability, please call 1300 369 476 (AU) or 0800 569 476 (NZ).
Something to note! – There is no limit to how many holidays you can take each Use Year. Even if you have used all your Points, you can take as many Holiday Rentals as you like!