NEED MORE INFORMATION?
For advice about your Subscribing Membership and guidance on how to use your Points, RCI® Holiday Guides are ready to help.
call 1300 369 476 (AU)
or&nbsp&nbsp&nbsp 0800 569 476 (NZ)
Weekdays from 7am - 7pm AEST
Saturday from 7am - 1pm AEST
Additional Contact Details
Poll
How helpful was this
Points to Remember page?
The RCI Points® program provides subscribing members with a flexible way to exchange their holiday time for time at other resorts around the world. Your holiday Week is assigned a Point value, depending on a range of factors, such as:
Supply and demand at that resort
The type of unit you own
The season in which you own
Evaluations from members who have stayed there
This Point value is the number of Points that you are allocated each Use Year to exchange for holiday time at a choice of over 4,000 resorts in approximately 100 countries!*
How does it actually work?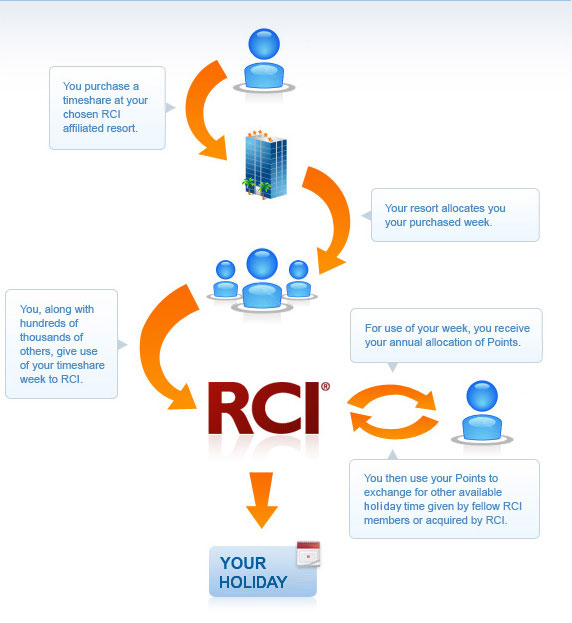 Ultimate Flexibility!
RCI Points membership offers so much more than a traditional Week-for-Week exchange system:
Flexibility: You decide where and when to travel and the size of your accommodations based on availability and the number of Points you have.
Nightly Availability: In addition to exchanging for full Weeks, you can also book available short breaks ten months in advance of check-in, even if you only need to stay for one night.
Save & Borrow: Use your holiday ownership your way, by Saving Points to the following Use Year, and even Borrowing Points from the next Use Year.
Other Exchange Options: As an RCI Points subscribing member, you also have the flexibility to exchange Points toward the purchase of thousands of Cruise holidays. Through the RCI Points Partner program you can also exchange a portion of your Points for discounts on products such as airfare, hotel stays, rental cars, and more.
Even more ways to get away!
Used all your Points or want to save them for next year? No problem! With Extra HolidaysSM getaways and Last CallSM holidays you can purchase a Week from a choice of thousands of resorts, without having to use your Points. And with the Best Price Guarantee, you can always book Extra Holidays getaways with confidence.1
For more information on what are Holiday Rentals?, click here »
Something to Note! – With the RCI Points program, you're not limited to one exchange holiday per year. If you have sufficient Points, you can take as many holidays as you like!