Finland
---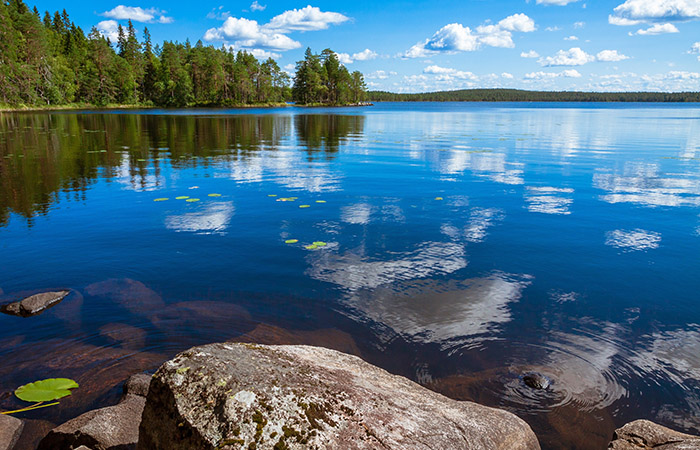 There are few countries like Finland. Certainly not many places in the world can lay claim to thousands of miles of lakes and awe-inspiring natural phenomena like the Midnight Sun and Aurora Borealis. Finland has this and so much more.

The north of the country is home to some of Finland's most thrilling adventures. From October through to April it truly is a winter wonderland with an exciting range of activities from skiing to snow safaris, skating, snowmobiling and wilderness barbecues.

The Arctic outer reaches encompass Finnish Lapland where winter brings long hours of twilight. It's to this mystical frozen wonderland that thousands flock before Christmas each year to meet Santa Claus.

Later in the season, Finland's skies fire up with a multicoloured blaze of light as the Northern Lights, or Aurora Borealis, take hold. This incredible natural event is created by the collision of atoms with energy-charged particles in the high altitude atmosphere and sends green, pink, blue and red light shooting across the night sky.

As spring blooms over Finland the country wakes to bright, sunny days graced by the season's flowers. This is the perfect time to explore the Lakeland region, a hilly, forest-covered plateau at the centre of the country created by glaciers. It's home to more than 187,000 lakes, which are a perfect playground for swimming, boating and fishing.

The region's capital Jyväskylä sits at the crossroads of three major waterways and is home to the world's greatest array of functionalist buildings by renowned architect Alvar Aalto.

Finland's cities are exhilarating places to visit and many have been awarded European Capital of Culture status in recent years.

Take Helsinki, a capital that mixes trendy bars with contemporary art galleries and museums, while the archipelago that surrounds it has hundreds of tiny islands creating an idyllic place for cruising. An unmissable sight is the stunning old sea fortress of Suomenlinna, which now houses museums, restaurants and theatres.

Sitting between two lakes, Tampere is one of its up and coming cities. It has an industrial past but now many of its old commercial sites have been transformed into bars and restaurants. It also benefits from a beautiful cathedral and a host of picturesque churches.

Modern Turku on the south west coast was rebuilt after fire destroyed much of the city in 1827. Thankfully it still enjoys some history with a castle dating back to the 1280s – one of its most visited sights.

Travel to Finland is becoming increasingly easier with flights to Helsinki from most major European airports. From there internal flights are available to Tampere, Rovaniemi, Turku, Kuusamo and other main towns and cities.

Driving in Finland is easy as it has a good road network and all hire cars are fitted with snow tyres. There's also an extensive rail network running across the country, and even stretches into the outer reaches of the north.