France
---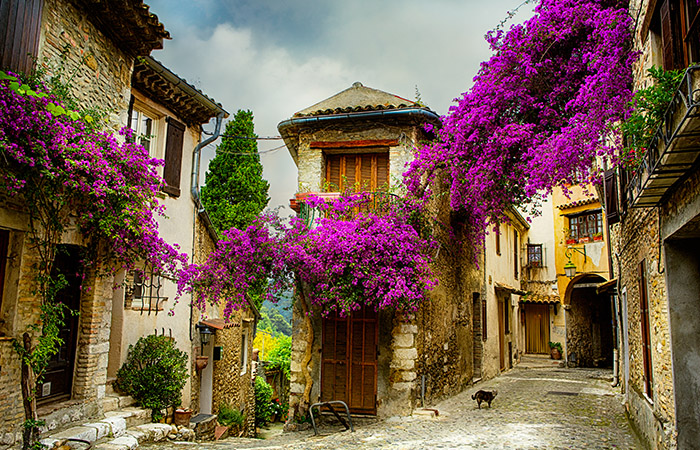 As diverse as it is beautiful, France promises much and always delivers. It's a country for all tastes – after all the French are known to have a natural joie de vivre and savoir faire.

Foodies need look no further, nature lovers have a year round destination, beach and sun worshippers are spoilt for choice, walkers and outdoor enthusiasts have the Alps and Pyrenees, those seeking rural relaxation have Provence, Languedoc-Roussillon and Dordogne to name but a few. And for couples? Well, this is the home of romance.

France's gloriously long coastline takes in Charente and Vendée with 160 kilometres of sandy beaches backed by pine forests. Inland, you'll find expansive vineyards, great restaurants and the renowned theme parks of Puy du Fou and Futuroscope. The area also has many towns which have preserved their old world charm, with narrow, cobbled streets and a host of unusual buildings. One example is Cognac, which lends its name to one of the world's leading brandies, and here you can watch it being distilled.

In the south, Languedoc-Roussillon borders the Mediterranean Sea and the Pyrenees. The area has spectacular beaches, the Camargue and Cevennes wildlife reserves, delectable mountain views intertwined with rivers and lakes, and castle crowned towns playing host to thermal springs and spas. But it is also a region rich in prehistory where you can see dinosaur bones and eggs, and even prehistoric human remains.

The Dordogne is home to more than 1,500 castles, including Château des Milandes in Castelnaud-la-Chapelle where entertainer Josephine Baker once lived. Even more impressive are Château Monbazillac, Château Lanquais and Château Bannes.

On the Dordogne River, the old town of Bergerac has lovely medieval half timbered streets leading to quaint squares humming with open air cafés. Bergerac is an important area for wine and the beautiful 12th century cloister housing Maison de Vins de Bergerac has an excellent wine exhibition.

One of France's most striking regions, Provence has a serenity as well as array of attractions to delight all visitors. Here medieval villages huddle among fields of lavender and meadows sit at the base of towering mountains.

Once again, history plays its part in its landscape. Avignon is a beautifully preserved medieval town surrounded by original fortified walls that sits on the River Rhône.

The old town of L'Isle-sur-la-Sorgue also makes a lovely day out. The 'Venice of Provence' is a maze of canals and river branches dotted by giant plane trees, water wheels, antique shops and markets.

The capital Paris is also packed full of fascinating history and landmarks that are familiar the world over, including the iconic Eiffel Tower, Louvre, Arc de Triomphe and Champs-Élysées. All are must-sees on any visit, but for a taste of the real Paris, take a detour down one of its side streets to watch the world go by from one of its many cafés and bars.

Finland's cities are exhilarating places to visit and many have been awarded European Capital of Culture status in recent years.

Take Helsinki, a capital that mixes trendy bars with contemporary art galleries and museums, while the archipelago that surrounds it has hundreds of tiny islands creating an idyllic place for cruising. An unmissable sight is the stunning old sea fortress of Suomenlinna, which now houses museums, restaurants and theatres.

Sitting between two lakes, Tampere is one of its up and coming cities. It has an industrial past but now many of its old commercial sites have been transformed into bars and restaurants. It also benefits from a beautiful cathedral and a host of picturesque churches.

Modern Turku on the south west coast was rebuilt after fire destroyed much of the city in 1827. Thankfully it still enjoys some history with a castle dating back to the 1280s – one of its most visited sights.

Travel to Finland is becoming increasingly easier with flights to Helsinki from most major European airports. From there internal flights are available to Tampere, Rovaniemi, Turku, Kuusamo and other main towns and cities.

Driving in Finland is easy as it has a good road network and all hire cars are fitted with snow tyres. There's also an extensive rail network running across the country, and even stretches into the outer reaches of the north.