TATOC (The Timeshare Association)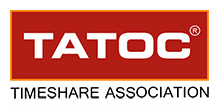 The Timeshare Association (for timeshare owners and committees) or TATOC for short, has a mission: To safeguard and enhance the timeshare holiday experience for existing and prospective users and to be the voice of owners. And it is delivering.
Formed in 1989, TATOC is run by timeshare owners for timeshare owners and is today a powerful organisation, with 92 resort members throughout Europe, representing thousands of timeshare families. It works on behalf of owners residing throughout Europe and who own anywhere in the world, though its remit is growing as it becomes increasingly global.
It has established a range of initiatives to fulfil that mission, including a Resort Accreditation Scheme based on the provision of excellent timeshare holiday experiences, and Timeshare Codes of Conduct and Practice that its members must adhere to.
A highlight achievement was the launch of a Consumer Helpline in 2008, which now receives more than 45,000 calls and emails every year. It has helped consumers to either recover, or avoid losing, around £5 million in that time.
The good news is that complaints account for only three per cent of calls – the majority are simply enquiries for guidance on how to use timeshare ownership.
An increasing number of calls are about resale companies and TATOC has launched a 'Don't deal with cold callers' campaign to combat fraudulent companies operating in this area.
Visitors to the organisation's website (www.tatoc.co.uk) will find general advice and a list of reputable resale companies, all of which have committed to TATOC's consumer-focused Resale Code of Practice and have been examined to ensure compliance with the Code.
The organisation regularly advises the European Parliament and the UK Government on industry matters, as well as working with the police, solicitors, Trading Standards, Citizen's Advice Bureaux and banks in consumer matters.
TATOC's primary purpose is to safeguard the quality of the timeshare ownership experience and the future of the industry by developing strong working relationships with all the parties involved – RDO, individual owners, owners' committees, developers, management, exchange companies and more.
TATOC's annual conference uniquely brings all these parties together in the same room. RCI maintains a strong presence at the event, and has a long-standing relationship with TATOC, sponsoring its conferences and quarterly member magazine Sharetime, which is packed with news, stories and information for timeshare owners.
Ultimately, TATOC is there to ensure that timeshare evolves to meet the changing needs of current and future owners and continues to provide a modern, high-quality, cost-effective, holiday experience.
• To find out more about timeshare ownership and to join TATOC visit www.tatoc.co.uk or email info@tatoc.co.uk (English language only)
Call TATOC Consumer Helpline on 0845 230 2430