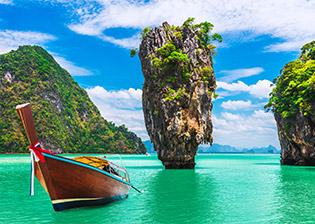 DISCOVER THE PEARL OF ANDAMAN SEA
Just a two-hour flight from Bangkok is Phuket Island – Thailand's paradise on earth. Situated on the country's southwestern coast, this stunning island is kissed by the turquoise Andaman Sea. Bordered between powdery white sand and lush green mountain ranges, it's no wonder Phuket is one of the top destinations in Southeast Asia. With more than 30 stunning beaches along its coast, numerous water sports and activities, packed with an array of nightclubs and bars, there's always something for everyone on this island.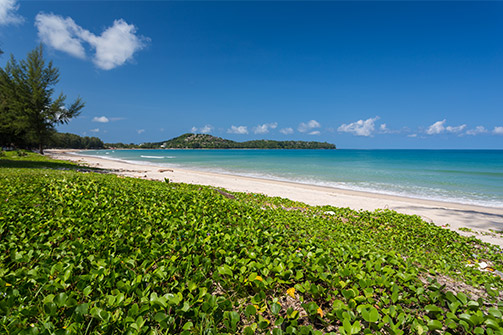 PHENOMENAL BEACHES
Dotting the coasts of Phuket are ivory-white beaches with gracefully slender palm trees and that's where the similarity ends. Each beach is unique, from the sinful Patong, where wild parties are routine, to peaceful Karon, with calm water and an easy-going ambience, or the Northwest's luxurious Bang Tao and Surin with swanky beach clubs. No matter what you're looking for, whether it's a family holiday, a romantic getaway, there's a beach for everyone.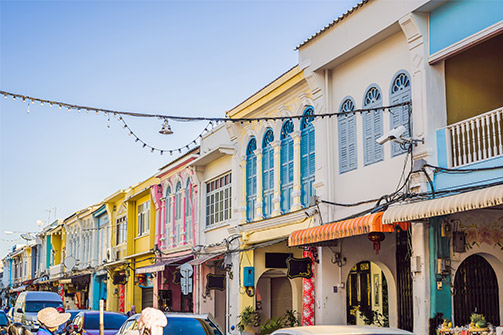 HERITAGE-RICH OLD TOWN
Venture to the east of the island and you'll discover the charmingly historic Phuket Old Town. Due to the influences of European and Hokkien-Chinese merchants who came to Phuket for its thriving tin-mining industry in the past, expect to find Peranakan cuisine, Chinese shrines, historic mansions and townhouses done in distinctive Sino-Portuguese style. Wind down and relax at various quaint café along Thalang Road. Expressive and quirky wall murals are scattered throughout the town which makes for delightful photo opportunities at every corner. Before leaving, be sure to take a stroll down Vanich Walking Street where stalls selling original souvenirs and local snacks lined the pavements.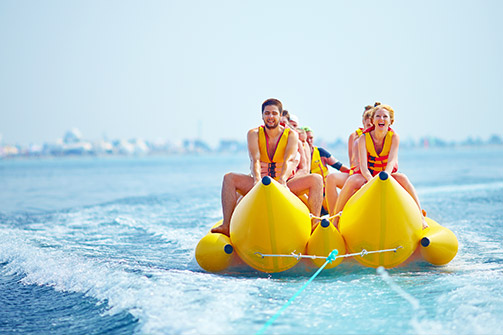 A SPLASHING GOOD TIME
Parasail into the blue sky, over the turquoise water and enjoy the gorgeous bird's-eye view of the whole island. Double your fun with a thrilling ride over the waves on a high-speed jet skis or have fun banana boating with your loved ones. With the wide range of water sports and activities available, your day on the beach will never be dull. For an unforgettable underwater experience, take a day trip to Similan Islands, where you'll experience excellent water visibility, it is one of the best dive sites in the world. Feast your eyes on the incredible variety of marine life and exceptionally colourful coral reefs. For those who don't dive, snorkelling is a great alternative to get a taste of the impressive seascape.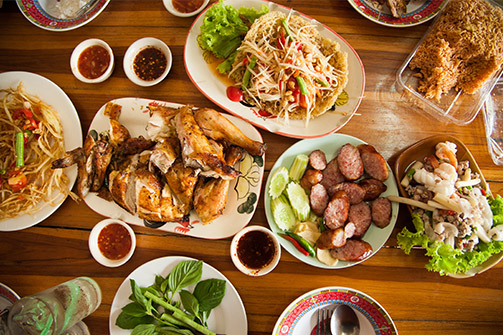 FANTASTIC FOOD
A variety of cuisine is available in Phuket, catering to tourists from different parts of the world. Though without a doubt, local food is always the best choice. After all, Thai cuisine is favoured by many. Dishes such as fiery, hot Tom Yum soup, savoury Pad Thai, and refreshing Som Tam (Green Papaya Salad) will surely tantalize your taste buds. Best of all, freshly-caught seafood is always available in abundance in Phuket. Indulge in succulent prawns, steamed clams in lemongrass and sweet crabs at affordable prices.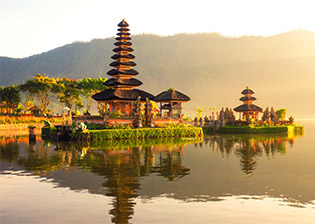 STEP INTO THE SPIRITUAL LAND OF BALI
Lined with stunning beaches and dense tropical forests, Bali is a volcanic island filled with incredible things to experience and explore. Immerse yourself in Bali's mythical ancient temples or indulge in some of the poshest beach clubs of Uluwatu, climb the awe-inspiring rice terraces or just have a serene retreat in culturally rich Ubud. Bali is more than just a holiday destination, the island enlightens you.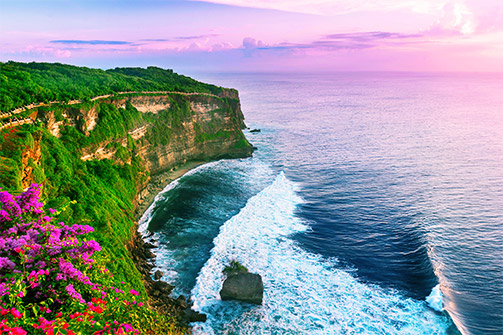 UNWIND IN ULUWATU
To the southern tip of the island is Uluwatu – home to Bali's best beaches. Get your daily dose of sun, sand and sea at Sunday Beach Club, where the sand is powdery soft and the water is perfectly clear. Chilling on the beach with a cocktail in hand, feeling the sea wind gently caress your face as you doze off to the sound of waves crashing against the shore, any mental fatigue is quickly swept away. For a cultural experience, visit Uluwatu Temple, a Balinese Hindu sea shrine built on a jaw-dropping 70-meter high limestone cliff, traditional Balinese Kacak Dance is performed daily here.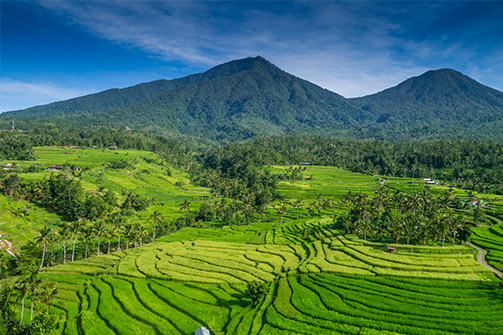 ESCAPE TO THE RICE TERRACES OF JATILUWIH
Driving down the narrow road to Jatiluwih rice terraces, prepare to be awed by the breathtaking view of over 600 hectares of rice fields. In the local language, Jati means "real" and Luwih means "beautiful", a fitting name for this serene landscape with endless rows of lush rice terraces. Following the flowing hillside geography of the Batukaru mountain range, the rice paddies descend elegantly. Being the only place in the world that has three annual rice harvests, it's hard to believe that Jatiluwih rice fields are still being maintained only by a traditional water management system used since the 9th century. A stark contrast to other attractions in Bali, it is uncommon to find Jatiluwih packed with tourists, even during high season. Having the seemingly infinite fields to yourself, ascent gently down the verdant steps, you'll be blissfully lost in the tranquillity and natural beauty of Jatiluwih.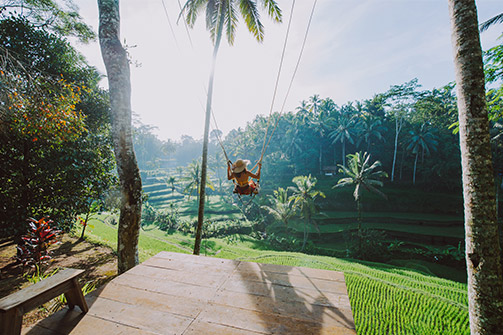 UBUD'S SECRET SANCTUARY
Wander off the coasts of Bali and into the highlands, you'll find Ubud; a peacefully charming town bordered by lush forests and mountain ranges. Renowned as Bali's cultural hub, there's plenty to discover in Ubud. Alongside art studios and galleries, Ubud's main town is also home to an excellent local crafts market selling genuine Balinese crafts, woodcarvings, antiques and textiles. For the adventurous, Ubud Monkey Forest, home to over 700 Balinese long-tailed monkeys is a must-visit. End your day with a guilt-free yet extraordinarily yummy meal at Moksa; a sustainable and eco-conscious plant-based restaurant that only uses ingredients from its surrounding permaculture gardens.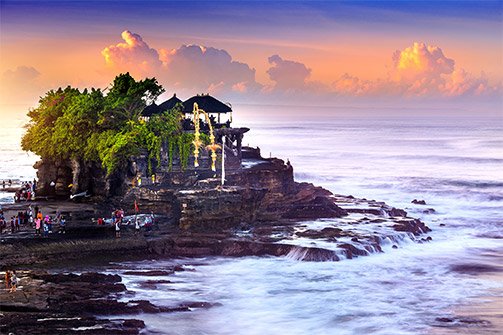 SUNSET OVER THE LEGENDARY TANAH LOT TEMPLE
Part of the Balinese mythology for centuries, Tanah Lot Temple was built in the 16th century. The sanctuary sits atop a large offshore rock formation where, according to folklore, venomous sea snakes hide beneath to guard the temple from evil spirits. At high tide, the temple is inaccessible but it is still quite a sight to behold as it rests on the sea water like an aged island. For magnificent sunsets, Tanah Lot is the place to be. As the sun gradually descend beyond the horizon, bathing the sky in a gorgeous medley of orange, pink and purple, the shrine is illuminated in golden sun rays. It is a mesmerizing sight that will leave you in an absolute state of bliss.