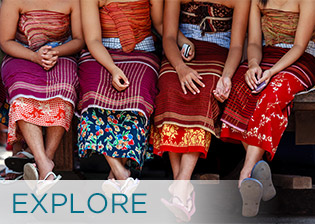 FEATURED:
Bali's Heritage
Step into ancient Bali with a visit to Tenganan Village. Just an 8-minute drive away from Candidasa is this well preserved heritage hub where you'll get to experience the rich history and culture of Bali. The infrastructure of the village is reminiscent of a time before mobile phones and televisions. Most houses are built by brick walls made from stone and earth topped with bamboo and thatch roofing.

Most families in the village welcome visitors from all around the world to experience their way of life. One special sighting in particular is being able to witness craftsmen practicing the art of weaving gringsings; a traditional batik-like textile. More than just weaving gringsings, these craftsmen are also skilled in carving wooden masks.
Other great things to experience in Candidasa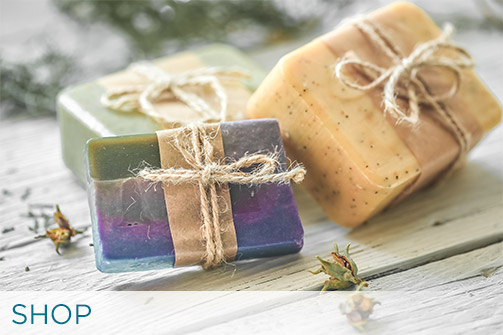 Nature-Friendly
Skip the traditional souvenirs or gifts like sarongs or decorative ornaments, and instead go for handmade soaps, bath and skincare products from one of Bali's biggest homegrown brands: Sensatia Botanicals!

Their handmade soaps are made from all things organic and delicately scented with spices, herbs, and essential oils. The soaps come in a variety of scents with their signature being the woody-scented Herbal Lulur bar.

Apart from soaps, Sensatia Botanicals also offer a range of hydrating body butters that cater to almost every skin type. These body butters are made from a base of pure shear butter, raw cocoa butter, almond, candlenut and other ingredients your skin will love.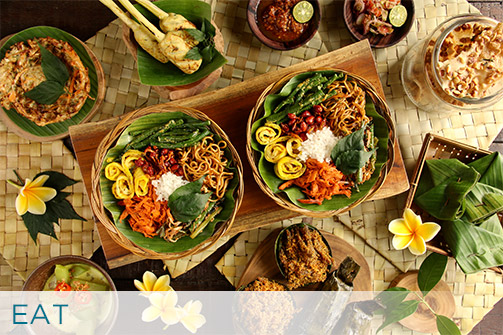 Balinese Delight
Candidasa has numerous seaside restaurants that serve traditional Balinese food. One of Candidasa's best seaside dining spots is GARPU, the signature beachfront restaurant at the Rama Candidasa Resort and Spa.

The restaurant offers a wonderful dining experience with an open-air view of the ocean and the gentle sea breeze that comes with it, plus your meal will be paired with a side of live entertainment and traditional Balinese performances.

GARPU also boasts an extensive menu that offers everything from seafood barbeques, local favourites like Nasi Campur (a plate of rice with several side dishes of meat and vegetables), and satay (skewers of barbecued meat). If you loved the food that you have at the restaurant and would love to be cooking by the sea, speak to the staff about enrolling in their traditional Balinese cooking lessons.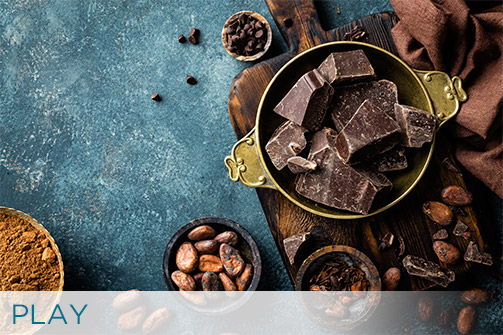 Chocolaty Fun
Get set for some good, chocolaty fun with a visit to Charly's Chocolate Factory! The beachside compound is made up of three mini eclectic bamboo houses with pointy roofs and as well as what looks like a pirate ship wreck. Don't miss your chance for great photo ops with the unique structures!

This haven for chocolate-lovers actually offers a large variety of coconut products too. Admission fees are 10,000 ID per person and to top it off, you also get your very own yummy bar of coconut oil soap upon entry!

Chocolate in the factory is made from cocoa beans that are locally sourced and then made into raw and organic dark chocolate. Chocolates are sold by the bar under the branding of Narkabo Chocolate Nibbles, so be sure to snag some before you leave.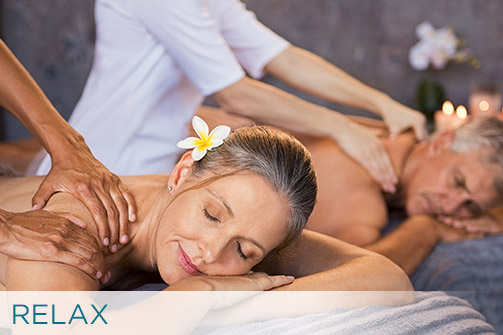 Spa Haven
Candidasa Beach is one of Bali's most popular beaches on the eastern coast. So stretch your beach towel out on the soft sand, sit back and relax to the sound of the waters crashing on the shore. Bali's sun is quite strong so don't forget your sunscreen.

If you're after a great spa experience, Rama Spa at the Rama Candidasa Resort & Spa offers great spa packages that include traditional Balinese massages, body scrub treatments and more. If you want a package that's all-in, we recommend the Balinese heritage which is a 100-minute long session that includes a foot bath, traditional Balinese massage, traditional Balinese scrub, a rain shower, and a herbal bath.