Meet the family of 4 from Central Ho Chi Minh City, Vietnam. Le Thi Lam (40), Do Van Tien (43), Chi (11), Linh (8). Their holidays are usually experience-filled and not limited to just kids' activities. Van loves visiting points of interests and Thi loves visiting the outlet malls in the United States. Here's Thi sharing her experience of going to Las Vegas with her family.
Las Vegas is famous for its glittering casinos, world-class shows and incredible restaurants. This Strip on the desert may be called 'Sin City', but look a little closer and you'll find fun attractions and activities for the kids, too. For families who are game to have an adventure here, we've got a few recommendations that may just change how you feel about Las Vegas.
Getting Around
Monorail
It's the most efficient way up and down the Strip. The Las Vegas Monorail operates from 7 a.m. to midnight on Mondays, 7 a.m. to 2 a.m. from Tuesdays through Thursdays, and 7 a.m. to 3 a.m. on weekends. It arrives every 4-8 minutes at 7 stations, and tickets start from $5 for a one-day pass. The best thing of all? Children aged five and under ride free!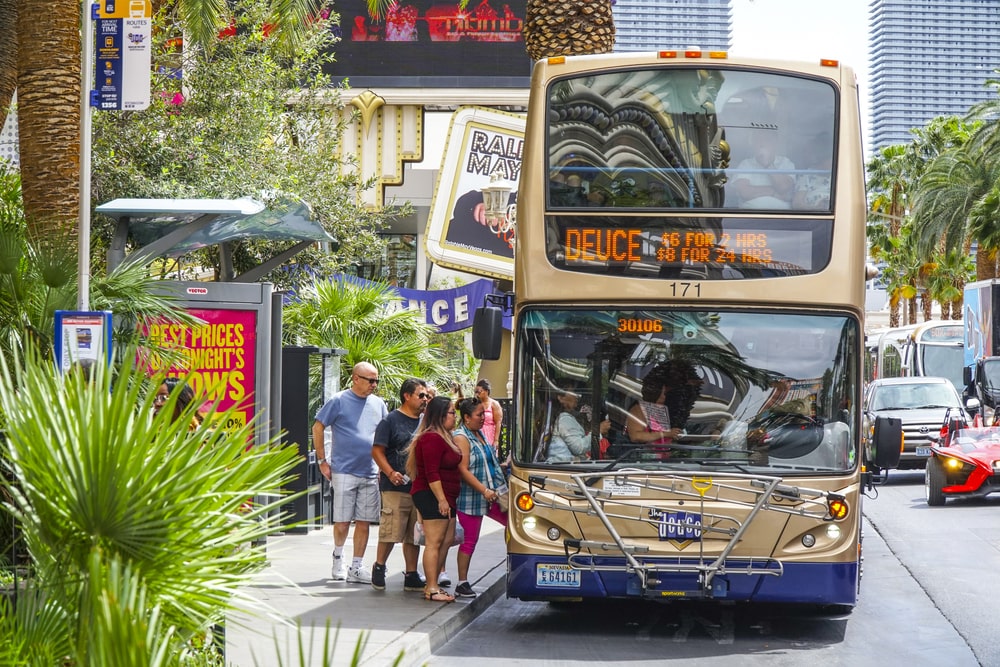 Fittingly called The Deuce, this double-decker city bus will take you to popular stops along the Strip. Photo from Shutterstock.
City Bus (The Deuce)
The Deuce is a 24-hour double-decker city bus that travels from the Downtown — Fremont Street area to the south end on the Strip and back again. It's a great way to sightsee while hitting all the essential spots along the Strip.
Fares are $6 for a two-hour all-access pass, $8 for a 24-hour all-access pass, and $20 for a three-day all-access pass. Tickets can be purchased on board, via the rideRTC transit app, or at a ticket vending machine.
Ride-Sharing or Taxis
Depending on where and what time you need a car, getting a cab or using a ride-sharing app like Uber and Lyft is the best option. On occasions where ride-sharing prices may surge (post-concert, for instance), taxi is a better alternative.
However, you can't hail one from the side of the road; the taxi must pick you up at a designated location, which your hotel or venue will provide.
For Shopaholics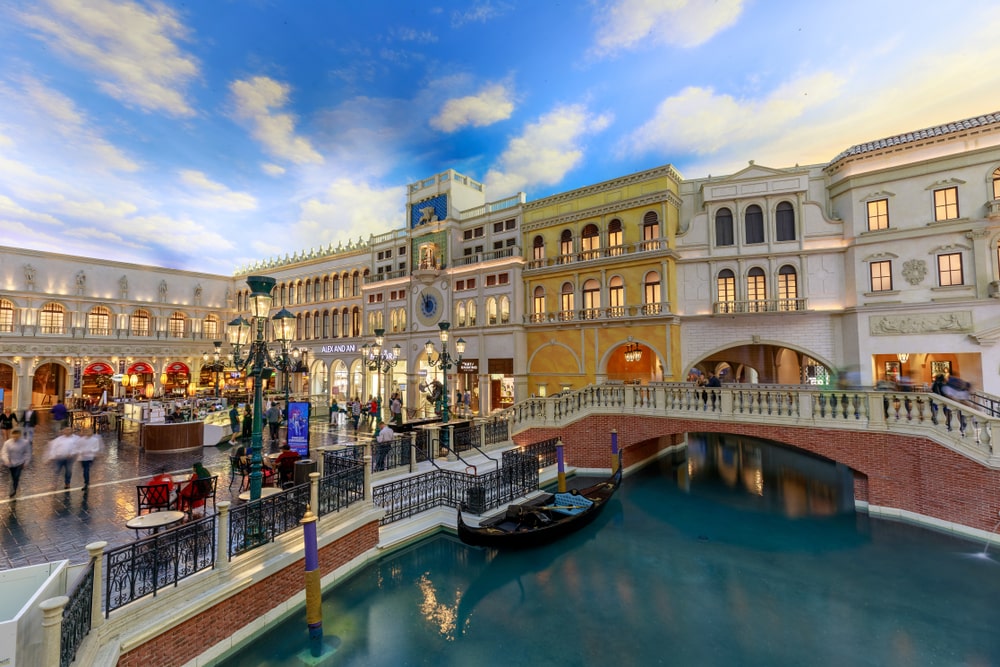 Shopping will take you to places at once: To Las Vegas, and the romantic canals of Venice. Photo from Shutterstock.
In Las Vegas, a mall is never just a mall. The Grand Canal Shoppes at the Venetian will take you to Old World Venice, as you stroll on cobblestone walkways, past a quarter-mile-long Grand Canal.
You'll find something you love at one of the 160 signature stores. Taking a walk around the Shoppes is fun even if you don't buy anything, as wandering performers and gondolas with singing gondoliers will keep you and the kids entertained.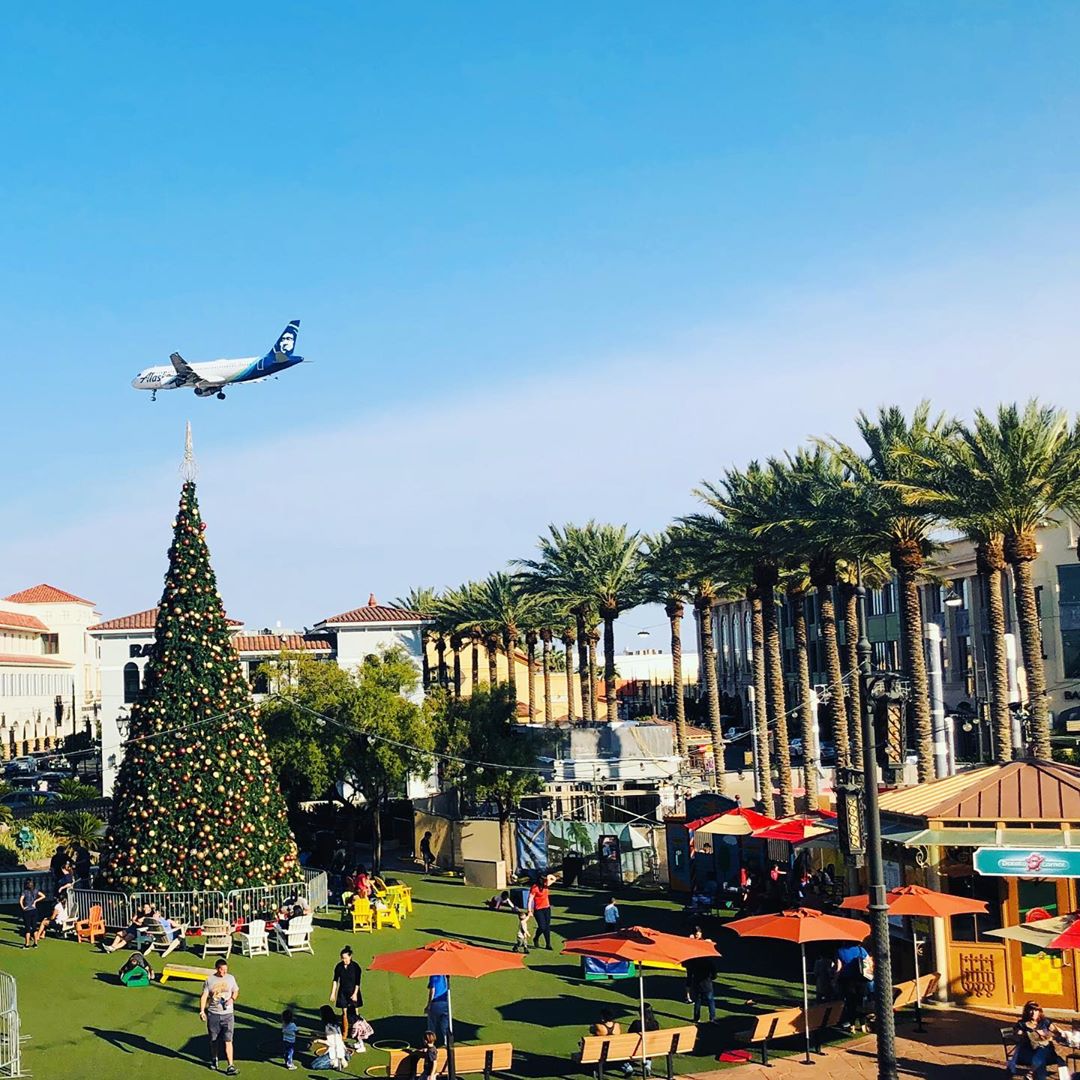 The open-air shopping arena, Town Square Vegas, welcomes all kinds of shoppers, even the four-legged kind. Photo from @patri_carpediem via Instagram.
If you enjoy walking down buzzing boulevards as you shop, Town Square Las Vegas is the spot for you. The open-air, pet-friendly square features several buildings located along pedestrian-friendly streets. Here, take your pick from a host of US brands such as Apple, Bath & Body Works, Whole Foods Market, Old Navy and more.
Take a break in one of the many trendy restaurants, with family favourites like California Pizza Kitchen and Brio Tuscan Grille.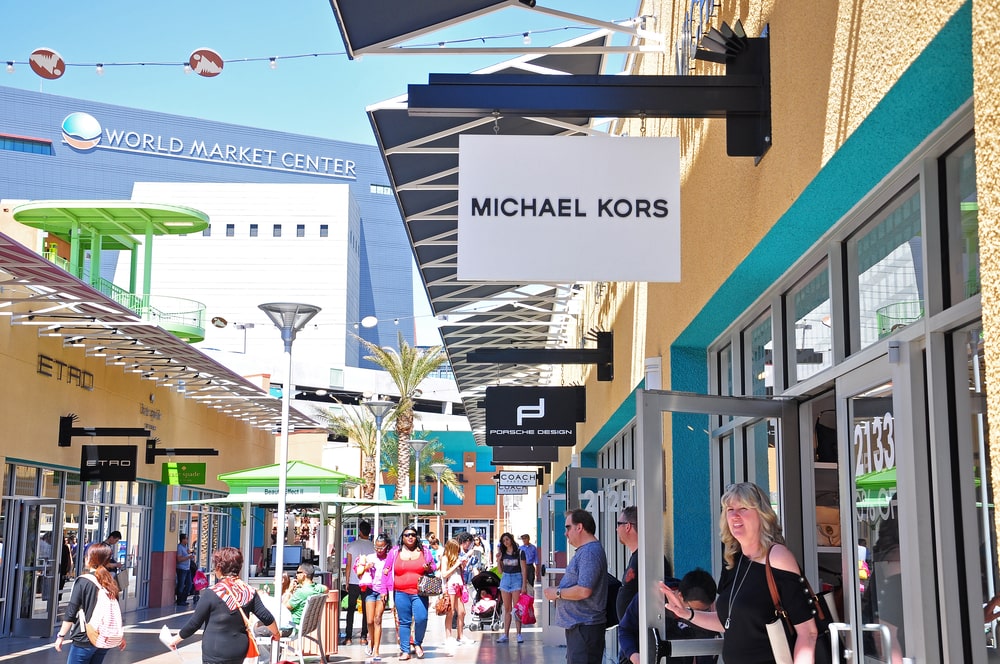 Love getting things at 70%, 80% off? You'll find great bargains at Las Vegas North Premium Outlets. Photo from Shutterstock.
Dubbed 'the most famous discount shopping center in Las Vegas', Las Vegas North Premium Outlets is where you'll find amazing discounts from popular brands, all in one place. Set aside a day here with the family and get ready for some serious shopping. Here, you will find 150 shops selling best-known brands including Calvin Klein, Dolce & Gabbana, Kenneth Cole, Hugo Boss, Michael Kors, and Polo Ralph Lauren.
If you're not a fan of major retail brands, take a look at supporting stores for sportswear, children's clothing, shoes and accessories.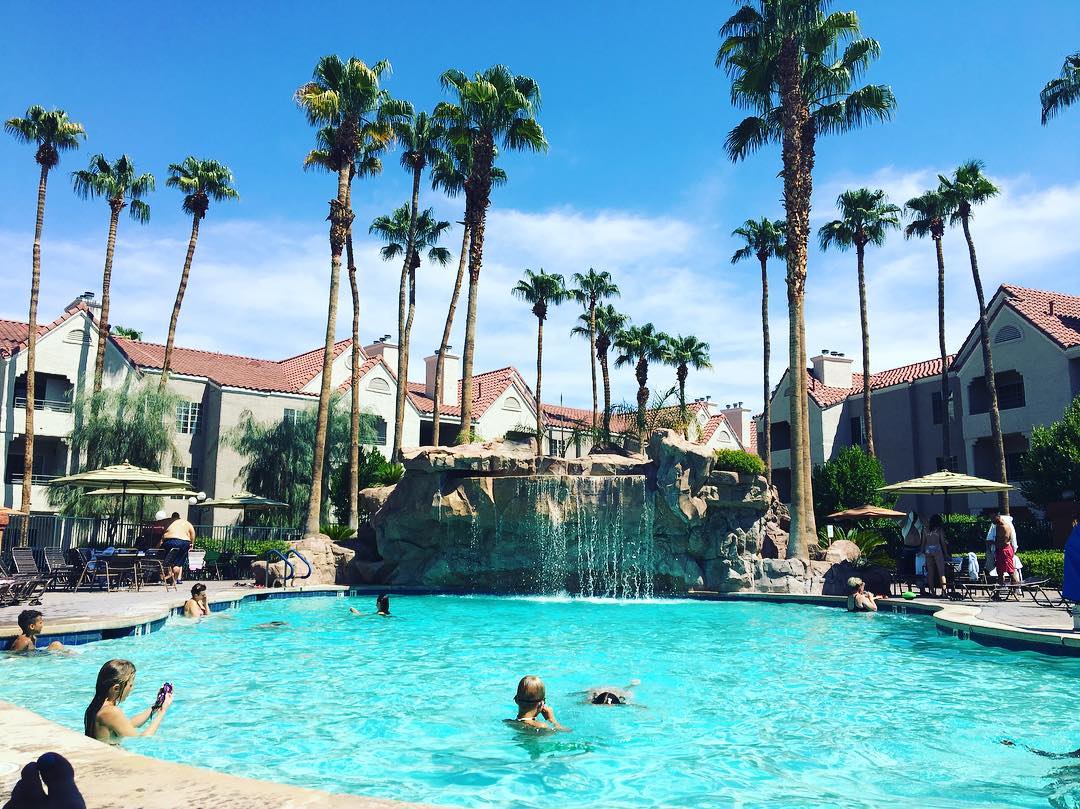 Spend lazy days by one of the five pools here. Photo from Holiday Inn Club Vacations via Facebook.
All that shopping is hard work. Located just minutes away from popular shopping spots along the Strip, Holiday Inn Club Vacations At Desert Club Resort (#0110) offers a quiet oasis close to non-stop entertainment day and night.
Enjoy spacious 1- and 2-bedroom villas complete with living rooms, fully-equipped kitchens and a private patio. There are five pools altogether here, which makes it a dream vacation for kids (and the kid at heart!). Your young ones will also love the activity center, game room and barbequing at poolside grilling stations.
For Culture Vultures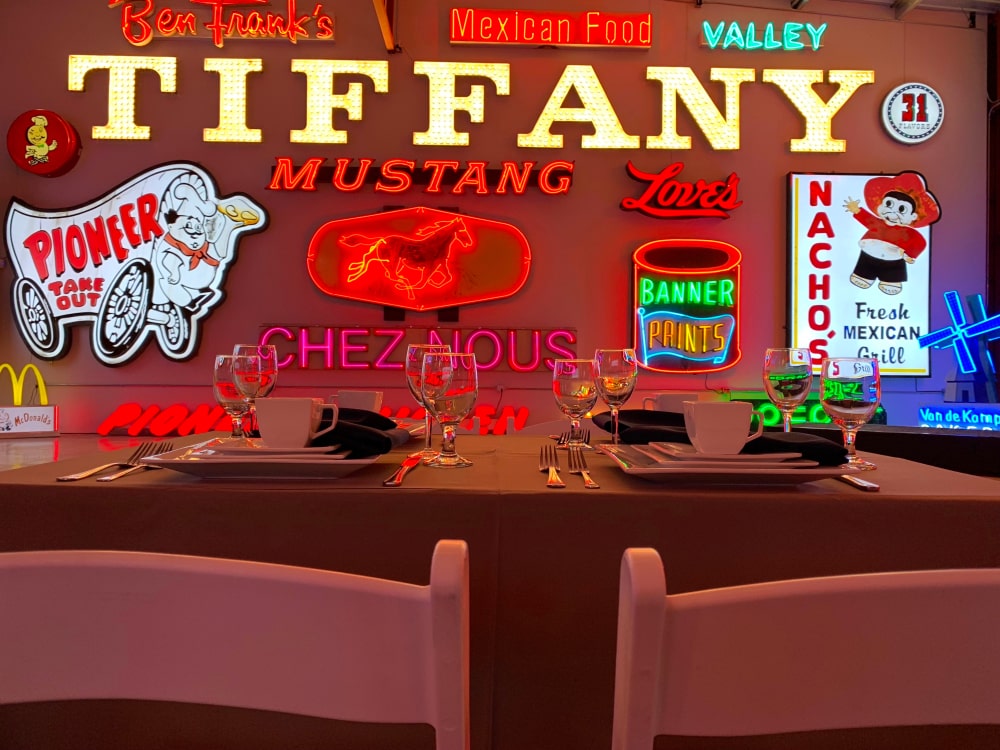 Watch huge billboards and signs come to life at The Neon Museum. It's just as captivating in the daytime. Photo from Shutterstock.
Las Vegas wouldn't be the same without its bright lights and neon signs. The city's most iconic art form — the neon sign — is given its rightful spotlight at The Neon Museum. Each sign in the Neon Museum's collection offers a unique story about the personalities who created it, what inspired it, where and when it was made, and the role it played in Las Vegas' distinctive history.
Depending on which time of the year you visit, there are also special collections to visit, such as the 'Lost Vegas' exhibition which showcases Tim Burton's work over the years. Get your tickets here.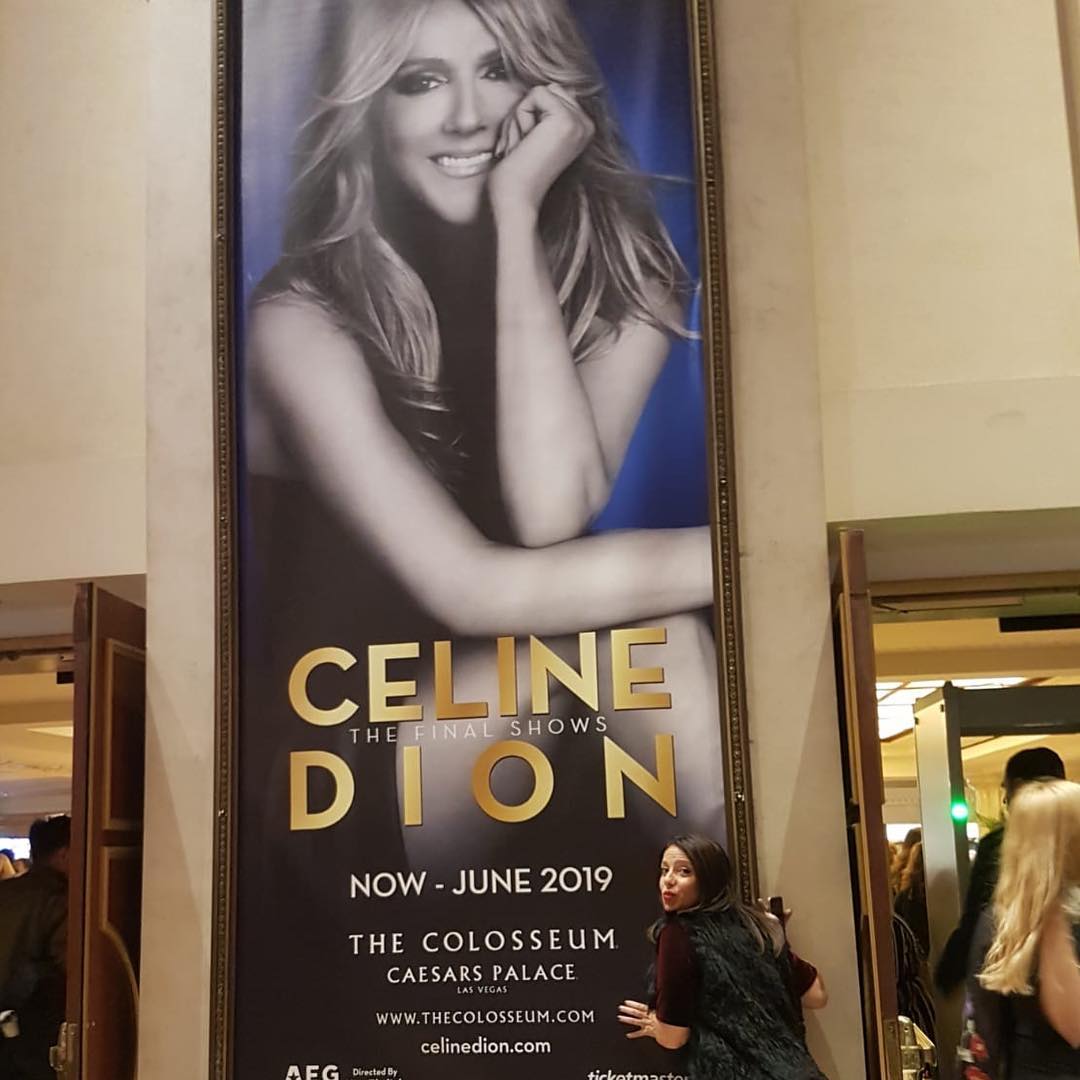 Catch a show to some of the biggest stars in the world. To some, it's a dream come true. Photo from @nathalielouk via Instagram.
Las Vegas is where you can catch the biggest acts live, from family shows, magic shows, concerts and even comedy performances. To avoid disappointment, book your tickets online before your trip here.
There are literally numerous shows every day that are available for booking; the challenge is finding something that everyone can agree to! Top acts include performances by Celine Dion, magic extraordinaire David Copperfield, Cirque du Soleil shows, and many more.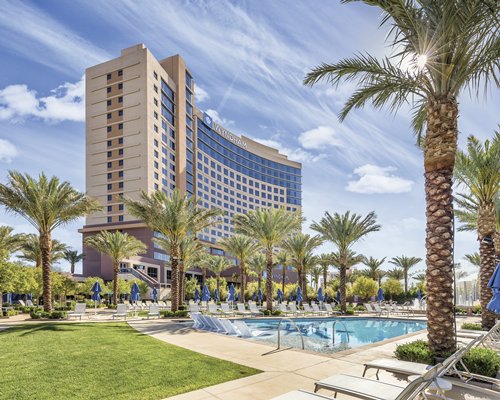 Wyndham Desert Blue is close to entertainment hubs such as the Colosseum and MGM Grand. Photo from RCI.
Located just off the Strip, an 8 minutes' drive from Colosseum at Caesars Palace, Wyndham Desert Blue (#D881) offers you the convenience of being close to Las Vegas' major attractions, while enjoying the space and amenities of a premium resort. If you've booked your shows at the Colosseum or MGM Grand, which is also nearby, this is the ideal hotel to stay.
Rooms start from a studio unit which sleeps up to four and features a partial kitchen with a mini refrigerator and microwave, and one bathroom. For larger families, choose from rooms up to a 4-bedroom unit, which sleeps 12 people. The resort also includes an outdoor pool and a poolside bar, Desert Blue's SPLASH Pool Bar.
For the Young at Heart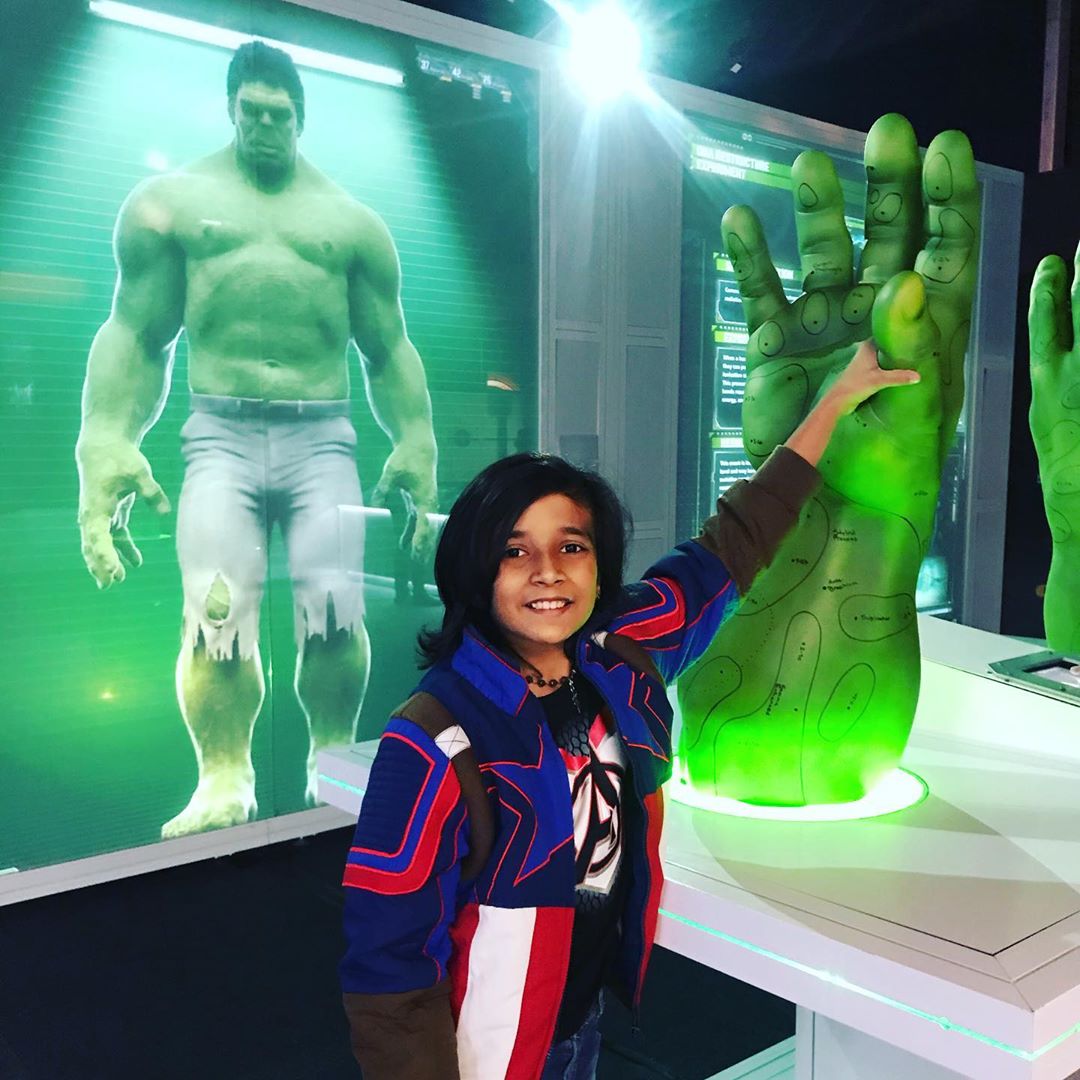 Get up close with Hulk, Captain America and the rest of the Marvel Avengers. Photo from @shivin28 via Instagram.
A Las Vegas family-friendly guide wouldn't be complete without a stop at Marvel Avengers S.T.A.T.I.O.N, an interactive and educational exhibit for fans of all ages. Get close to an extensive range of authentic props and costumes from the Marvel Avengers movies. Visitors will get to see Captain America's uniform and shield, Black Widow's uniform and weapons, and so much more.
We suggest getting your tickets online beforehand here. Tickets start from $24 for children ages 4-11. Be sure to drop by the retail store to bring home a collectible or two!
Rain or shine, the indoor Adventuredome Theme Park has a mix of child-friendly and exhilarating rides to try. Photo from @rportugal74 via Instagram.
Whether you're a daredevil or prefer more leisurely rides, Adventuredome Theme Park at Circus Circus will keep you and your family occupied all day, no matter the weather. The indoor amusement park that spans 5 acres has over 20 rides including child-friendly ones, bumper cars, climbing walls, a Ferris wheel and the world's only indoor double-loop, double-corkscrew roller coaster.
If exhilarating rides make you nervous, you can still have fun at some of Adventuredome's more peaceful attractions, including an 18-hole miniature golf course, mini bowling, a virtual reality zone, and 4D films. Head to the food tent to fill up on crowd favourites like pizza, burgers and ice cream. Tickets start from $19.90.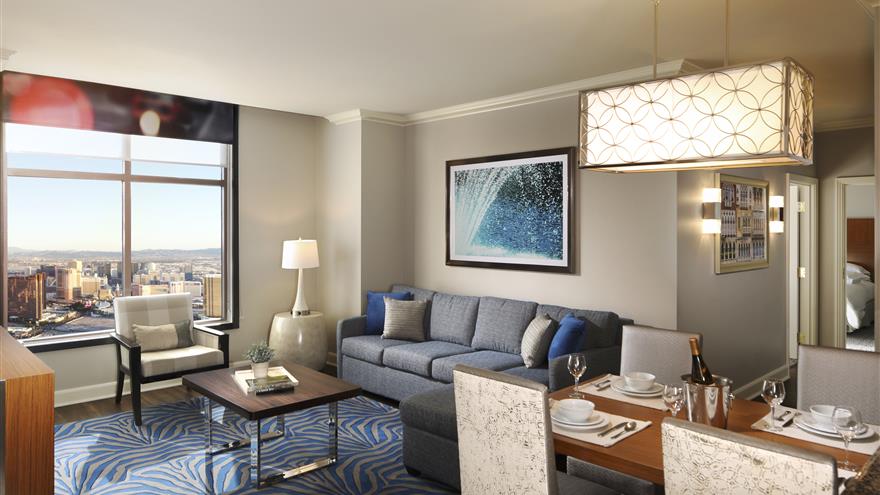 This highly-reviewed hotel is the perfect place to rest amidst all of the buzz. Photo from Hilton Grand Vacations Club on the Boulevard.
Need a place to crash after all that fun? Good thing the Hilton Grand Vacations Club On The Boulevard (#6300) is just a 5-minute walk away from Circus Circus. Located at the northern end of the Strip, it is also near the convention centre, airport, Fashion Show Mall and golf course.
Choose from a range of room-types, from a studio equipped with a mini-kitchen, to a 3-bedroom unit that sleeps 8. The hotel also offers a rejuvenating spa experience, elaborate swimming pools that will keep the kids occupied all day.
Bonus: Off-The-Strip
Longing for some fresh air and the great outdoors? Let us take you away from the bustling and glittering city and right to the mountains — to Boulder City and Red Rock Canyon, less than an hour away from Las Vegas. Here, enjoy some unique activities that will get your hearts pumping.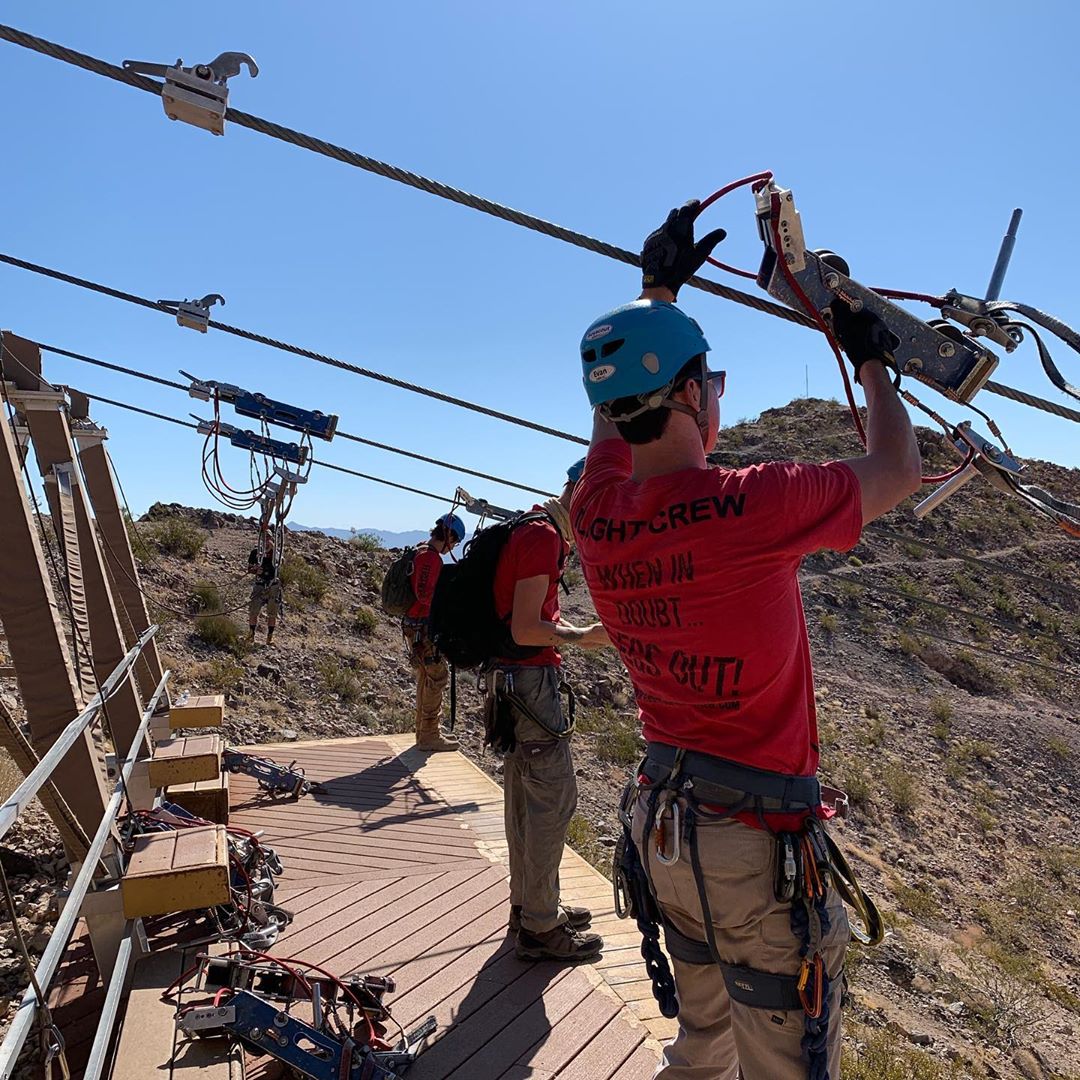 Experience an adrenaline rush as you soar above the desert at 50 mph. Photo from @seen_through_my_eyez via Instagram.
For something fun and exhilarating to do off the Las Vegas Strip, make a stop at the Bootleg Canyon Zipline, which will send you flying above the desert at 50 mph, offering a stunning view of the mountains in Boulder City. With over 1.5 mile of zipline on the Red Mountains, this adventure is perfect for nature lovers and first-timers.
If you have time to spare, we suggest the half-day zipline tour, which includes an eco-friendly tour including a history of the area on one of the most amazing zip line systems in the world.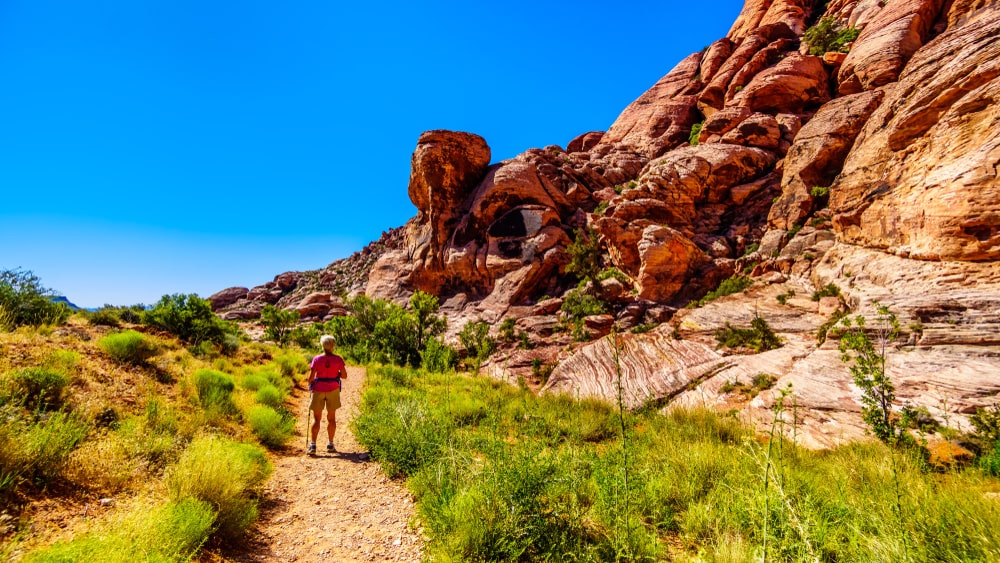 If your family loves the outdoors, get your hiking gear ready for some amazing views at the Red Rock Canyon. Photo from Shutterstock.
There are waterfalls in the desert... and they're in Red Rock Canyon! The best time to find water here is in the spring, and you'll be able to reach creeks and waterfalls over at Pine Creek Canyon Trail and Ice Box Canyon Trail.
Alternatively, these easy hikes through the canyon are great for kids (and adults) of all ages. For starters, try the Lost Creek Trail and Calico Hills; the former is a large cluster of red and orange rocks with numerous hiking trails and slot-like canyons to explore.