School holidays are an exciting time for the Chan family from Hong Kong — when the kids get to enjoy their out-of-school time playing and learning and the parents get a treat, too. Every school holiday, the family of five, William Chan (38) and his wife, Yen Wong (33) travel with Yen Wong's mother (62) and their 7-year-old twin daughters.
Recently, they travelled to Dubai where they experienced a thrilling 4x4 ride through the Arabian desert, screamed their lungs out at a theme park, and relaxed at a family-friendly luxury resort. Long after the family has left the spectacular city, the kids still talk about the great time they had. Read on for the Chan family's adventure in Dubai.
Dubai, the capital of the Emirate of Dubai, is the most populous city in the United Arab Emirates (UAE). Magnificent towering skyscrapers, avant-garde technology, and the world's tallest, largest, and flashiest — so much that the name "Dubai" itself has become synonymous with luxury. Let's not forget the city's diverse cultures, lively arts scene and cuisines, among some of the reasons why the city attracts millions of tourists each year.
But first thing's first: Get to know the city. From modern architectural beauty to winding alleyways leading up to traditional quarters, there is a delicate balance of old and new in Dubai... which results in a ton of things to do.
Here are our picks for some of the best places to go with the whole family in this Middle Eastern hot spot, featuring some over-the-top, dramatic adventures, the luxurious Dubai way.
We must say, #5 is our personal favourite.
1. Take in a spectacular cityscape at Burj Khalifa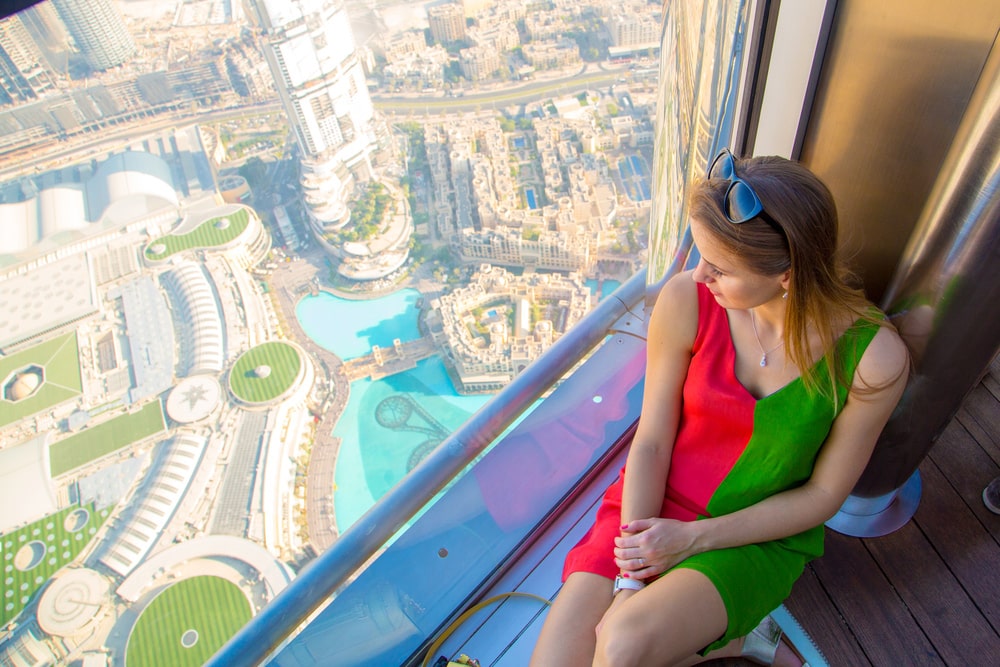 Burj Khalifa, the world's tallest tower is hard to miss in Dubai. Photo from Shutterstock.
Standing at 828 metres, the Burj Khalifa exudes an almost formidable presence in Dubai. Naturally, the world's tallest tower dominates the Dubai skyline.
Taking in the majestic building is thrilling enough from the streets, but we think the remarkable modern architecture is best appreciated up close. Brace yourself for the thrill of the high-speed elevators before you step onto the At The Top Sky Lounge, where you'll find incredible views stretching into the Persian Gulf.
On a clear day, the view from the observation deck at Level 124 is enough to blow your mind. Our kids loved watching the Dubai Fountain show, the world's largest dancing fountain, with music that can be heard from the observation deck!
2. Glimpse into the old Dubai at Al Fahidi Historical Neighbourhood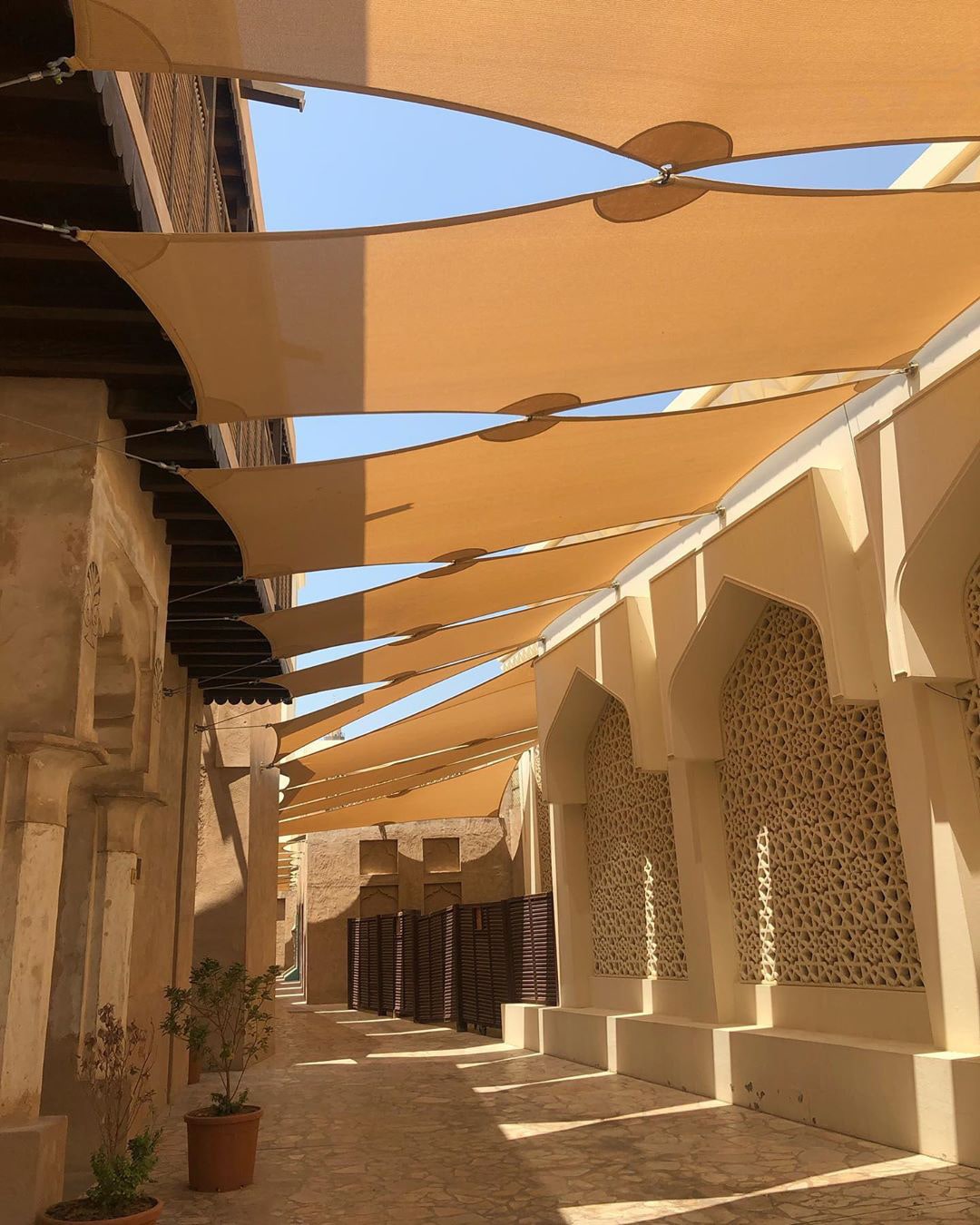 Wander down the nostalgia lane at Al Fahidi Historical Neighbourhood, offering a glimpse into the old Dubai. Photo from @sssssonora via Instagram.
Sand-coloured houses, traditional wind towers, well-preserved heritage quarters, and a maze of winding alleyways that stand as constant reminders of old Dubai — Al Fahidi Historical Neighbourhood is one of the oldest neighbourhoods in the city, offering the nostalgia of a bygone era.
Wander the ancient streets of this quaint town and you'll discover courtyard cafés, boutique hotels, art galleries, cultural exhibits, and craft shops that line the impossibly narrow streets. There is definitely something for everyone at every age here.
Among the main attractions is the Sheikh Mohammed Centre for Cultural Understanding (SMCCU) where Emirati meals and tours are offered for anyone keen on delving deeper into the local culture and history.
3. Shop till you drop at Dubai Mall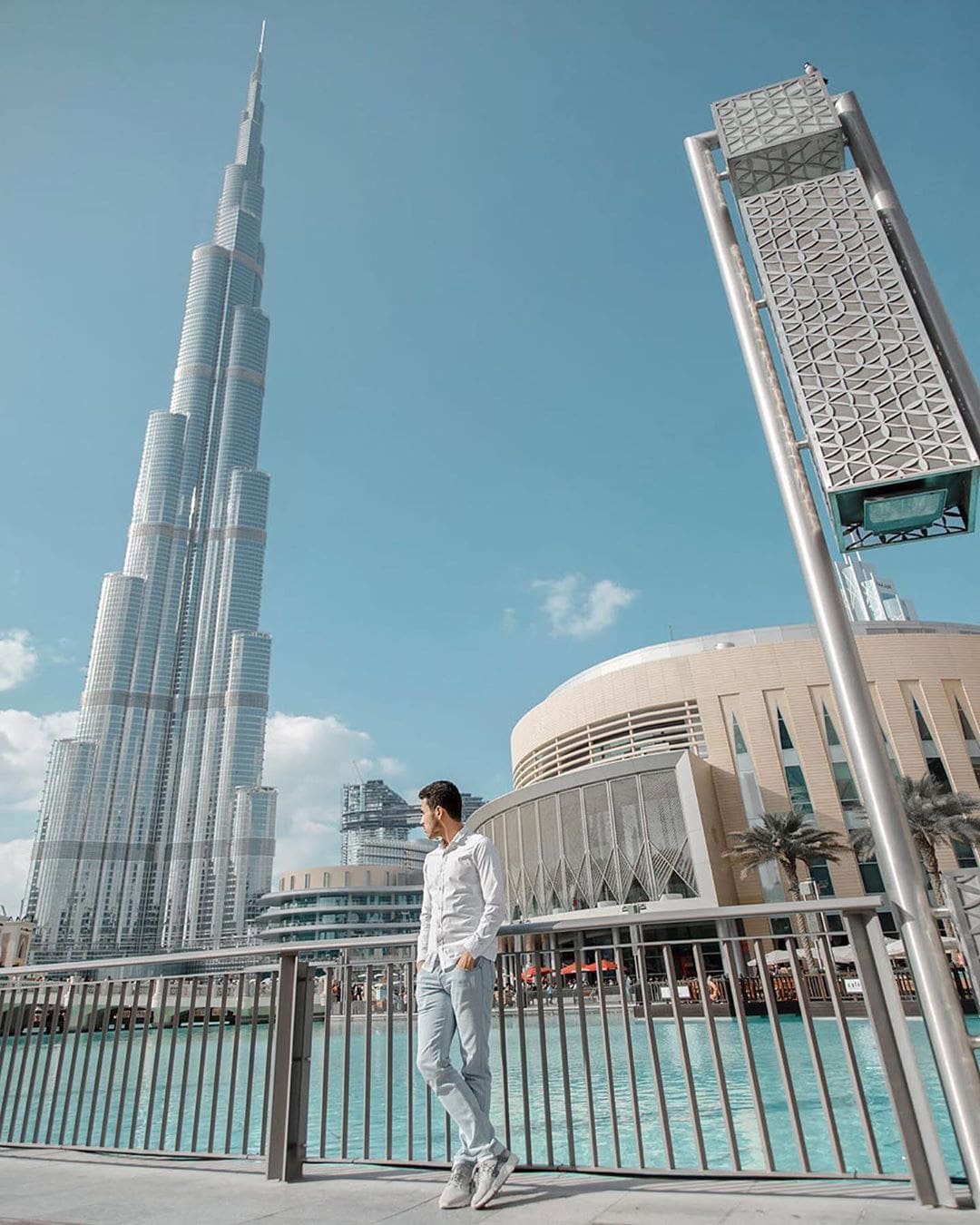 The Dubai Mall is an epicentre of luxury outlets for the finest shopping in Dubai. Photo from @thedubaimall via Instagram.
The Dubai Mall is not just a mall: You'll find over 1,200 retailers (Alexander McQueen, Valentino, Gucci, Chanel and Ralph Lauren, among the flagship stores), 150 food and beverages outlets, a long list of leisure outlets, and a 5-star hotel! We treated the twins to a trip to KidZania, while the adults enjoyed a luxurious personal shopping experience, a service offered by the mall.
If shopping alone isn't enough, Dubai Mall also houses the Dubai Aquarium and Underwater Zoo, one of the world's largest aquariums and aquatic zoos, complete with a 270-degree walk-through tunnel where the whole family can enjoy an incredibly immersive experience of the sea.
If you need a break from the expansive 5.9 million square feet shopping hub, Burj Khalifa is also accessible from the mall.
4. Enjoy some action-packed fun at IMG Worlds of Adventure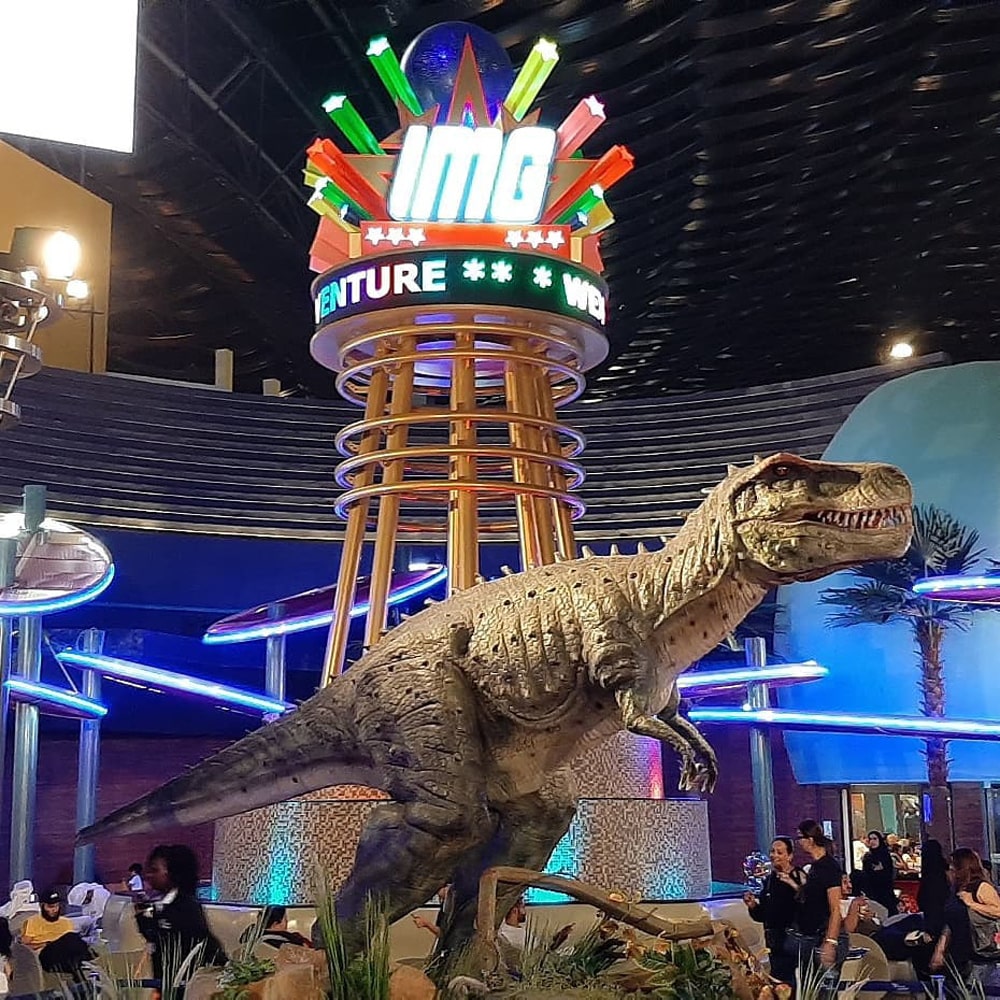 IMG Worlds of Adventure is as big as 28 football fields, packed with enough entertainment options for the whole family. Photo from @sharan_____king via Instagram.
Imagine 28 football fields — that's how big IMG Worlds of Adventure is, making it the world's largest indoor theme park. The US$1 billion theme park boasts of more than 20 thrilling rides and attractions spread across four themed zones: Marvel, Cartoon Network, Lost Valley Dinosaur Adventure and IMG Boulevard.
Expect a range of entertainment options for the whole family — there are Ben 10, Gumball, The Powerpuff Girls and LazyTown for the younger visitors; Spider-Man, Iron Man, Hulk, Thor, The Avengers, and other Marvel heroes for older visitors; life-sized Jurassic buddies; and the spine-chilling Haunted Hotel.
If the kids get hungry in between exploring the theme park, there are also plenty of restaurants with some healthy options to try.
5. Traverse the Emirates' desert dunes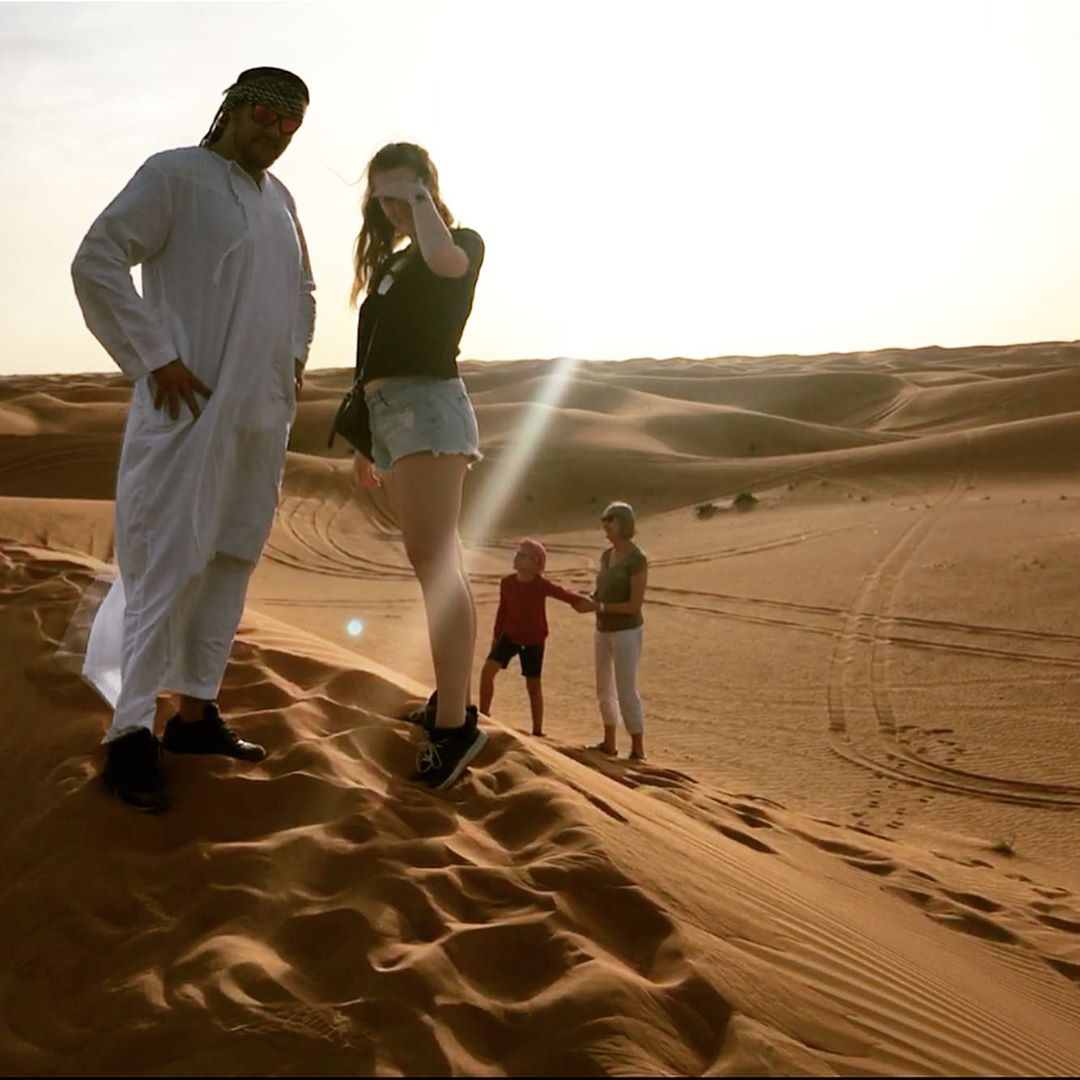 The desert dunes are what the ultimate travel experiences of Dubai are made of. Photo from @marlinfroiland via Instagram.
Of all the wonders of Dubai, nothing defines the capital of the Emirate of Dubai quite like its expansive, glorious desert dunes.
Take a desert safari ride, Dubai style; off-roading, quad biking, sandboarding or camel rides, and end the day with traditional barbecues of authentic Arabian food.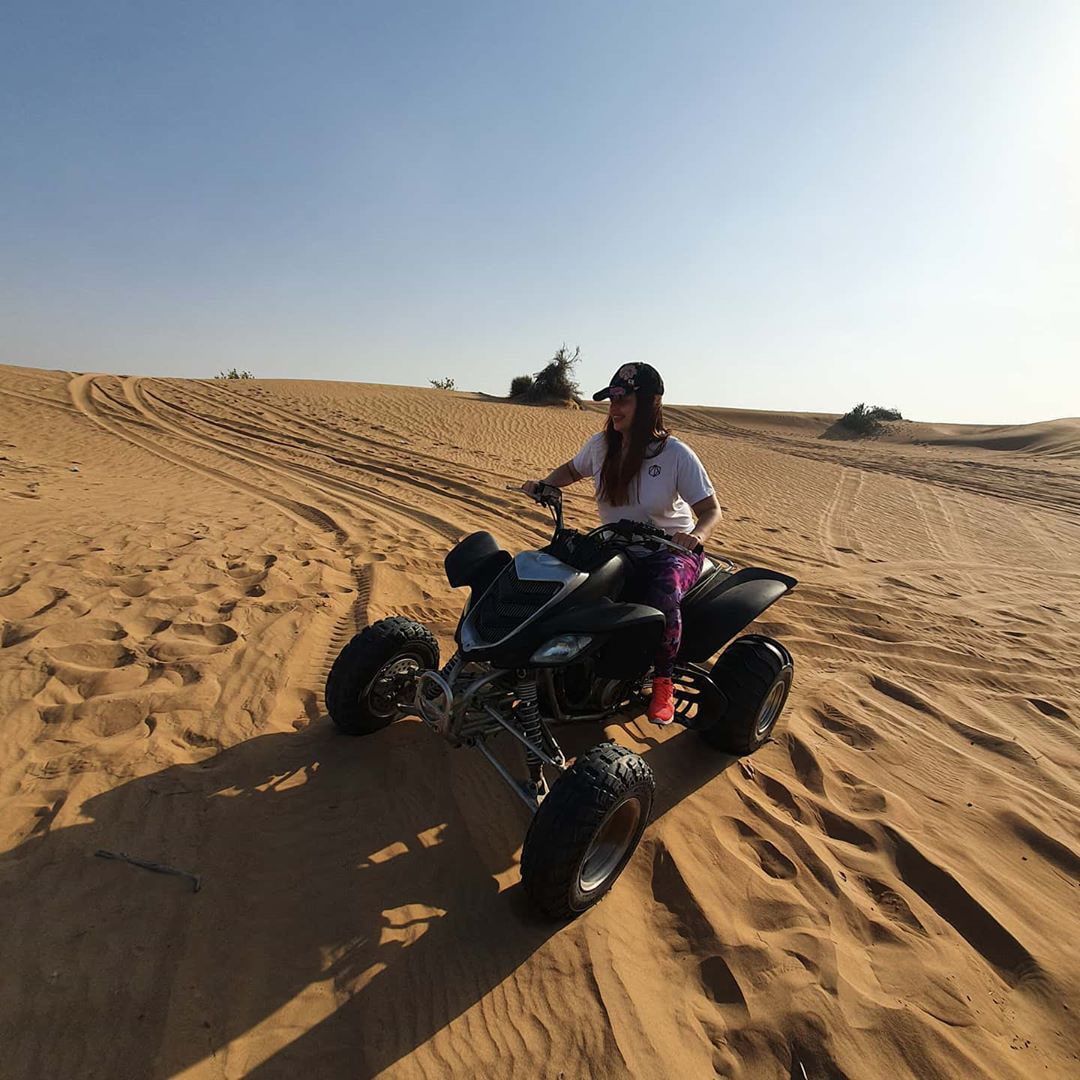 Enjoy an action-packed adventure and glide down steep sand dunes on a quad bike. Photo from @mis_tu_psii via Instagram.
Or, drive out to experience the marvels of the Arabian desert on your own. There's plenty to do in this sandy haven!
6. Go on a hot air balloon ride over Dubai's desert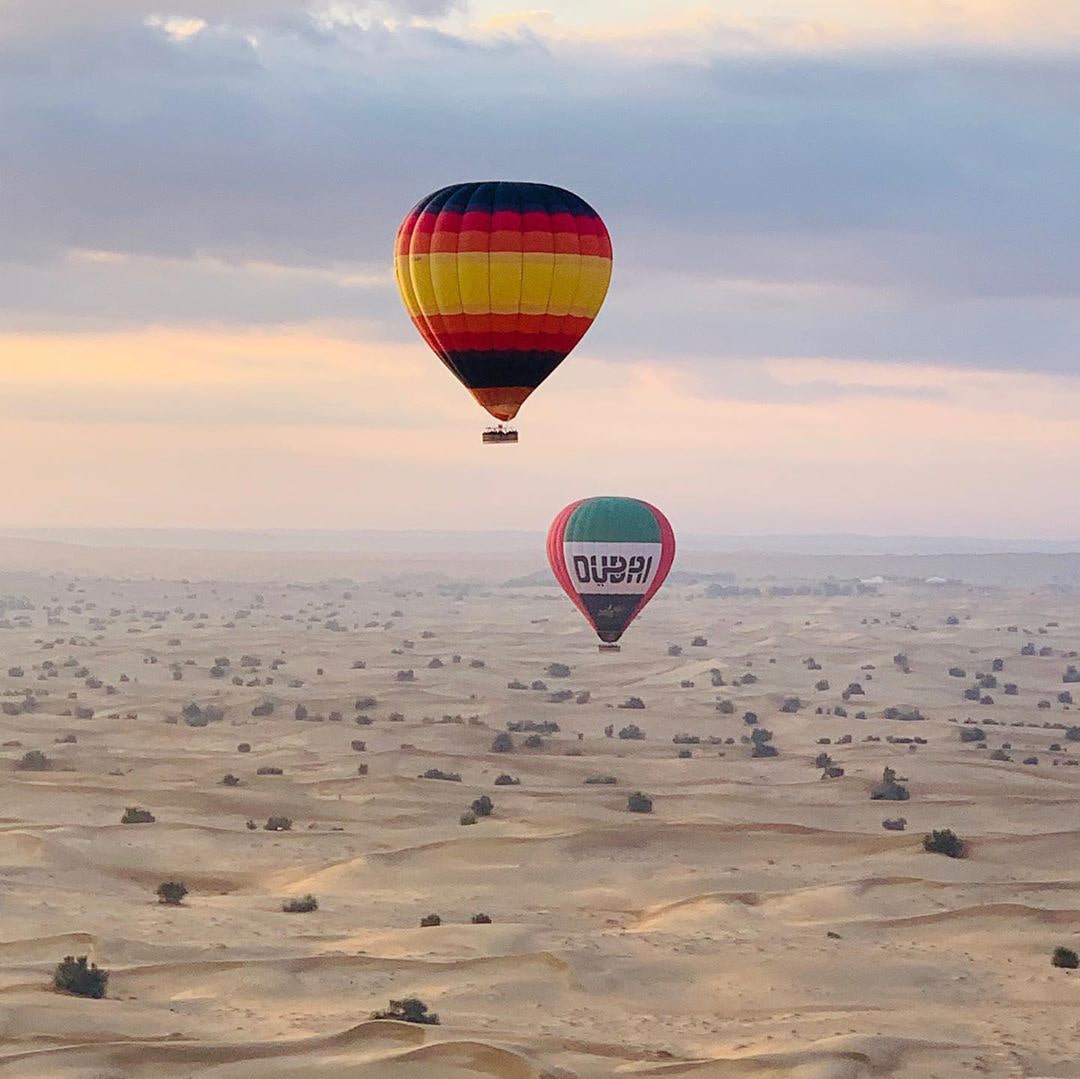 Dubai certainly knows how to take anything a notch higher with a luxurious touch. Experience the Dubai desert from way up high, on a hot air balloon ride. Photo from @tituspulios via Instagram.
Want to take your Dubai desert experience up a notch? Going on a hot air balloon ride is one of the best ways to do that — it's a memorable and luxurious experience like no other.
Up, up, and away on a hot air balloon ride, approximately 4,000 feet from the ground, you will be greeted by an amazing sight — other hot air balloons, some airborne while others still on the ground, birds flying close by, and an aerial view of the glorious desert and beyond.
Take your pick from a variety of hot air balloon experiences, from a gourmet breakfast spread, in-flight falcon show, plus an option of flying over sunrise or sunset views.
Our top resort picks
Not sure which luxury resorts to pick from? Whether your idea of a perfect resort stay is stylish accommodation, fancy gourmet restaurants, or an indulgent spa, we have everything on the list. Here are our top resort picks that the whole family will love.
Hilton Al Habtoor City #D012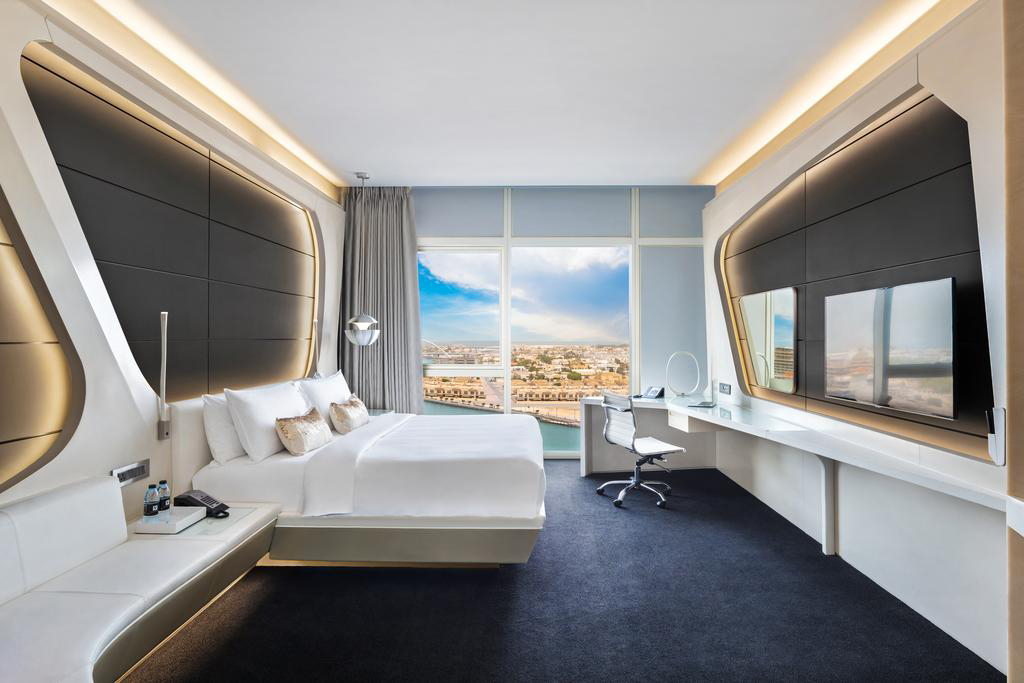 Overlooking the incredibly beautiful Dubai Water Canal, the five-star hotel in Dubai is located close to downtown Dubai. Photo from Hilton Hotels.
Soaring 44 floors above the city, this five-star hotel in Dubai overlooks the Dubai Water Canal. Zoom up to the receptionist area on the 30th floor for a panoramic view of the dazzling city.
Like other Dubai's luxurious resorts, Hilton Al Habtoor City (#D012) offers stylish, sophisticated suites, modern architecture, and an air of exclusivity attract families and couples.
The resort is especially perfect for those who prefer some peace and privacy while being in the thick of the action.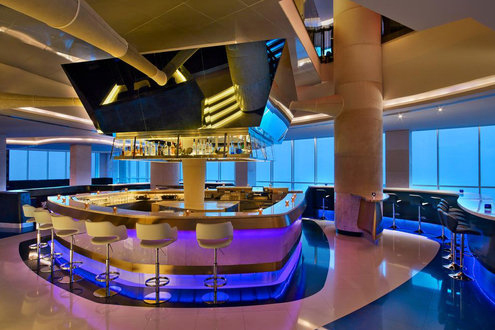 Experience a nightlife like no other and party with sensational music and top-of-the-line DJs at BOA Lounge & Club, a dual-story nightclub. Photo from Hilton Hotels.
During the day, indulge in rejuvenating treatments at the Elixir Spa as you enjoy incredible cityscape views and iconic downtown area. At night, party with sensational music and top-of-the-line DJs at BOA Lounge & Club, a dual-story nightclub, featuring private cabanas and poolside DJ sets.
Highlight: Hilton Al Habtoor City guests get complimentary access to Dubai's premier stage show, La Perle by Franco Dragone, which will be showcased in the hotel.
The Mirage @ Al Habtoor Polo #C813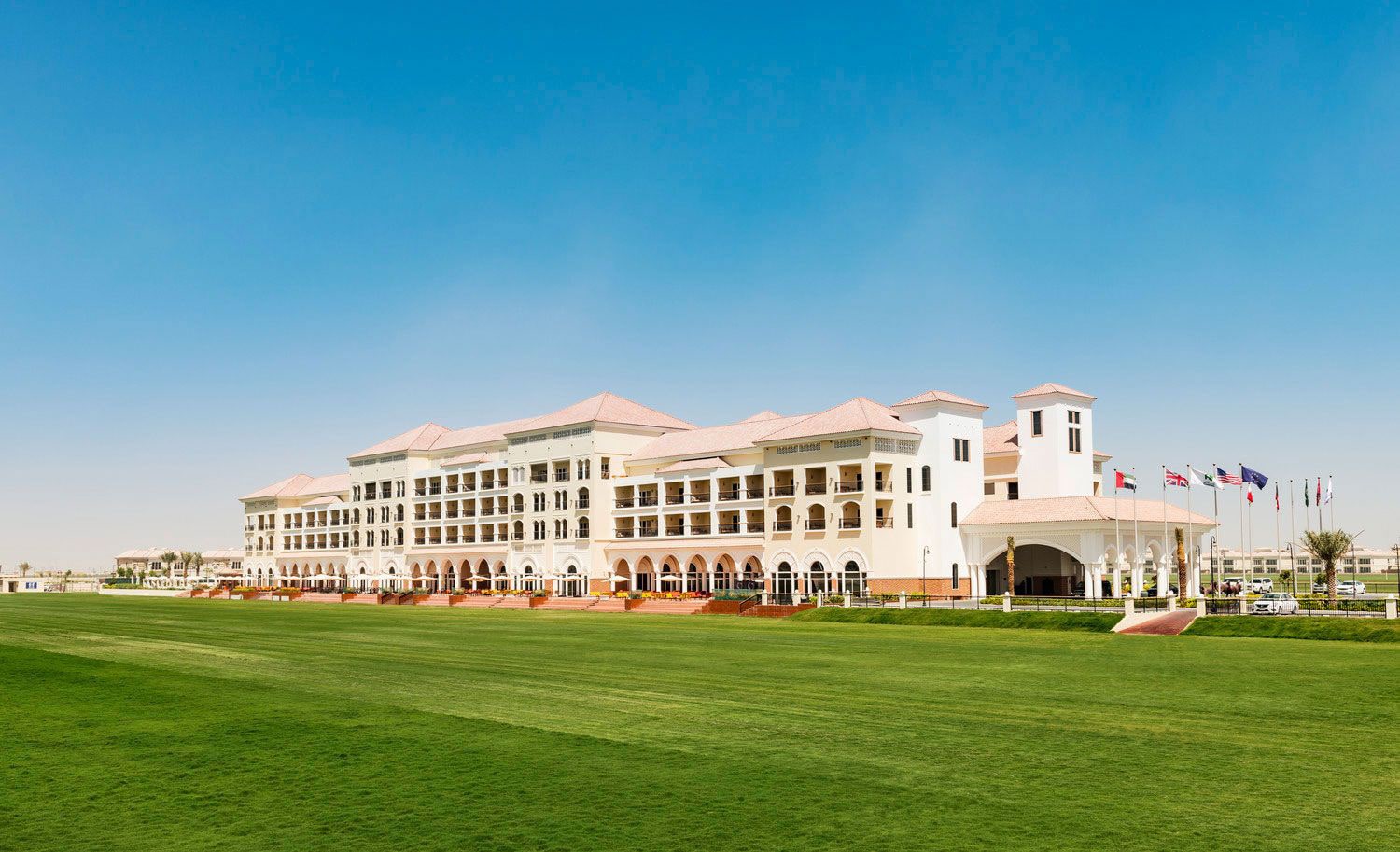 The 149-suite Al Habtoor Polo Resort is nestled amid lush, manicured green polo fields in the heart of Dubailand. Photo from Habtoor Polo Resort.
This 149-suite resort nestled amid lush, manicured green polo fields in the heart of Dubailand. Al Habtoor Polo Resort (#C813) impresses guests upon arrival with stylish suites, luxurious villas, and spacious balconies with polo field views where guests can enjoy matches from the comfort of their own rooms.
The Royal Polo Pool Villa is the resort's most luxurious accommodation for a reason — the two-storey villa fits two master bedrooms with ensuite bathrooms, complete with rainfall showers, bathtubs, and vanity counters. Landscaped gardens, temperature-controlled pools, al fresco dining spaces, and in-built BBQ pits are also on offer.
Here, food lovers are spoilt for choice with six dining options, including The Grill Pit for the best seafood, Andalucia for Mediterranean cuisines, and The Horse & Hound for finger-licking British pub grub.
Habtoor Palace Resort #C731
Upon arrival, guests are greeted by a luxurious lobby and welcoming staff. Photo from Habtoor Palace Dubai.
Elegant, opulent suites, excellent fine dining, and top-notch services are commonly featured in luxurious resorts.
At Habtoor Palace Dubai (#C731), the five-star luxury resort also adds the bespoke Bentley Suite or Sir Winston Churchill Suite (the only of their kind in the Middle East!), Waldorf Astoria Dubai Palm Jumeirah's private beach, La Perle Theater, an intimate venue with just over a dozen seating rows, a helipad, and a canal to that list.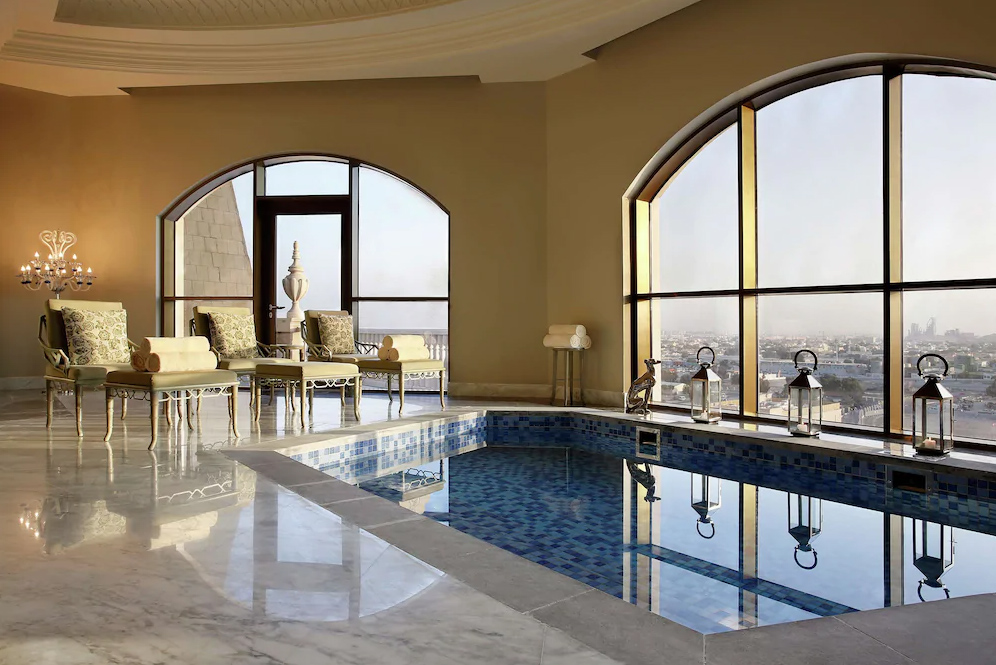 Habtoor Palace Dubai's pool is made of idyllic views and refined luxurious interior. Photo from Habtoor Palace Dubai.
Take a dip with the family in the rooftop pool, stroll along the pristine beaches, pamper loved ones with rejuvenating treatments, play golf or cycle around the city.
There's a reason Habtoor Palace Dubai is most popular with families and first-timers: the prime location puts it within a short distance to all the main attractions — La Perle Theater, Burj Khalifa, and Dubai Water Canal.