The following travel guide is shared by Yu-Hsiang and Chia-Jung, who just returned from a seven-day trip to the Maldives with their daughter, Annya, where they snorkelled with the fishes, played cards at the beach, and visited a traditional Maldivian village. To Yu-Hsiang and Chia-Jung, an adventurous couple from Taiwan, travelling has become an annual family tradition.
While it's whale sharks, manta rays, and their colourful marine life that have put Maldives on the map for divers, Maldives isn't just about diving.
From snorkelling, kayaking, jet skiing to island hopping excursions that will take you to uninhabited islands strung across the ocean like pearls on a necklace — there's no shortage of exciting things to do in the island country.
And, there's not much reason to go anywhere at all, when you can enjoy everything (and more!) within Medhufushi Island Resort (#DC72) and Filitheyo Island Resort (#DC70).
For the thrill seekers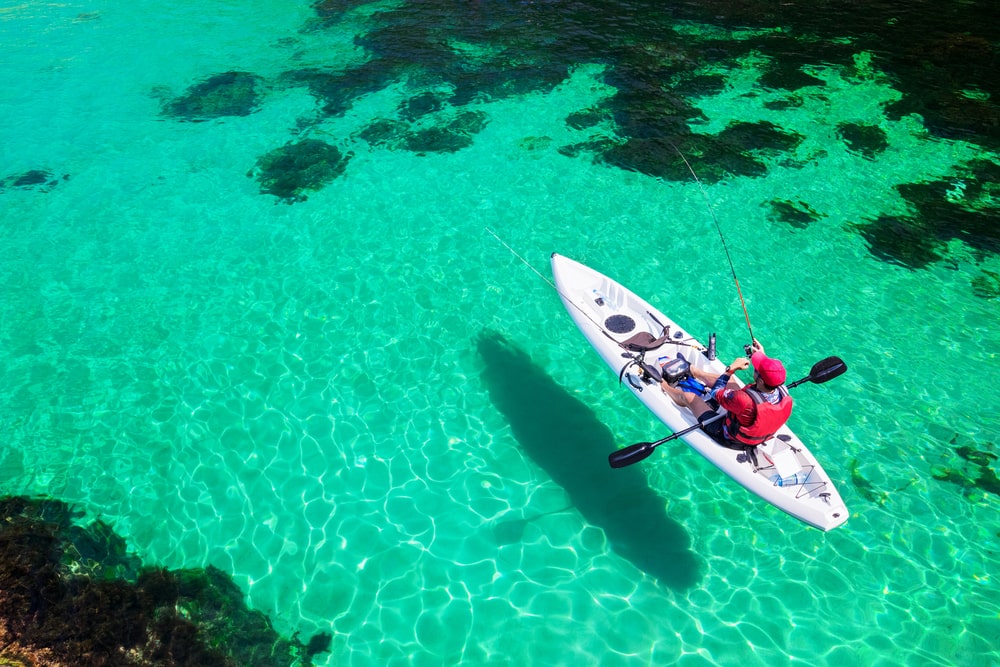 In Maldives, float over a school of fish, black-tip sharks, and the deep blue ocean waters in your kayak. Photo from Shutterstock.
When the adventurous travel bug bites, the Watersports Centre can arrange an adventure of a lifetime for you.
There's diving, of course — for those who want to experience the Maldives' stunning underwater wildlife. If you want to have a friendly encounter with the amazing sea creatures, but don't feel like taking in too much action, then snorkelling would be perfect for you. The best snorkelling area is a nice house reef where visibility is good.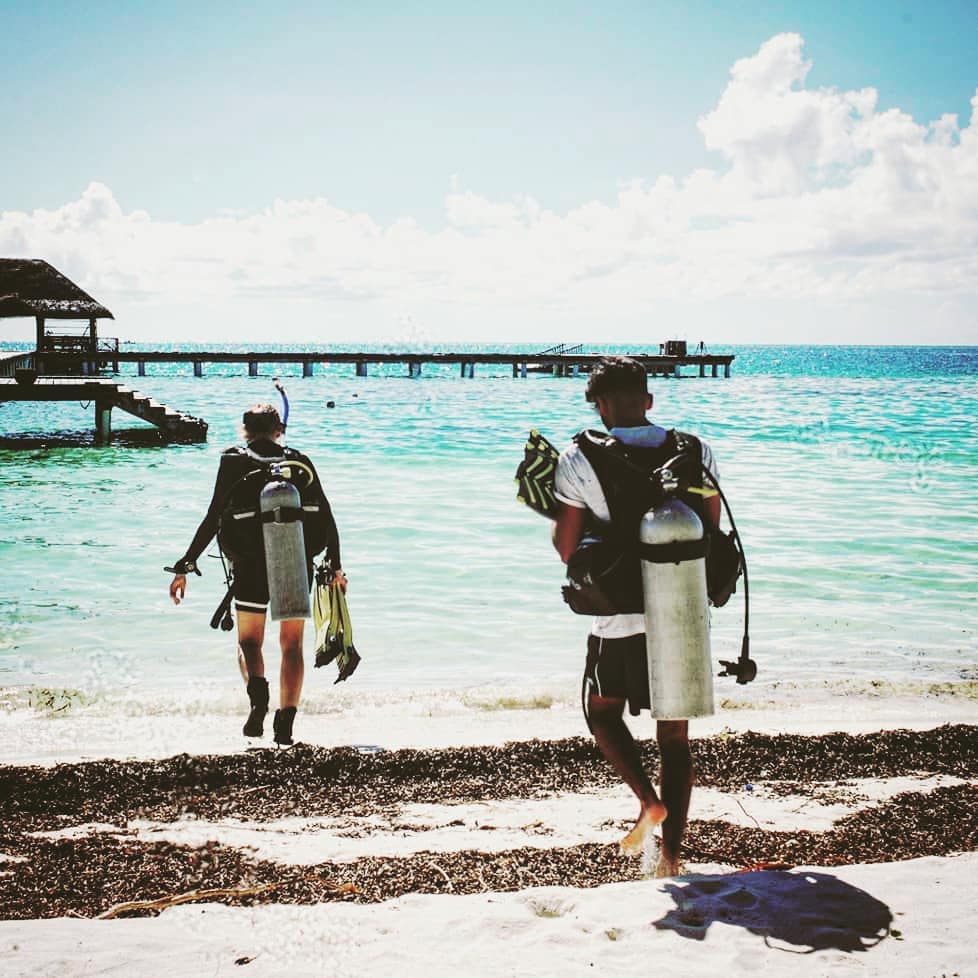 Medhufushi Island Resort offers diving packages for divers of all levels. Photo from Medhufushi Island Resort via Instagram.
When the wet season hits and the wind picks up, sometime between April to October, try your hand at windsurfing. As you navigate through the sparkling lagoon, feel the refreshing tropical breeze in your sails. Or, venture out into the pristine waters in your kayak and witness the beautiful white-sandy shores of the island from afar.
Other water sport activities include jet skiing and stand-up paddling.
Tip: Tucked away in Meemu Atoll are some of the Maldives' most excellent and uncrowded surf points, perfect for those who want some peace and quiet.
For the explorers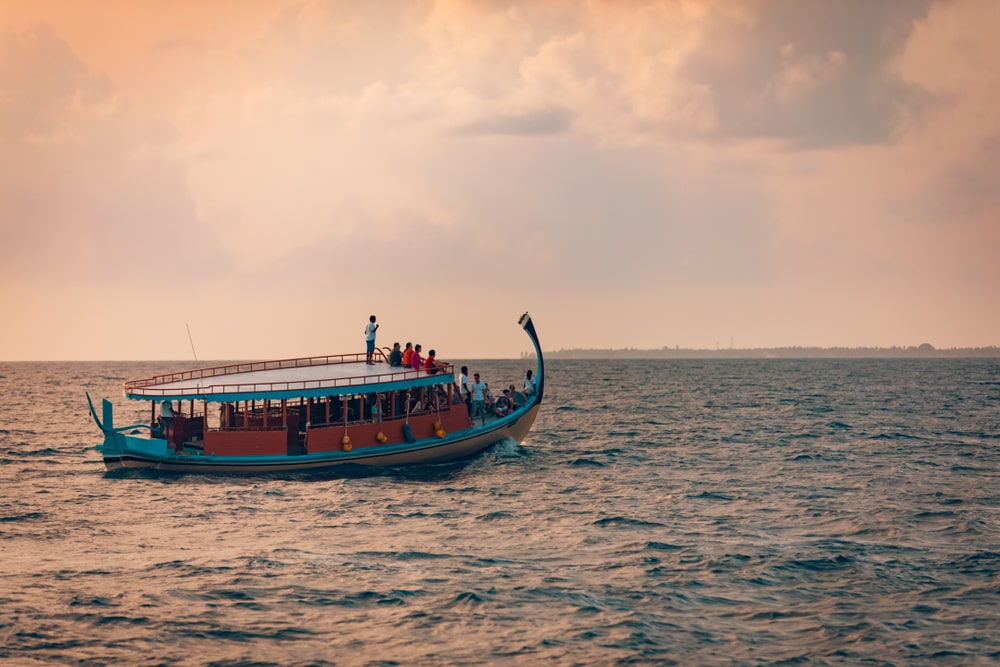 Hop on board the traditional Maldivian dhoni as they take you to traditional villages and uninhabited islands surrounding the island country. Photo from Shutterstock.
There's a reason why beach bums still talk about the beauty of the Maldives, long after they've left its shores. The island country, truly one of the most effortlessly beautiful settings on earth, will blow your mind.
Get on one of the excursions available — sunset and morning fishing, deep sea fishing, island-hopping, dolphin-watching, and a special honeymoon excursion — and you'll know what we mean.
Hop on board the traditional Maldivian dhoni (a traditional multi-purpose sailboat) and experience the true Maldives' way of life. See the traditional Maldivian settlement, with many houses made of local vegetation, thatch, or coral stones. As you hop from one village to another, a Guest Relations Officer will walk you through a commentary of the culture.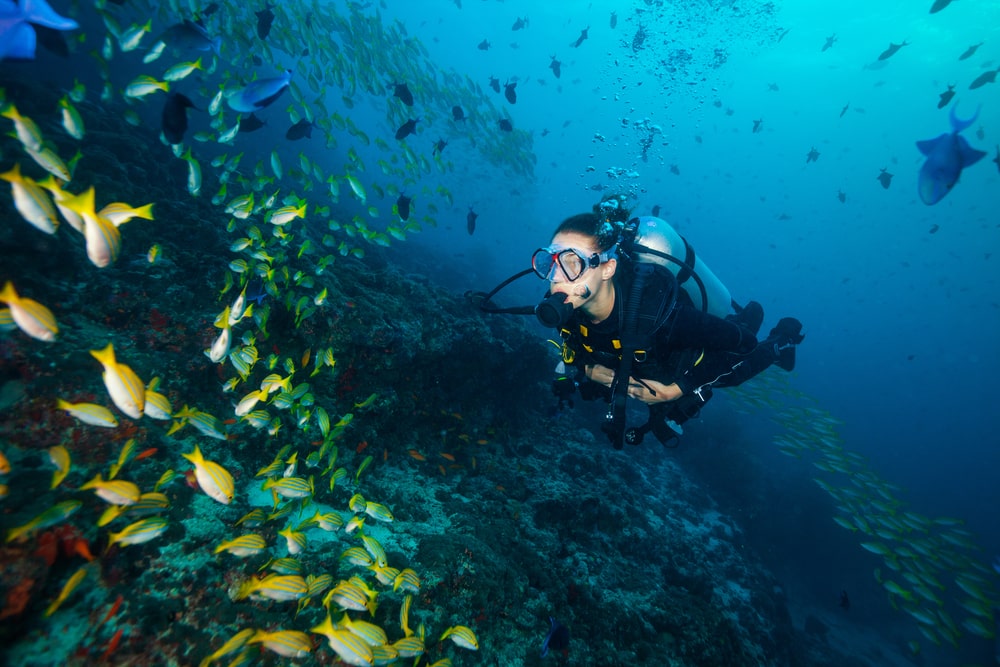 The underwater world is waiting to be discovered. Who knows what your fishing experience will bring? Photo from Shutterstock.
Our favourite? Night fishing via the traditional Maldivian "hand-reel bottom fishing." If you're new to fishing, no worries, the experienced dhoni crew will take you to the best place to fish and assist with reeling red snapper, barracuda, groupers, among other big fishes.
Here's the highlight — catch your own fish and have it specially prepared for you during lunch or dinner for the following day.
For the party people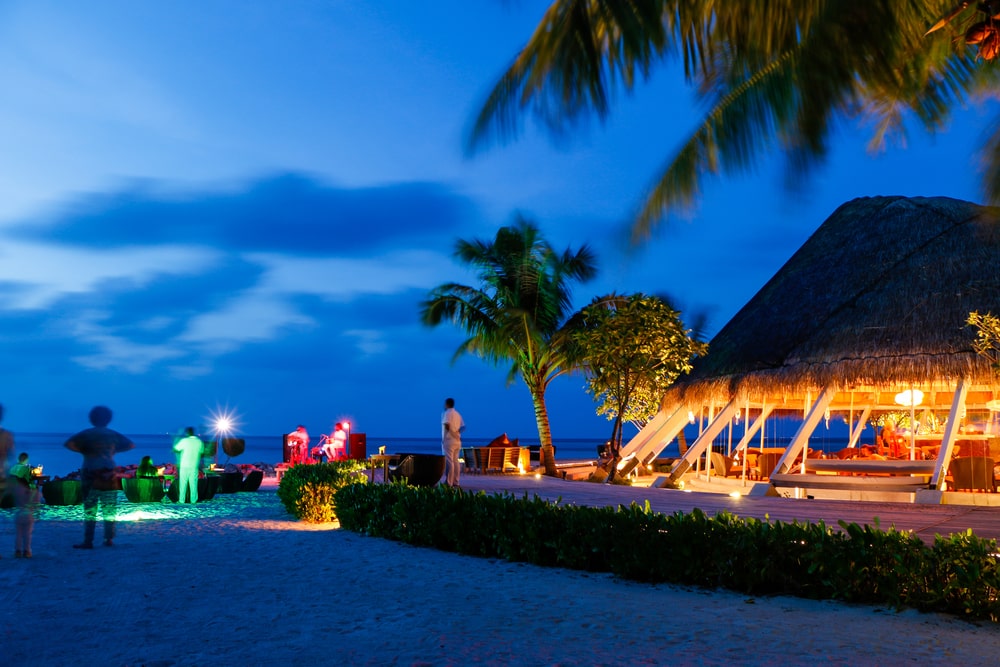 It's not all partying and drinking here. The Maldives' nightlife features music performance, dance performance, and live DJs. Photo from Shutterstock.
Once night falls in the Maldives, the starlit clubs come to life. However, options for partying and consuming alcohol are limited as the majority of the island inhabitants are strict Muslims. Alcohol is prohibited in all local areas and "local islands," even for foreigners and tourists. It may only be consumed on the resort islands or luxury hotels which means your booze comes with a slightly higher price tag.
It's not all partying and drinking here. Indulge in local music performed by the resident live band or DJ. Or, on a selected night, there may be a Boduberu dance or a traditional Maldivian music performance.
For the loungers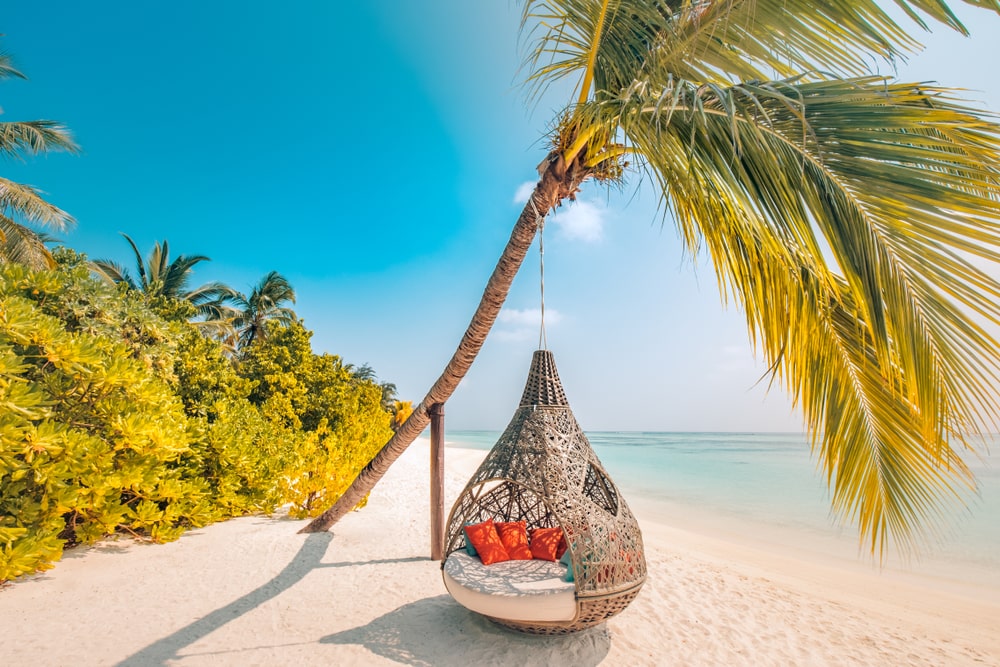 Want some relaxing activity options? Gather some friends for a friendly beach volleyball game, play cards at the beach, or lounge around the beach leisurely. Photo from Shutterstock.
For anyone looking to fill their days lazily with swimming, strolling, or just lounging around the beach, the Maldives is an ideal destination.
Sure, there are the usual activities at the beach like reading and playing Frisbee, but hear us out — the beach is a great place to play a board game. The Sports Centres at Medhufushi Island Resort or Filitheyo Island Resort is equipped with a good selection of board games for you to choose from. The resorts also host beach volleyball, billiards and table-tennis to get your adrenaline going.
Want an option that does not include the sun? How about working out your vacation calories in an air-conditioned gym?
Our top resort picks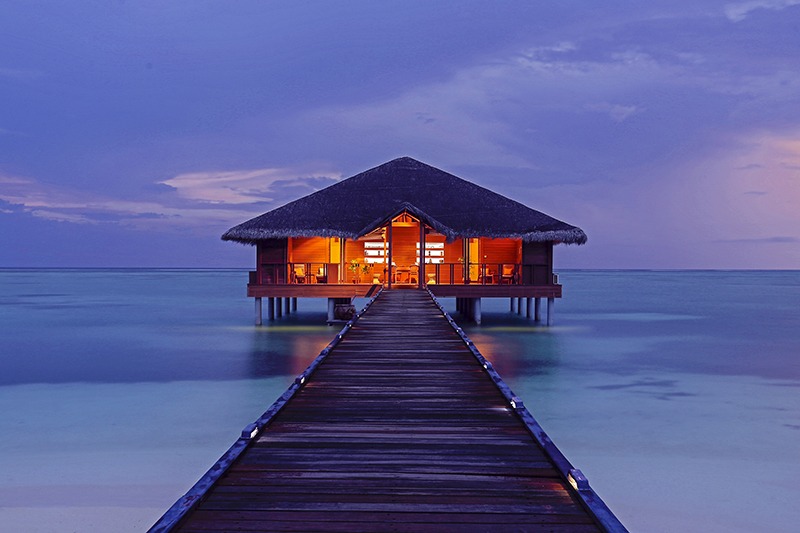 Medhufushi Island Resort and Filitheyo Island Resort have one thing in common — they are two of the Maldives' best resorts. Photo from Medufushi Maldives.
When planning to visit the Maldives, beach bums often face the same problem — which resort is the best?
If your idea of the perfect beach resort involves luxurious, powdery beaches, crystal clear lagoons, plenty of dining options, and enough fun activities, then look no further: here are our editor's top resort picks.
Medhufushi Island Resort and Filitheyo Island Resort have one thing in common — they are some of the Maldives' best resorts.
A week at these all-inclusive resorts spell idle, sunny days; where a beach is within easy reach of your villa; where you can enjoy all the fun activities without venturing out of the resort; and where all the drinks and meals are served on site. All-inclusive packages mean your accommodation, food and beverages, resort amenities, activities, and other services are covered in the cost — it's a beautiful world on its own.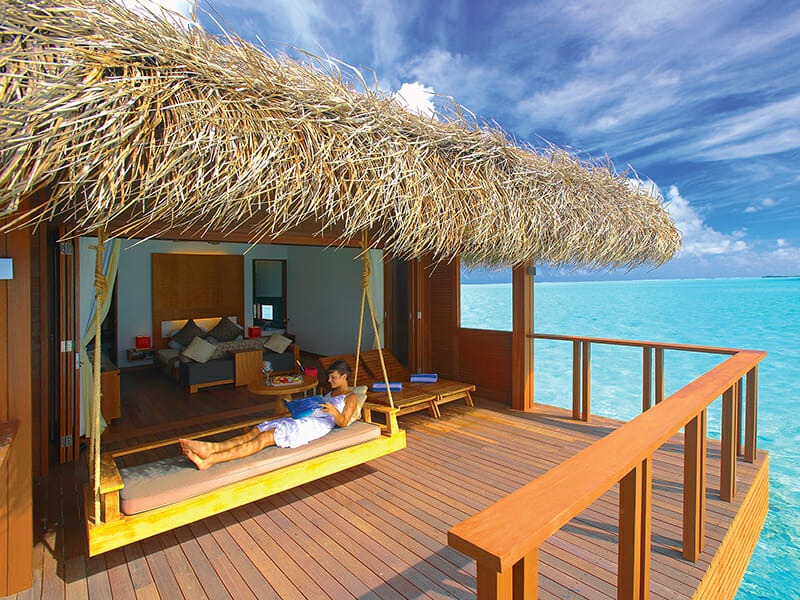 A private water villa is the dream Maldivian vacation. Photo from Medhufushi Island Resort.
Set at the beautiful Meemu Atoll, a 40-minute seaplane ride from the Maldives' International Airport, Medhufushi Island Resort (#DC72) has plenty to keep you busy. Activities include pampering yourself with an award-winning spa experience, cycling around the island resort, reading leisurely as you sunbathe at your private sundeck, and, of course, the many exciting water sports activities.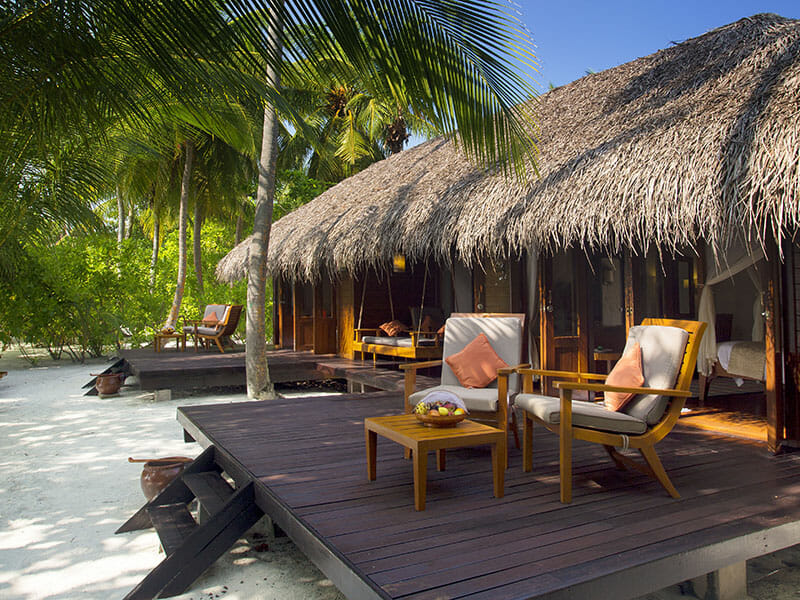 Prefer to stay closer to the resort's facilities? A beach villa with its own deck for lounging is perfect for you. Photo from Medhufushi Island Resort.
At Medhufushi Island Resort, you can choose to stay at the beach — in a beach villa, beach villa suite, or a semi-detached beach villa, perfect for a family; or in a water villa, surrounded by pristine waters all around.
Or, upgrade to an all-inclusive package which includes, but not limited to, free excursions and free drinks as you lounge at the beach.
When you aren't getting a suntan, you can go snorkeling at the beautiful house reef, pamper yourself with a Maldivian spa treatment, or treat yourself to the many food options at Medhufushi Island Resort — their curries are savoury, spicy and will leave you reaching for a second helping. And their Alfresco Restaurant, where the views of the glassy lagoon are mesmerising, is a great spot to enjoy your dinner.
WiFi is sold at an additional price and only works at the bar and reception, which adds to the resort's off-the-grid feel.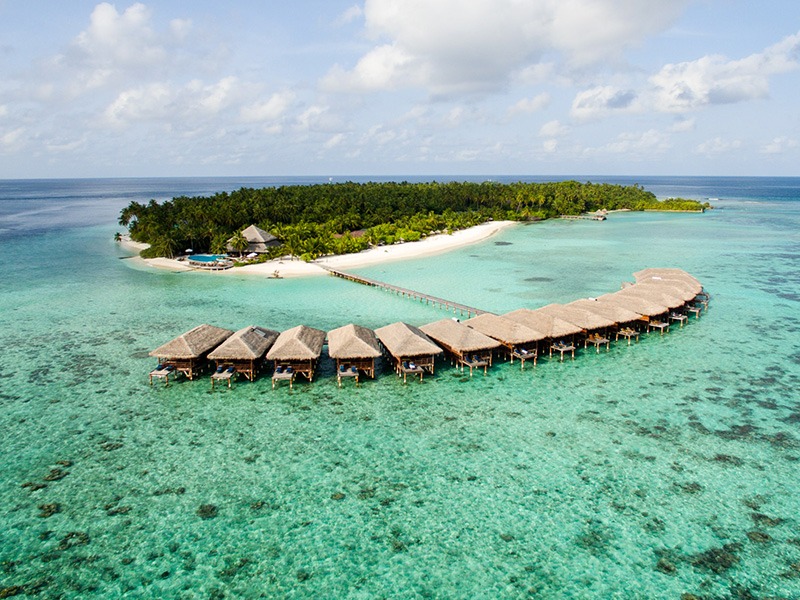 Avid divers and even those new to snorkelling will love the vibrant house reef here. Photo from Filitheyo Island Resort.
A 35-minute seaplane ride and a 15-minute dhoni ride later, guests arrive at Filitheyo Island Resort (#DC70). The luxurious beach resort is located in Faafu Atoll, one of the Maldives' most pristine atolls, abundant with colourful marine life and coral reefs.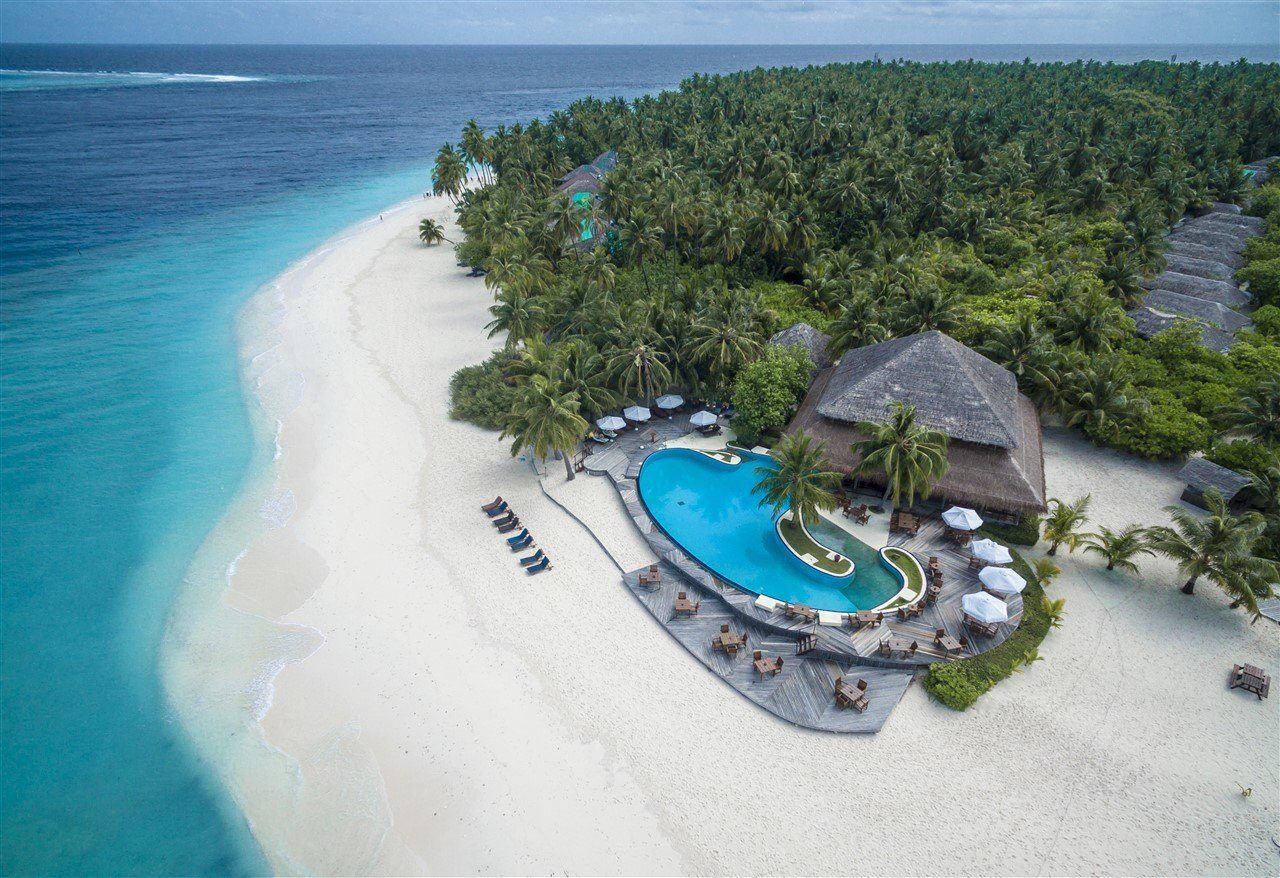 It's all about instance access to the beach from wherever you are at Filitheyo Island Resort. Photo from Filitheyo Island Resort.
Opt for the water villas where you can soak yourself in a large hot water jacuzzi, sunbathe at a private sundeck, or jump straight into the water with your own private entrance from the villa.
It's all about being active at this resort—diving, excursions, sports, and water sports activities are a sampling of what's offered. Need a break? Chill out by the pool where you can take in the magnificent Maldivian sunset.
There are multiple restaurants to choose from—the Main Restaurant, the Sunset Restaurant and Bar, and the Main Bar. In the evenings, be sure to set some time for yourself in the healing powers of spa therapy.