This itinerary was supplied by Connor Groves (49), Katie Brown (47) and their teenage children, Hannah (16) and Hugo (19), who hail from sunny Gold Coast, Australia. Hugo and Connor are pro-surfers, so the family of four often spends weekends surfing at Gold Coast's local beaches.
If you've never tried winter sports, Canada is just the place to dip your toes into this thrilling wondrous world. From snow sledding to skiing, the country has some of the best locations for both professionals and amateurs. Here's what to bring for your adrenaline-filled trip and where to stay.
Getting Around
Train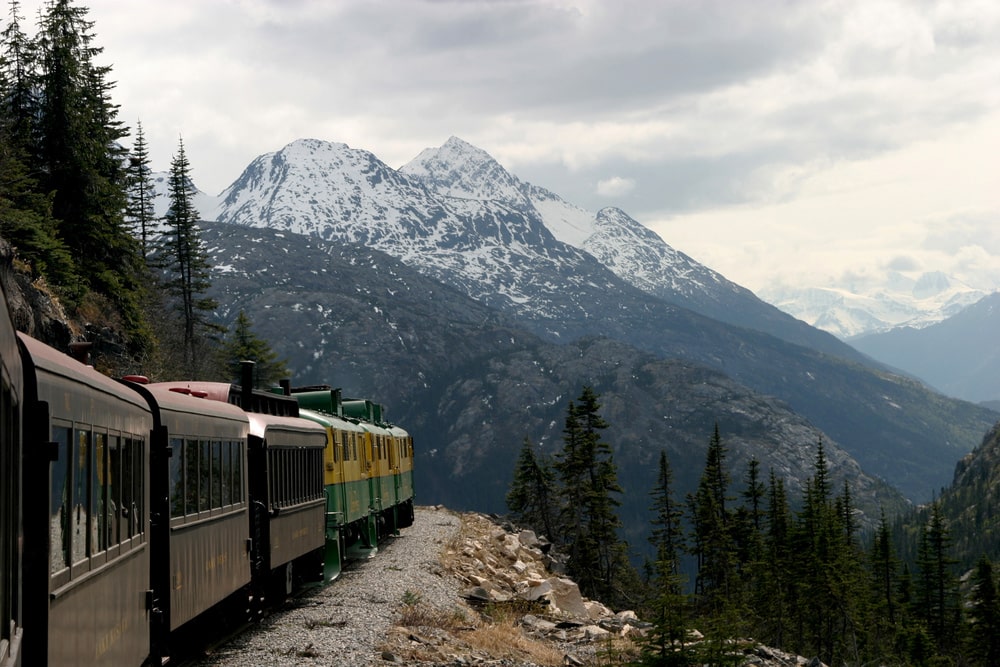 Interstate rail travel is a good way to take in the Canadian winter landscape, especially the Canadian Rockies. Photo from Shutterstock.
Rail transport is reasonably easy in Canada, with Toronto and Montréal having subway systems. Vancouver's Skytrain is a light rapid train that connects downtown Vancouver with British Columbia and surrounding areas. See route maps and fare details here.
Calgary, Edmonton and Ottawa also have efficient light-rail systems. Route maps are posted in all stations. Read more about each city's system here.
For inter-state or even international travel, VIA Rail offers short haul and longer haul trains that enable travelers to go as far as New York, or further east to Churchill. Check out a detailed map of these trains at Seat61.
Word is, the trains are a fantastic way to take in Canada's landscapes, particularly the Rocky Mountains, so consider that if you enjoy sightseeing.
Road
Long distance buses are readily available and a more affordable cross-country option than VIA Rail. A comprehensive guide on the different long-haul bus options can be found at Lonely Planet.
If you're planning to drive, make sure you have a valid international driving permit. Speed limits in the country include 50 km/h (31 mph) in most cities, 80 km/h (50 mph) on smaller highways, and up to 100 km/h (62 mph) on major highways.
However, note that driving in winter can be dangerous - with heavy snow, black ice and white-out conditions creating hazards even for the most experienced drivers.
Ensure you have a back-up charger for your phone with emergency numbers saved, and that you have appropriate equipment like snow or tyre chains if you are driving through the mountains.
Surviving the Canadian Winter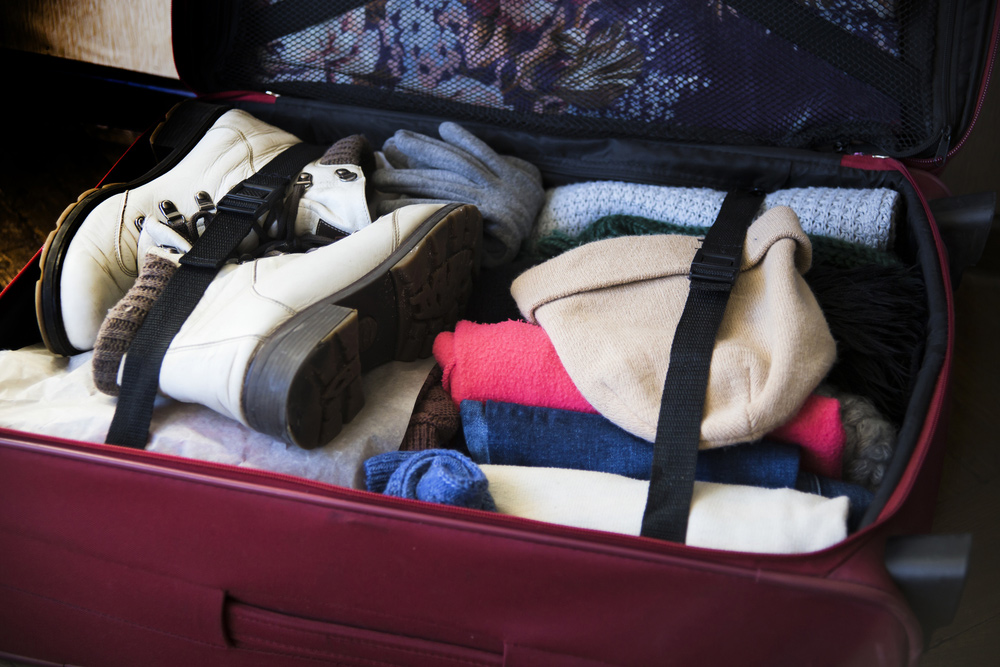 Investing in waterproof boots and gloves is essential for winter sports, as snow can melt and soak into clothes. Photo from Shutterstock.
Canadian winters at their harshest can drop to temperatures of -40 degree Celsius. Vancouver and Alberta see milder winters, but for aspiring winter sportspeople, here is a checklist of key items you should have. Ensure you have plenty of insulation to trap body heat, and a waterproof outer layer to keep your clothes dry.
Thermal garments - These form the first layer and trap body heat. Silk, nylon, polyester or fine wool work.
Fleece or wool as a mid-layer : A sweater or a pullover doubles down on the heat insulation. Turtleneck styles are also good for keeping your neck warm, especially for children or people who dislike scarves.
A sturdy, water resistant down jacket : Modern down jackets come in slimmer, fashionable silhouettes without compromising on warmth. Make sure it's water repellent or resistant so snow won't dampen your fun when you're outdoors.
Waterproof snow pants : A must if you are skiing, or doing something where you may be falling into snow. A damp bottom is uncomfortable and dangerous in such extreme conditions.
Snow boots :These keep your feet warm and snow-free. Toes and fingers are the first to feel the cold and get frostbitten, so always make sure these stay dry and toasty.
Getting Sporty
When winter lasts five months out of the year (November to March), you can be sure the Canadians make the most of the plush amounts of snow and ice. Here, we introduce three unique winter sports to try, outside of the usual suspects of snowboarding and skiing.
Tubing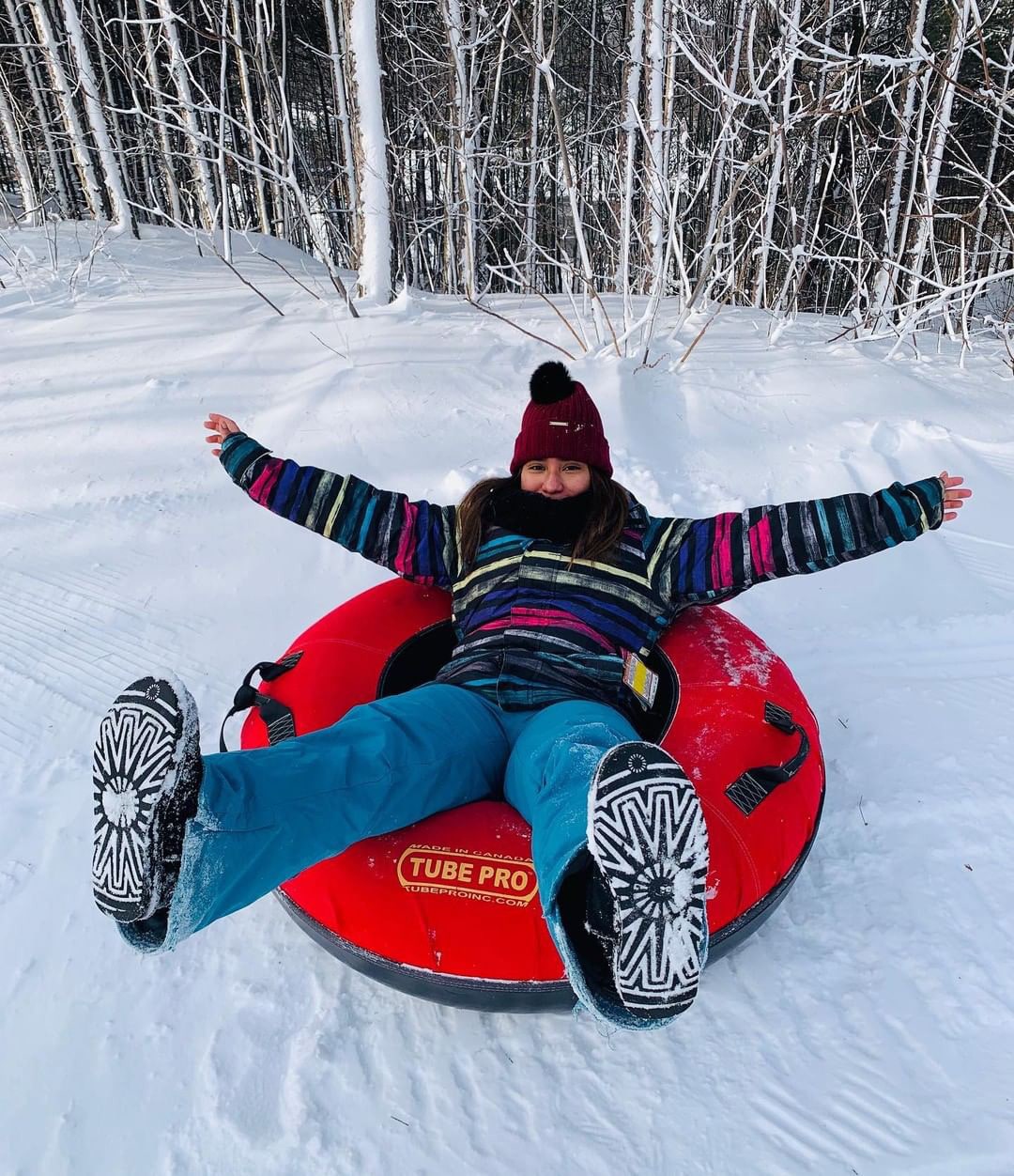 With minimal equipment and no skill level needed, tubing is an easy winter sport fit for young and old alike. Just be sure to do it on snow slopes designed for tubing. Photo from @horseshoeresort via Instagram.
This is an outdoor sport that is for all ages and skill levels… and definitely great for the whole family. Imagine going down a water slide on a padded ring, except on a specially shaped slope covered in snow.
Areas designated for tubing have soft powdery snow and barriers to cushion landings and minimise risks, making it a largely low-risk but thrilling sport for children.
Where to go:
The Horseshoe Valley is home to Snow Valley, Ontario's longest snow tubing hill. With nine chutes or lanes and a 10-storey drop, this hill promises an afternoon or even days of adrenaline-fuelled fun.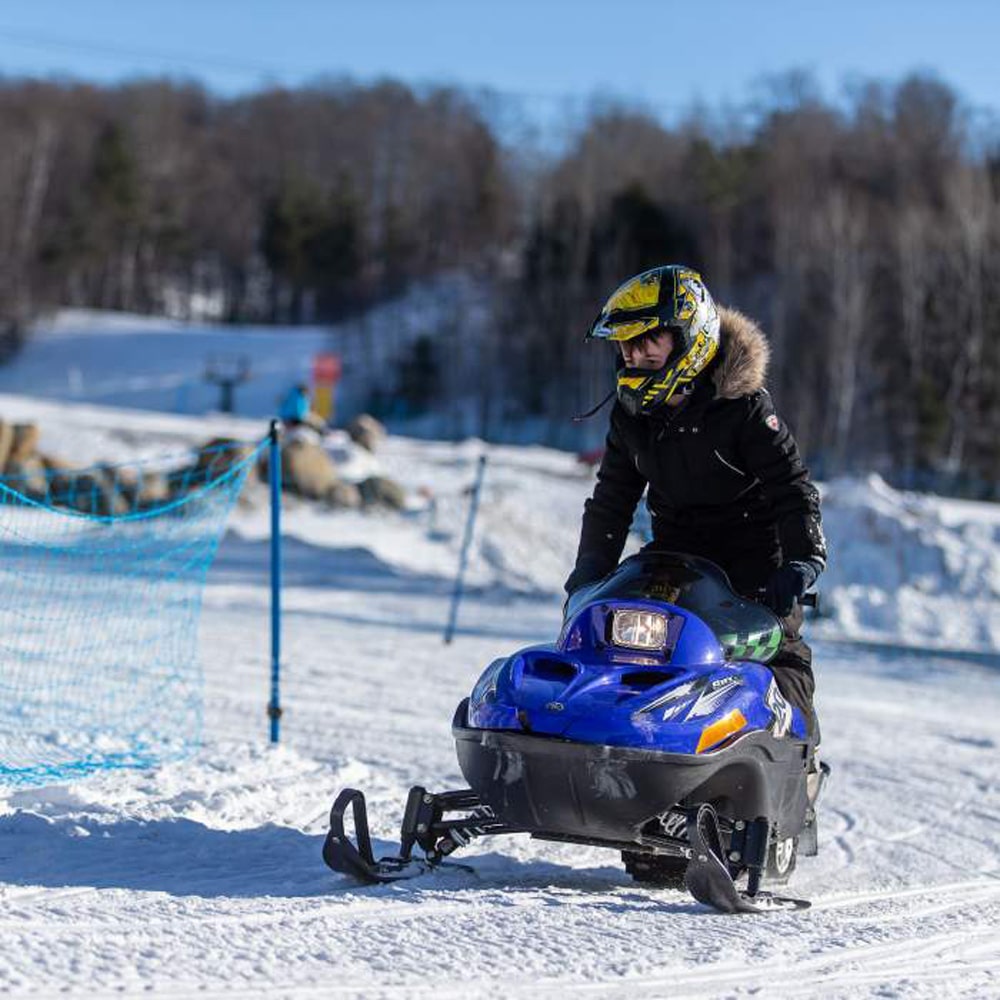 Travel to Horseshoe Valley for an adrenaline-packed day on the slopes of Snow Valley. Photo from Horseshoe Resort.
For added thrills, players can also choose to link their tubes with friends for a joint adventure, or whiz their way down alone.
Blessed with scenic vistas and world-class slopes, the area is also close to Settler's Golf Course and Hardwood Ski and Bike, a recreation and event centre with over 80km of tracks for skiing, mountain biking and snowshoeing.
If you've spent all day kicking up a sweat, you will want lodging that is close by. Just a five-minute away is the quaint Carriage Hills Resort (#4200).
Besides cosy studio apartments for four, Carriage Hills Resort offers one and two-bedroom suites ideal for families with up to eight members. The suites are also equipped with private, fully functional kitchens, fireplaces, and whirlpool bathtubs, perfect for warming up and winding down.
Trust us on this: after a day in the snow, there's nothing better than a hot bath before falling asleep on a plush king-sized bed.
Fat Biking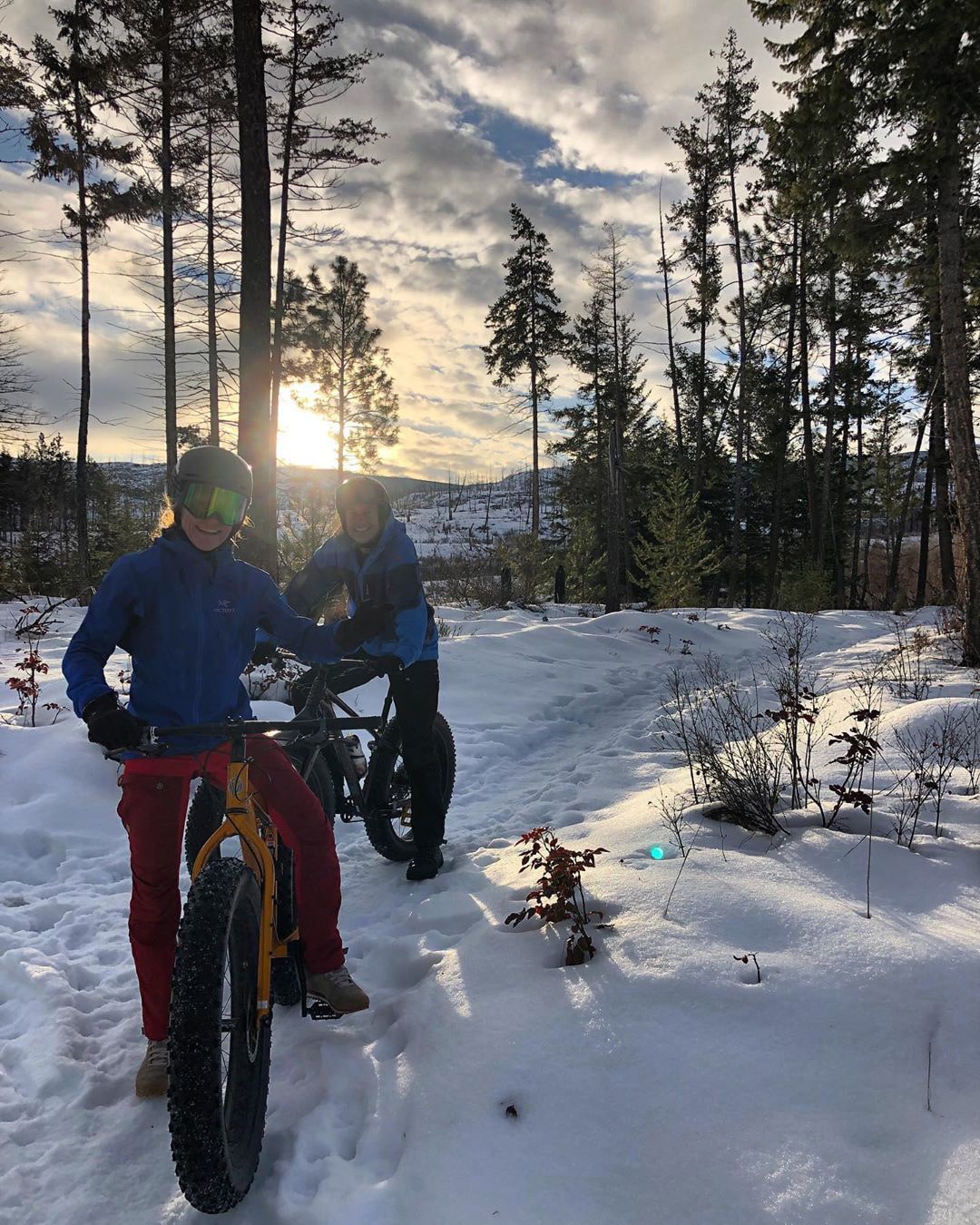 Fatbiking is a good way to explore the Canadian outdoors - the larger tyres help with traction on the slippery ground, and the exercise keeps you warm. Photo from @adventure.bee.s via Instagram.
Fat bikes, or 'fatties' as they're affectionately called by fans, are mountain bikes with large and thick tires made for snow or ice-covered terrain. Think mountain biking with special snow tyres.
Where to go:
Mont-Sainte-Anne near Montreal is a resort area which boasts the largest network of cross-country biking trails in Eastern Canada. These trails are maintained all winter and are located next to the ski centre.
Fat biking is a great way to tour the snowy landscapes at your own leisure, and the slopes of Mont-Sainte-Anne offer some of the best views in Québec City. More fat biking trails can be checked out here.
Want to be close to the centre of the action? Just under 20 minutes away from Monte-Saint-Anne is the GEOHoliday Heights @ Lac Morency (#2189).
Homey and furnished in warm hues and woods, its apartments can house between four to eight - perfect for groups of friends or families taking in the gorgeous sights of nearby Lac Morency.
The Village du Pere Noel is a dream playground and colourful wonderland for children. Photo from @villageduperenoel_valdavid via Instagram.
Should the little ones prefer more regular entertainment, the Village du Pere Noel is half an hour away by car. This amusement park, said to be Santa Claus' summer residence, boasts a giant Christmas tree and many activities like a petting zoo, pony rides to keep the kids happily occupied.
For adults looking for a slower, calmer way to enjoy the Canadian winter, check outSpa Morency, the area's on-site outdoor spa which overlooks Lake Morency. The Nordik Spa-Natural, a 2-hour drive away, is an eco-friendly spa centre that offers pampering treatments to soothe those tired muscles.
Skijoring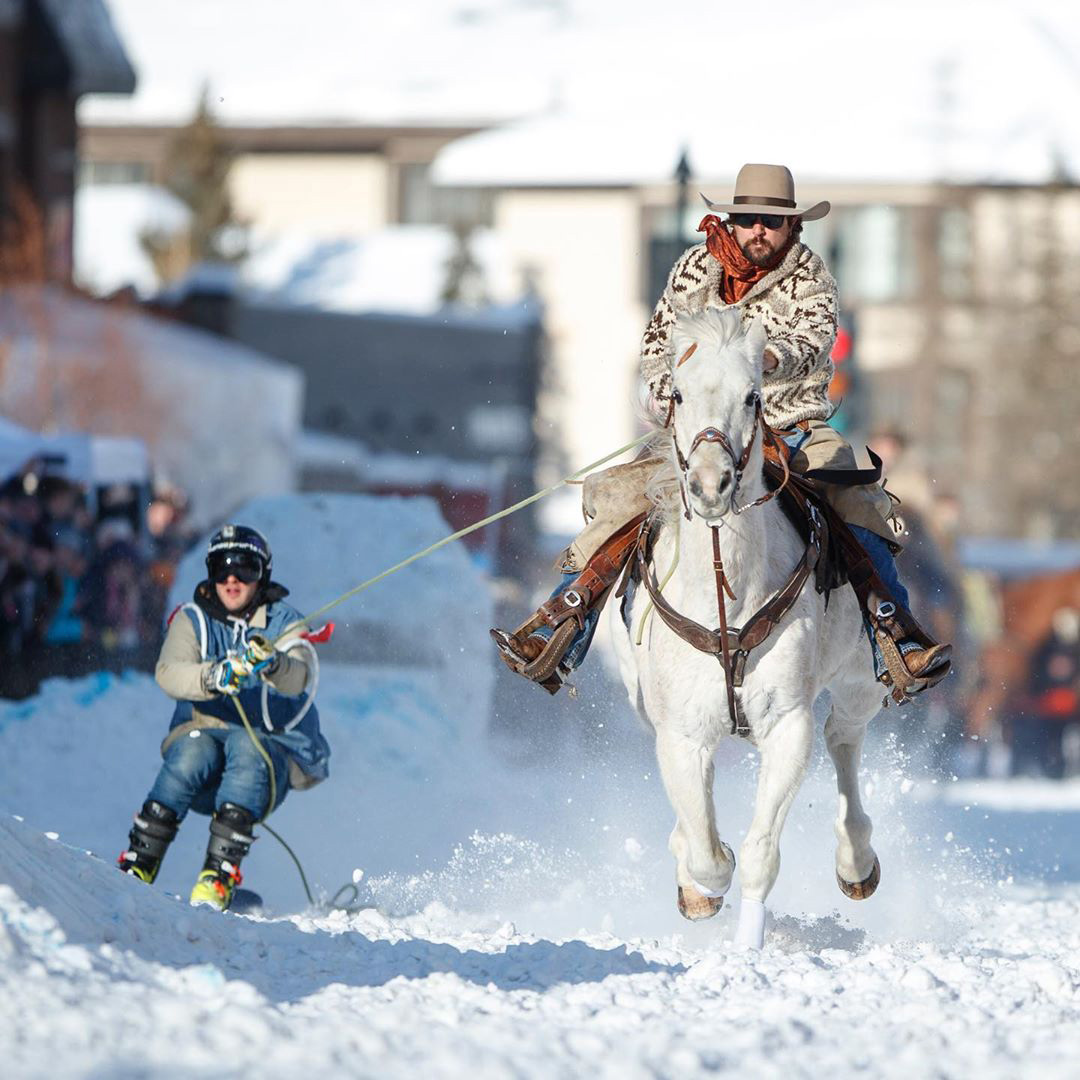 Like jet skiing on land, skijoring, an anglicised version of the Norwegian word skikjøring or 'ski driving', offers a joyride for experienced skiers. Photo from @skijorcanada via Instagram.
This winter sport is the closest thing you will get to flying on land, where you don skis and get pulled along by sled dogs or horses. Dog and horse-skijoring are increasingly popular activities in Canada, usually done by intermediate skiers.
This winter sport is a little riskier than most, and best suited for the thrill-seekers and more athletic travellers who do not mind a tumble now and then. Here is an account of dog skijoring in Alberta for an idea of what to expect.
Where to go:
Skijoring is such a big deal in the town of Banff, Alberta that there are community races and exhibitions held for the sport. See the list of activities planned for 2020 here as part of SnowDays Winter Festival, a 1-day event that includes craft tasting menus, snow sculptures and competitive skijoring.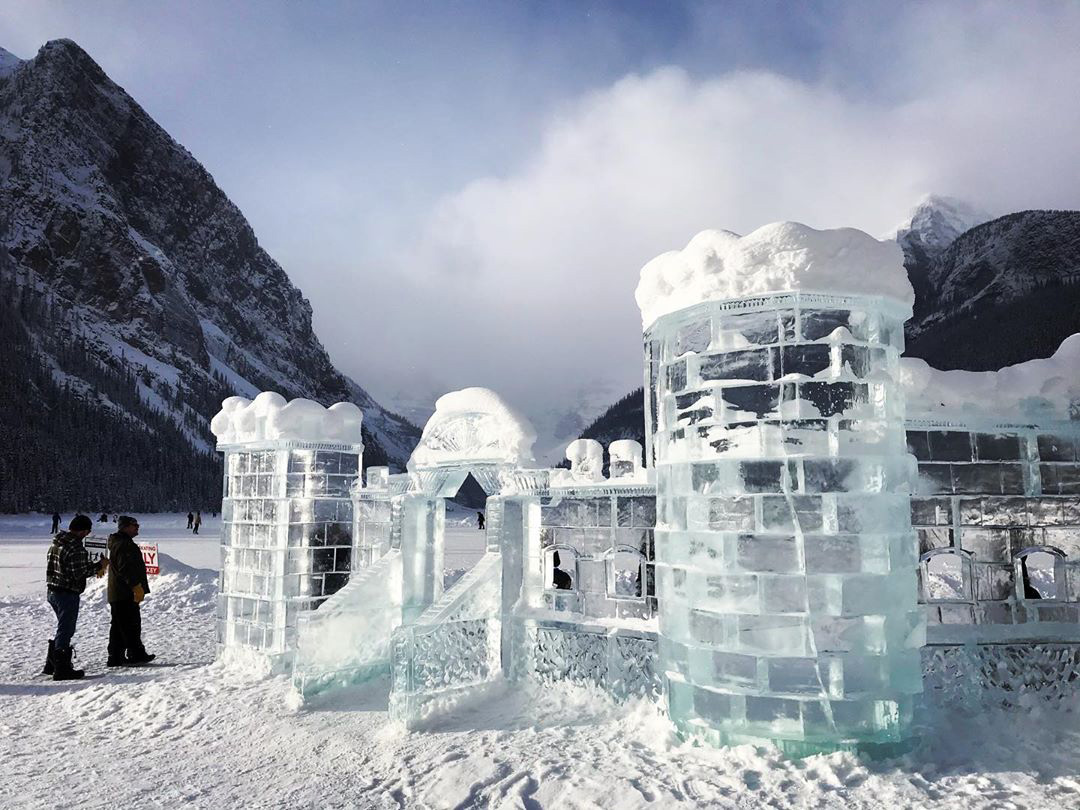 Be awestruck by impressive displays of ice statues and carvings at the SnowDays Winter Festival. Photo from @mukul061 via Instagram.
Skijoring can only be enjoyed via appointments with special tour agencies like Mad Dog and Englishmen, as the sport requires guides and fleets of dogs or horses trained for this.
Otherwise, the area offers the safer options of dogsledding, sleigh rides, ice fishing and more.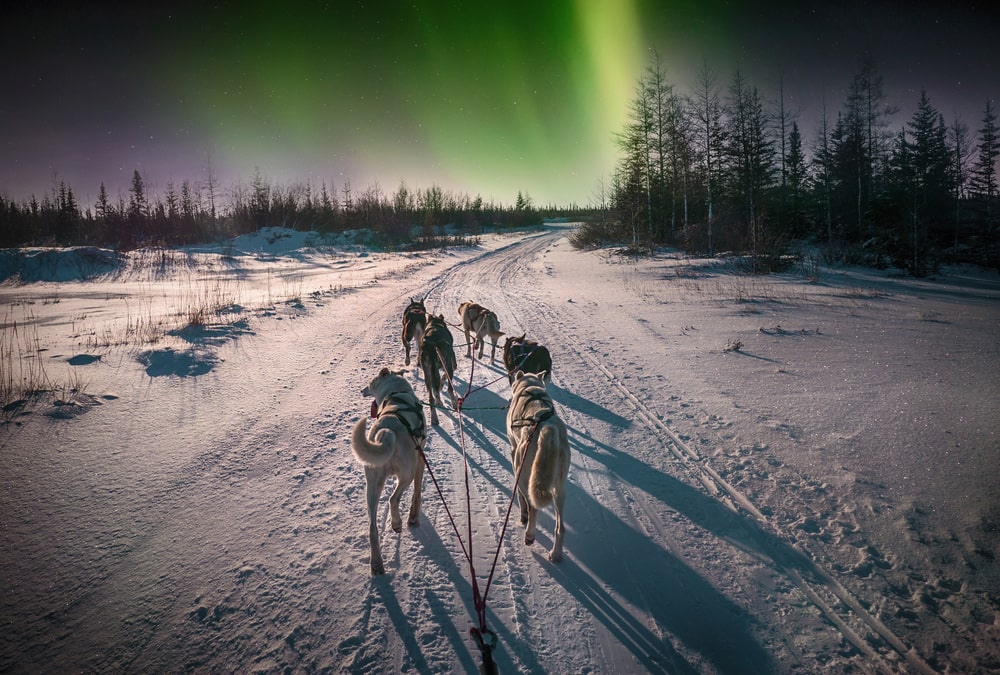 For those who aren't thrill-seekers, dog sledding is a safer, less physically demanding way to experience the winter wonderland of Canada. Photo from Shutterstock.
When you have had enough thrills and spills for the day, there's nothing more calming than a warmly appointed villa nestled by the Canadian Rocky Mountains. The Sunchaser Vacation Villas (#C158) is well worth the two-hour drive from the town centre, with its rustic, comforting decor and spacious rooms for groups of four to eight.
The villas also feature fully functional kitchens and outdoor grills should you wish to whip up a fortifying meal for the family.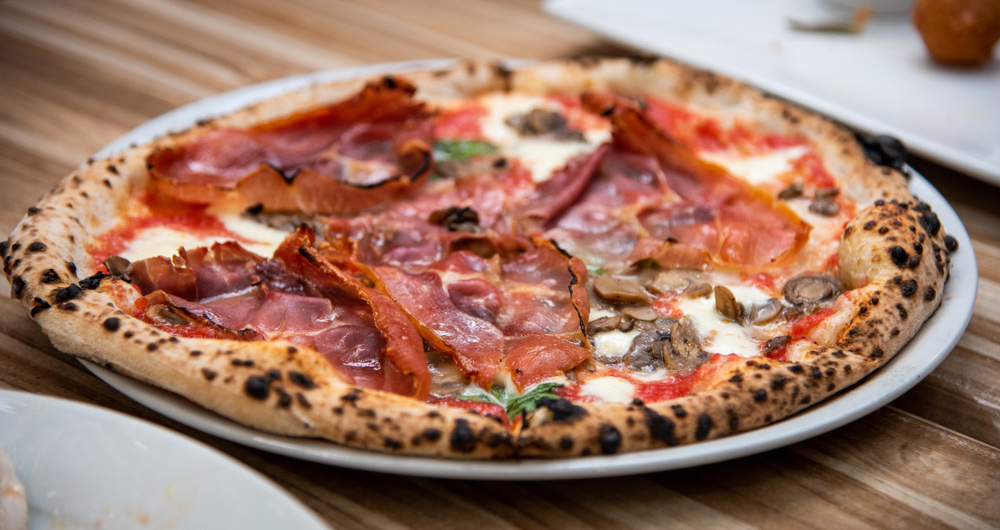 Choose from an array of family-friendly restaurants at the Mountainside Market. Photo from Shutterstock.
Too tired to cook? The Mountainside Market, a 6-minute trip by car, and its surrounding restaurants will be sure to satisfy with familiar favourites like Subway, a Greek grill and easy classics like pizza and ice cream.
This area is likely best for the hardcore winter sports lovers, as most of the area's other attractions, like golf courses, children's petting zoo and a zipline facility are closed for the season. The eponymous hot springs are outdoors, and thus less enjoyable with the winter chill as well.