The following travel guide is shared by Ryan Anohada and Estelle Eilish, a Sabahan couple who island-hopped in the Canary Islands last summer. Being outdoor lovers, Ryan and Estelle feel more at home in stunning beaches and rugged, volcanic landscapes than anywhere else. They love adrenaline-pumping outdoor activities and would take rock climbing and trail hiking over bustling cities any day.
Here are the top activities we recommend.
On a glorious, sunny day at Canary Islands, it's easy to feel a little closer to paradise.
In the far-flung bliss of the Canary Islands — where seven main volcanic islands, a cluster of smaller islands and islets, are spread across 2,800 square miles of the Atlantic Ocean — how do you choose which island to go to?
Travellers flock to the different parts of the Spanish archipelago for its unspoiled beaches, magnificent volcanic mountains and, of course, unsurpassable views over the island and out to sea. There's Tenerife, buzzing with island activities; Fuerteventura, perfect for wind sports; Gran Canaria, famed for its epic sand dunes, and more. This is our guide to the very best of the Canary Islands.
Tenerife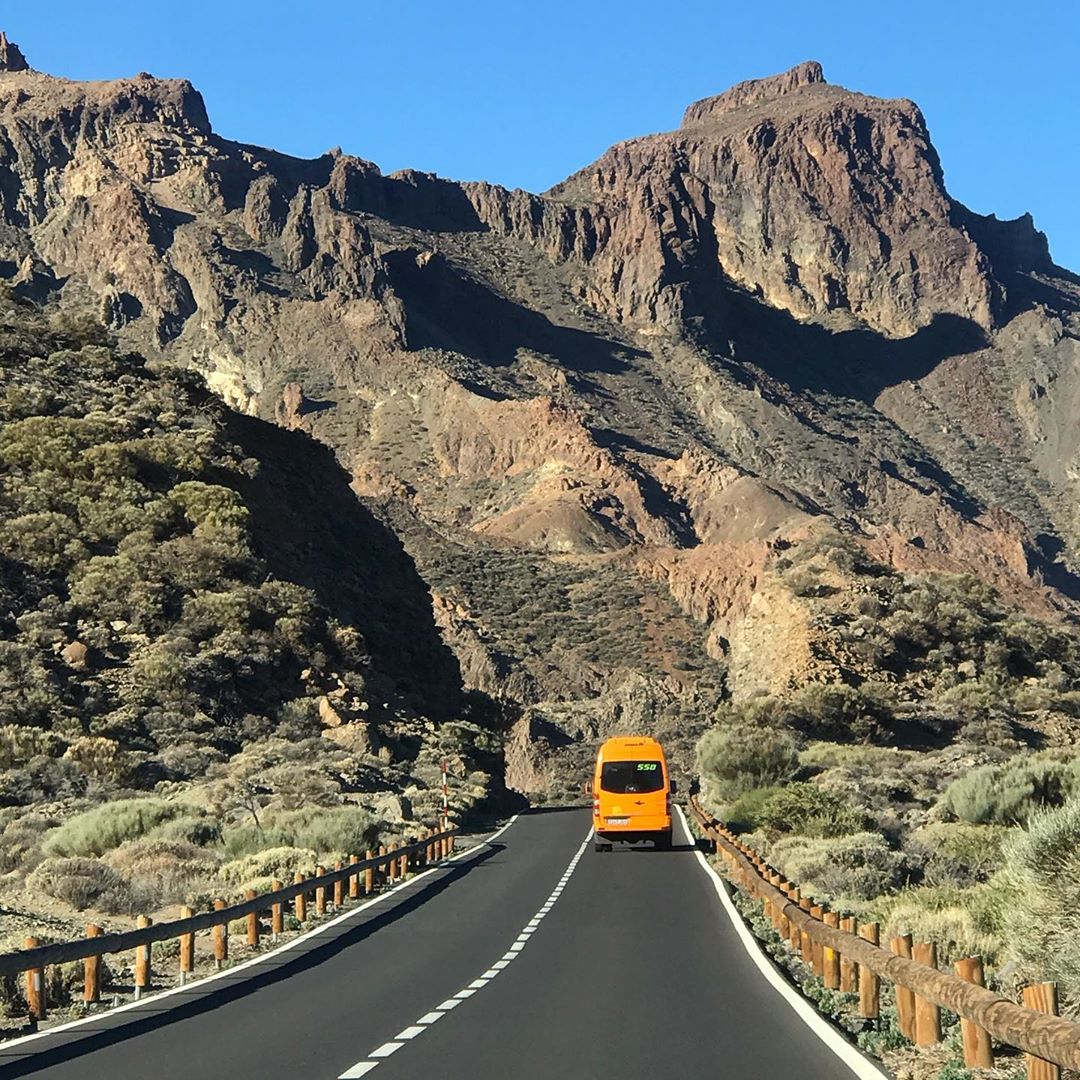 Mount Teide, the highest peak in Spain offers some of the most exciting hiking adventures in the Canary Island. Photo from @otienorachel8 via Instagram.
At a whopping 3817-metre high, Mount Teide, the highest peak in Spain, towers over Tenerife with its formidable presence. The eponymous volcano, with its own astronomical observatory, is part of the Unesco-listed Teide National Park.
Such a setting gives you some of the most exciting hiking adventures. Only 200 hikers are allowed to tackle the five-hour ascent to the summit per day, so we advise you to book your trip ahead. Otherwise, hop on the Mount Teide cable car and fly over craters, volcanoes, unique rivers of lava, and a rich geological treasure down below. Then, take one of the walking trails and admire the jaw-dropping views of Tenerife and the other Canary Islands.
Elsewhere on Tenerife, explore quaint, postcard-perfect towns like Garachico and La Orotava to admire their beautiful, well-preserved colonial style buildings.
If you find yourself in Tenerife in February, head north and you'll stumble across the Santa Cruz de Tenerife Carnival, a lively pre-Lenten carnival that takes over the capital for three weeks.
Highlights: Mountain, hiking, and seasonal festivals.
Gran Canaria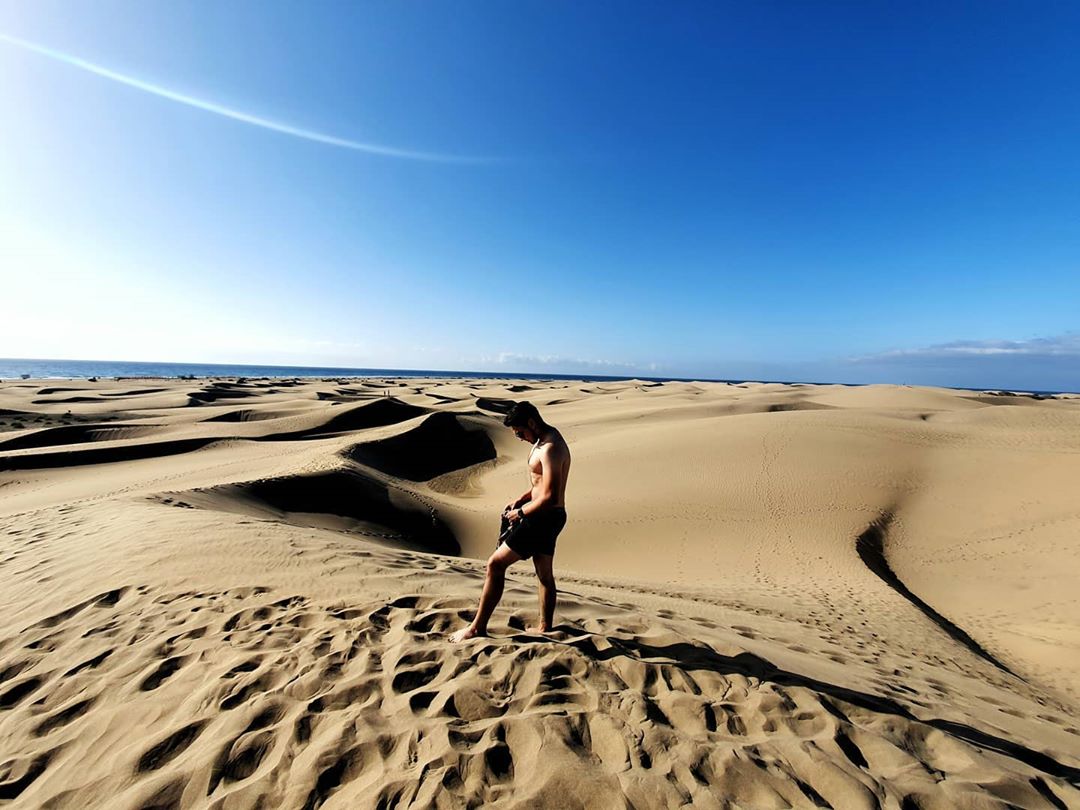 Maspalomas' epic sand dunes is a Must-See if you are visiting Gran Canaria. Photo from @stephanderaad via Instagram.
The most populous among the islands, Gran Canaria boasts some of the most diverse landscapes — there are epic sand dunes at Maspalomas, rugged mountains for a spectacular hiking adventure, primitive forests, and pretty beaches.
Hike to the top of Roque Nublo, a UNESCO-listed volcanic rock standing 80 metres tall. Then, visit Pueblo Canario, an interpretation of a traditional Canarian village where you can learn more about the Spanish culture and watch live performances of Canarian folk music.
When the sun goes down, the lovely towns come alive with a different kind of energy than its daytime atmosphere. Gran Canaria is a vibrant and lively nocturnal hub of a plethora of chic restaurants, and swanky bars and pubs, making it superb for nightlife seekers.
Highlights: Beach, nightlife, and sand dunes.
Lanzarote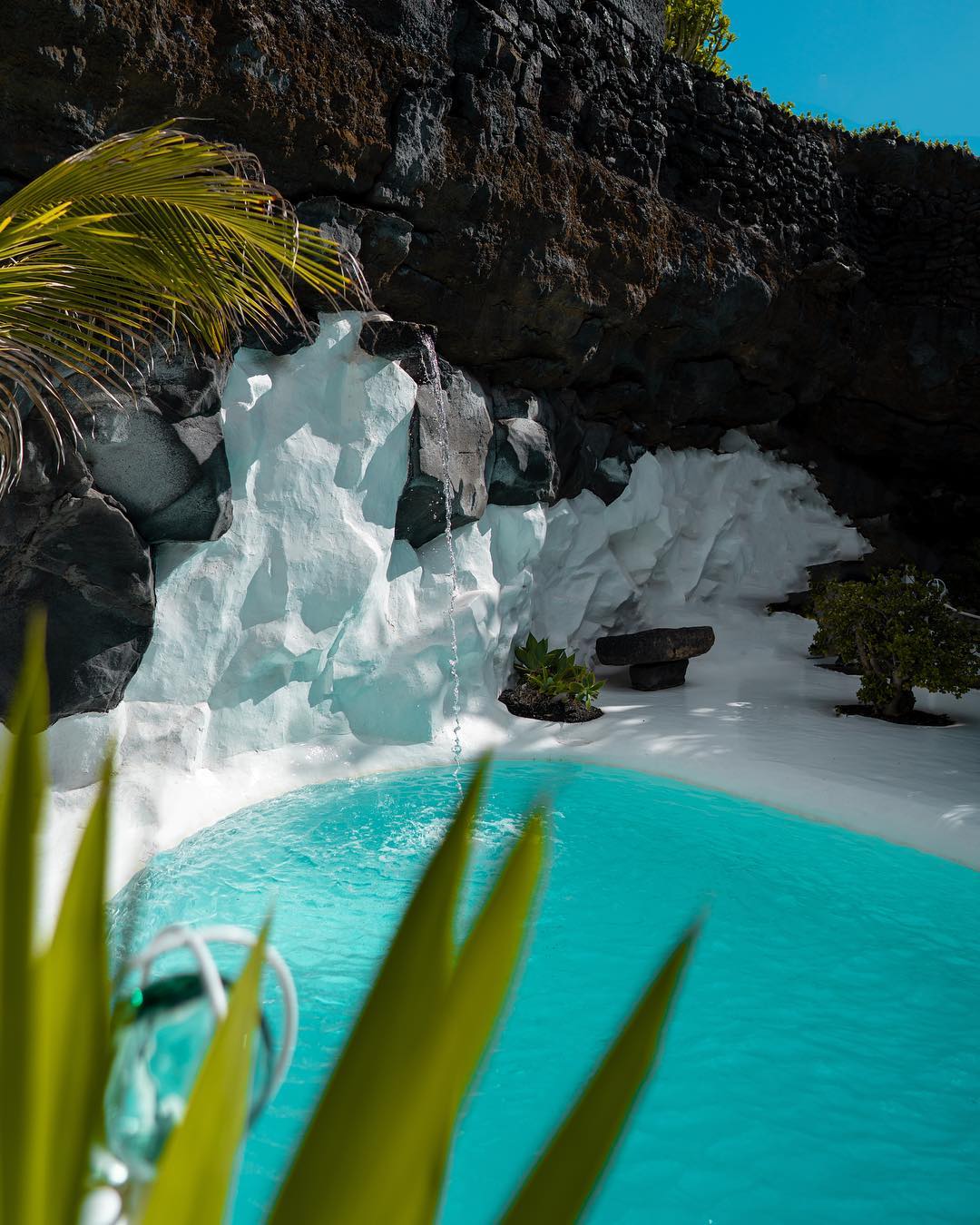 Art and architecture meet nature at the César Manrique Foundation, located at the studio-home that the artist lived in. Photo from @becker_lars via Instagram.
People often call Lanzarote the unspoiled island of the Canary Islands, and for good reasons.
Parts of the island were built by Lanzarote-born César Manrique, a visionary architect with an aesthetically-pleasing architectural style. To prevent local politicians from ruining the landscape, César has also fought doggedly to stop high-rise development. The local hero's legacy is documented at his old studio home at Lanzarote.
The less populous Lanzarote is more laidback compared to other islands. Get yourself lost in the vast library of Casa José Saramago, find a little bit of everything at Teguise's Market from wine to souvenirs, watch the sunset paints the rocks red at the unique Lagomar Museum or just chill at Papagayo beach.
Highlights: Art, architecture, and volcanoes.
Fuerteventura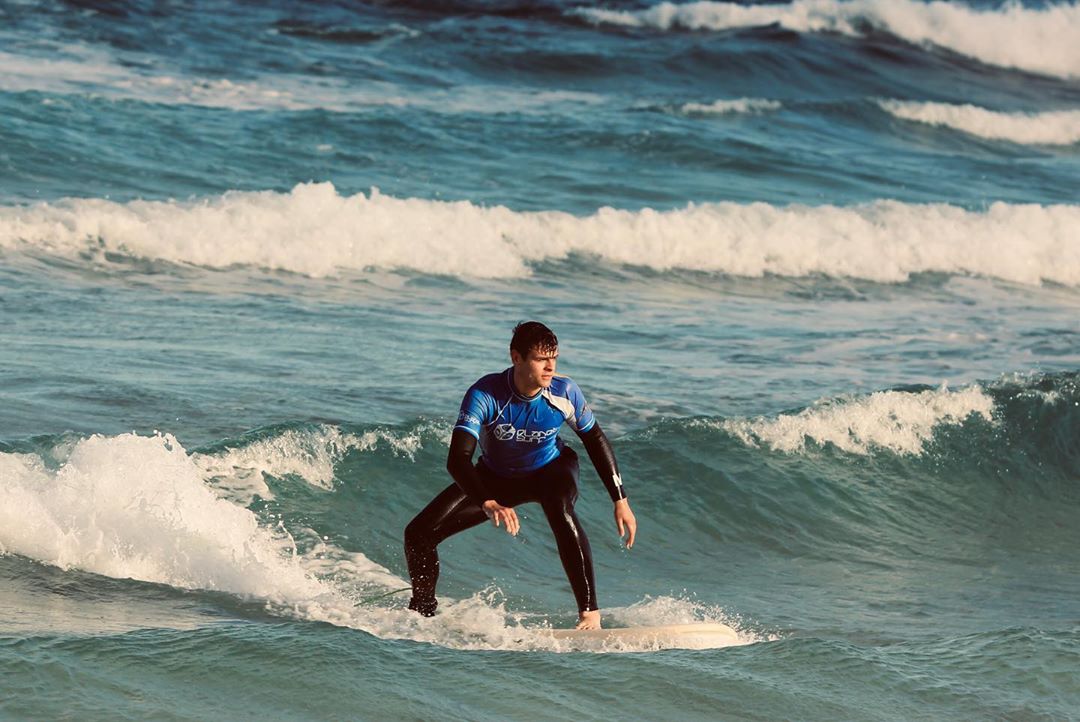 Fuerteventura welcomes surfers and kiteboarders with its refreshing Atlantic breeze. Photo from @craig_mcf123 via Instagram.
Feel the refreshing Atlantic breeze as you set sail along the coastline at Fuerteventura. The island's shore is perfect for wind and water sports — surfing, wind-surfing, kiteboarding, and other water sports excursions.
In other parts of the island, you'll find dazzling beaches to lounge under the sun, volcanoes to climb, and quaint villages to explore on foot or by bicycle.
While the less populated Fuerteventura may be lacking in culture, it is rich in nature — honey-coloured sand and sparkling turquoise waters, making them popular for wind and water sports activities for those who enjoy packing as much adventure as they can in their beach holidays.
Highlights: Beach, wind and water sports.
La Palma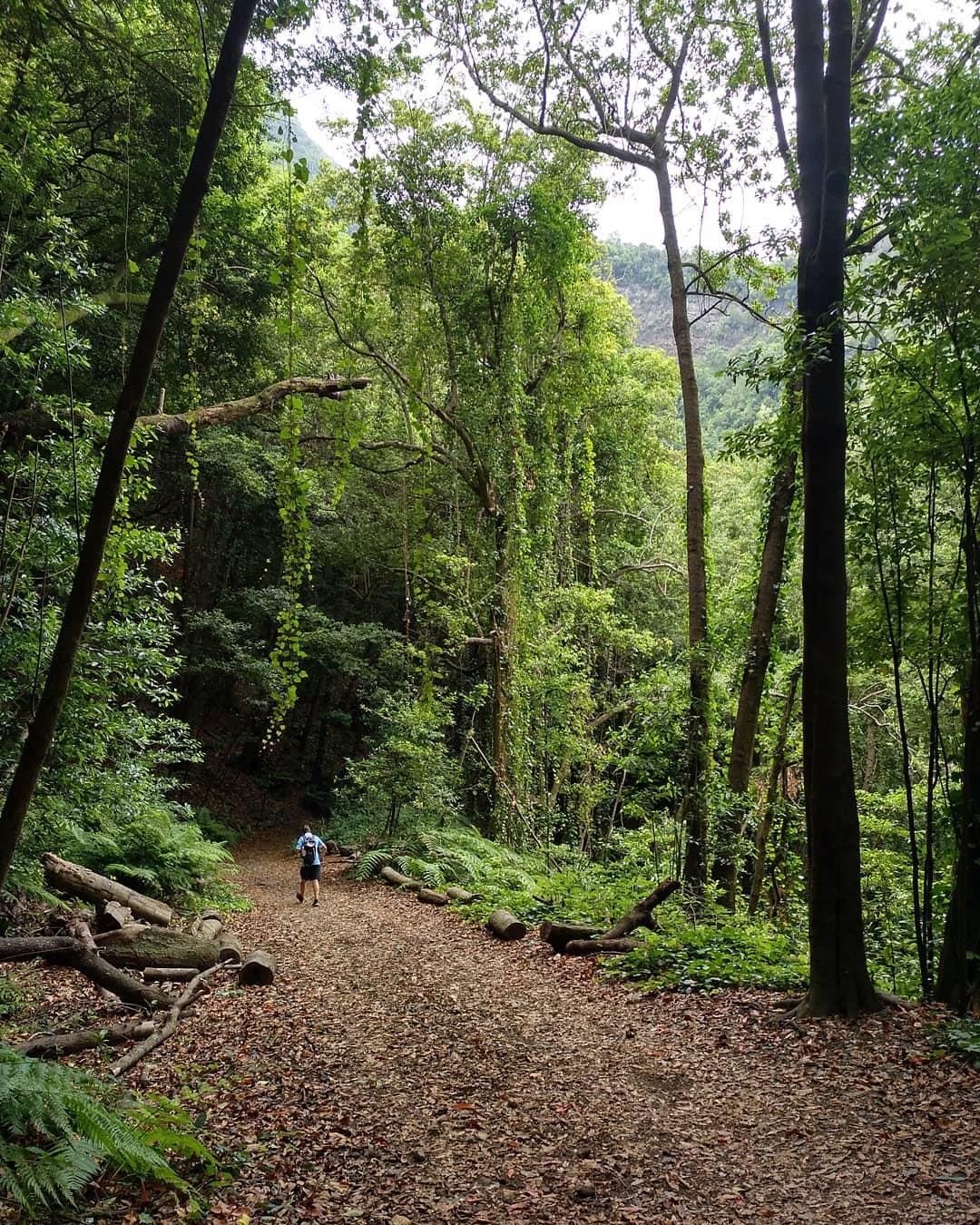 La Palma has been declared a UNESCO biosphere reserve for its remarkable scenery. Photo from @pablogila via Instagram.
It's no wonder that La Palma is called La Isla Bonita, loosely translated as "The Beautiful Island".
Some parts of the island are dramatically volcanic, while others are blanketed by lush rainforests. In fact, the entire island has been declared a UNESCO biosphere reserve for its remarkable scenery.
La Palma's architecturally-rich capital, Santa Cruz de la Palma, bustles with life — graceful 16th-century mansions, historical villages, fishing harbour, a lively port, and the famous beautiful black sand beach.
Highlights: Nature and stargazing.
El Hierro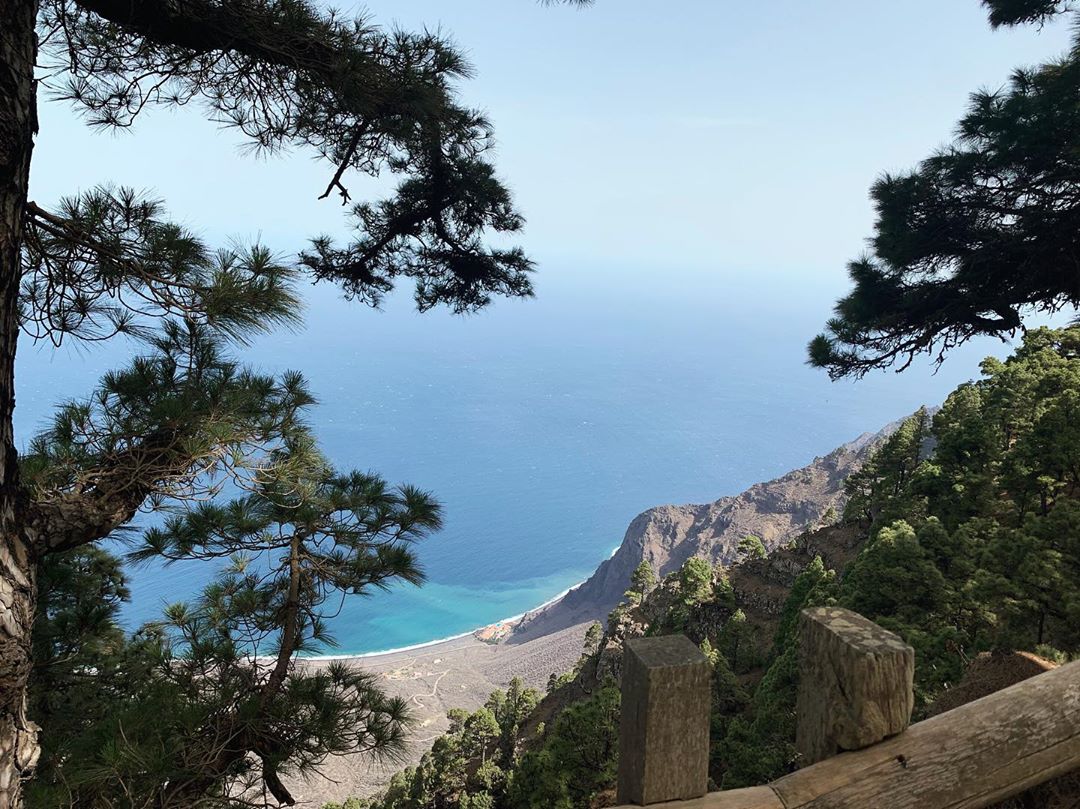 El Hierro is perfect for those who just want to get away from it all. Photo from @eleeehdez via Instagram.
El Hierro is just not quite like the other islands. A little hard to reach, you won't find bustling towns or luxurious resorts with swanky pubs here. The island is a great escape from the busy, modern life.
Travellers come to El Hierro for its quiet hiking trails along the 27-kilometre Camino de la Virgen, the finest diving spot in the crystal clear Atlantic waters of El Hierro's craggy coastline, and for some serious soul-searching.
El Hierro is a UNESCO-protected Geopark since 2014 and plans are underway to transform it into the world's first energy-self-sufficient island.
Highlights: Diving, hiking, and off-the-beaten path.
Our top resort picks
Here's our expert guide on where to stay for your Canary Island holidays, including the best resorts in Tenerife, Gran Canaria, and Lanzarote. We'll tell you where to find the most stylish apartments, resorts with sleek, modern architecture, and accommodation with incredibly dramatic landscapes.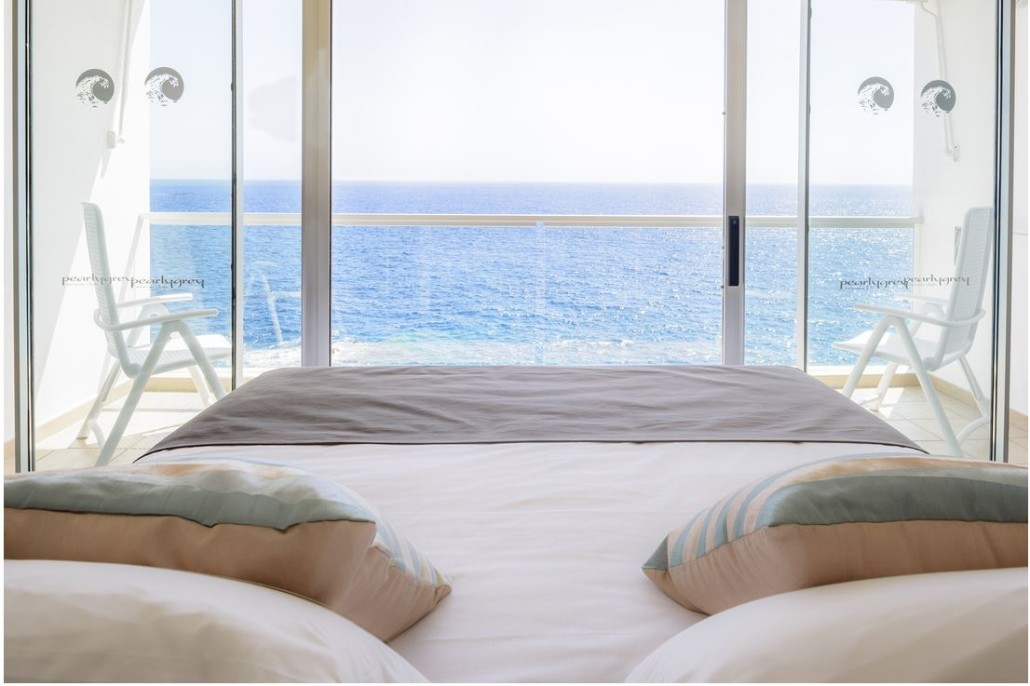 Wake up to a breathtaking view of the sea at Pearly Grey Ocean Club. Photo from Pearly Grey.
At Pearly Grey Ocean Club (#1786), you will find yourself waking up to a breathtaking view of the sea every morning.
Possibly the most elegant resort in Tenerife, studio apartments, one- and two-bedroom apartments, and luxurious suites lie along the stunning south coast of Tenerife.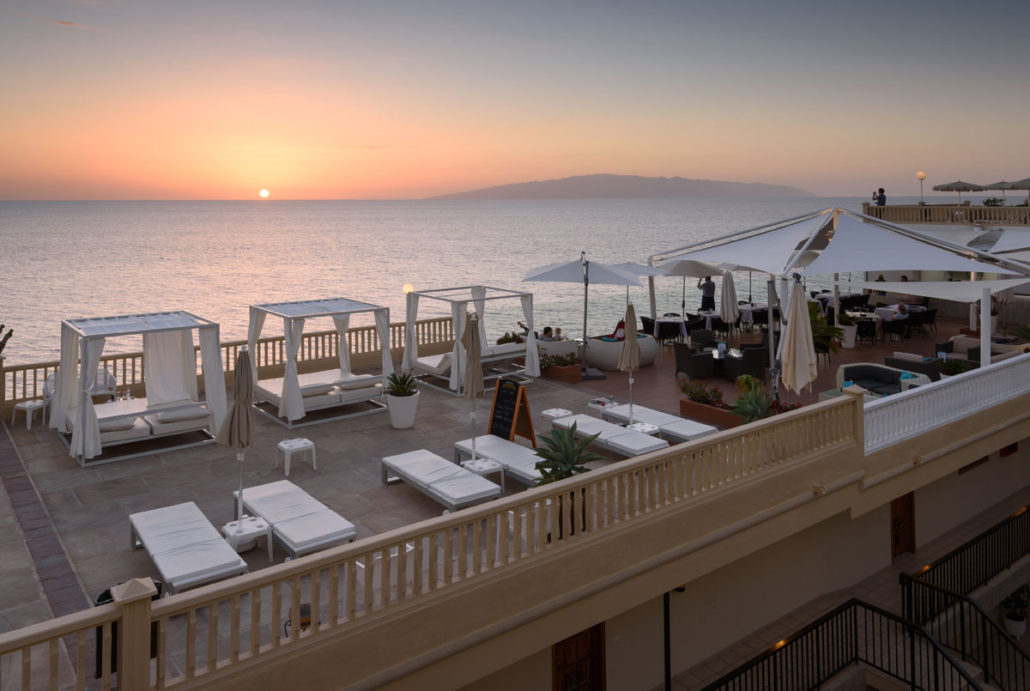 With a special deck overlooking the sea, guests easily feel like they have the ocean all to themselves. Photo from Pearly Grey.
At Pearly Grey Ocean Club, guests have the ocean all to themselves. Situated on the Callao Salvaje beachfront, the resort is all about adventure.
Sail out into the Atlantic Ocean on a sleek and luxurious catamaran and spot the magnificent whales and dolphins swimming in their natural habitat. If you're looking for an underwater experience of a lifetime, a Submarine Safari takes you below the unexplored waters of San Miguel to see a variety of marine life.
As night falls, go star-gazing at Teide National Park, which was awarded "Starlight Tourist Destination" and "Starlight Reserve" where its low-light pollution and pristine night-sky conditions make it one of the world's best locations for star-gazing.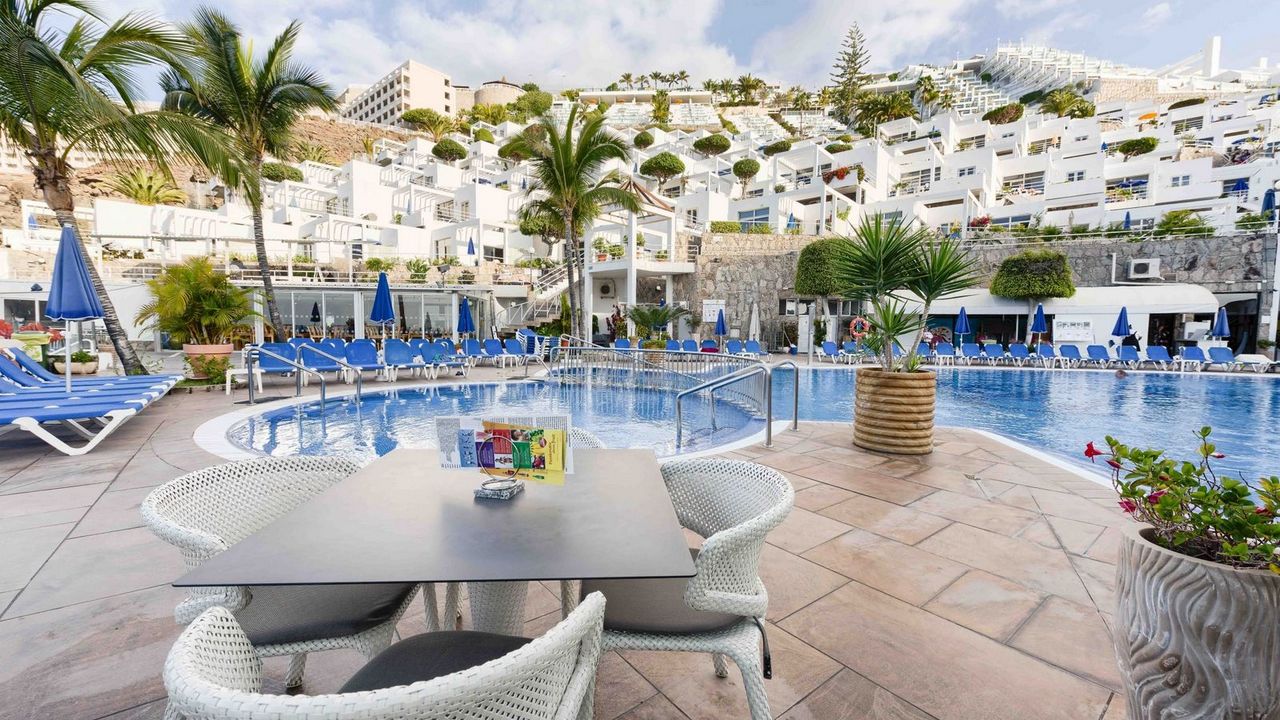 Bahia Blanca face the Atlantic Ocean, offering a breathtaking view of the ocean. Photo from Bahia Blanca Resorts.
A 30-minute drive from Las Palmas International Airport nestles Bahia Blanca (#1989), a holiday apartment resort above the cliffs on the south coast of Gran Canaria.
The 110-apartment property, right in the centre of Gran Canaria, beautifully fits the topography. Accommodations face the Atlantic Ocean, offering a breathtaking view of the ocean.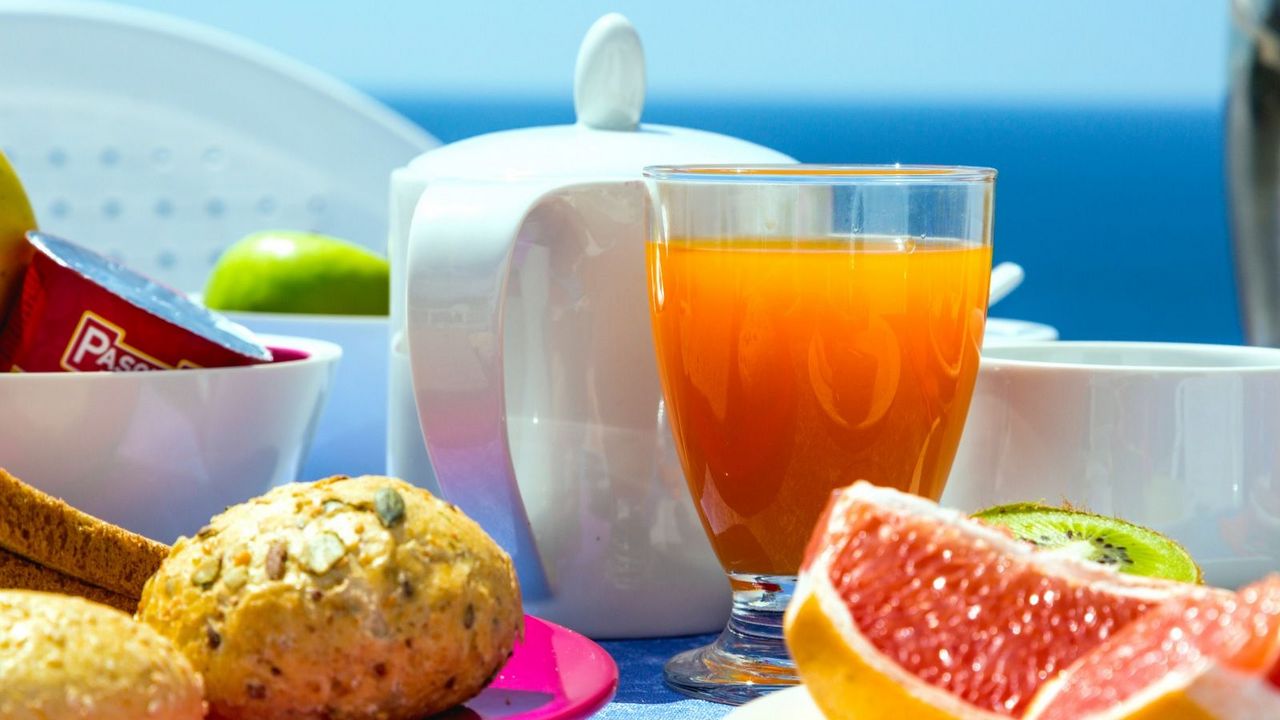 Enjoy a fresh spread of breakfast buffet available every morning at the main restaurant. Photo from Bahia Blanca Resorts.
Bored of buffets? Beyond the main restaurant, there's a cafe lounge by the pool with a spectacular view of the ocean which opens until midnight. On several nights a week, visitors can also enjoy live entertainment shows.
The beach is also perfect for exploring on foot or by bicycle. Just ask for a bicycle rental at the reception, and they'll sort it out for you.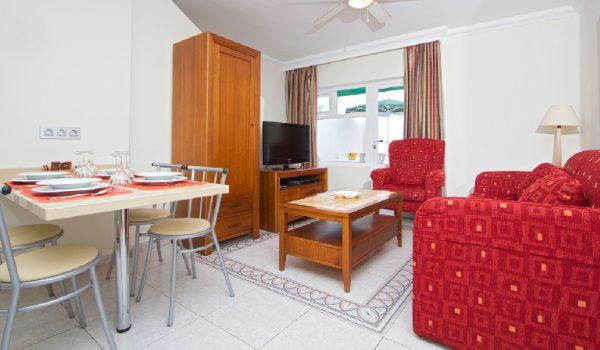 The fully-equipped one- and two-bedroom apartments are perfect for your self-catering holiday. Photo from Club Las Calas.
Club Las Calas (#1448) might be the most stylish resort in Lanzarote. The 145-apartment property on the Puerto del Carmen — about 15 minutes from the airport — does just about everything right, from its fully-equipped one- and two-bedroom apartments to a special Charlie Bear's Kids Club to keep the kids occupied and, of course, its golden, sandy beach.
Food is the special sauce here. During the day, dine at Skyline in Las Calas II, a London-themed restaurant offering an extensive all-day menu, daily specials, and a children's menu. There's happy hour evenings at 6 pm with free entertainment shows.
Head to Bistro 361 at Club Las Calas III where a more sophisticated menu of international cuisine is served, including British favourites and Spanish classics. For a special evening, opt for the two- and three-course menus, available every Monday and Wednesday.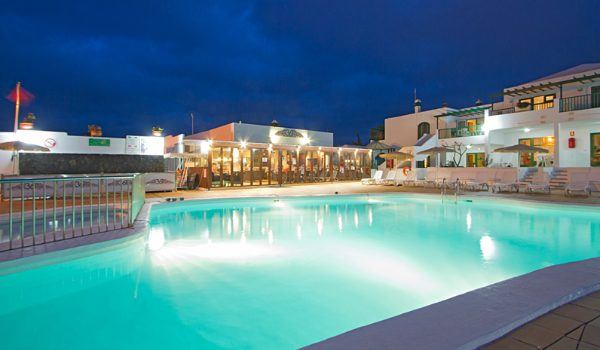 The resort boasts of four swimming pools, two of which will be heated in the winter for your comfort. Photo from Club Las Calas.
Say you're more of a sun lounger than an adventurer. Don't worry, Club Las Calas has you covered. A sandy beach is within a short walking distance from the resort, of course, but if you don't feel like walking under the tropical heat, you can simply chill at the four swimming pools at the resort.
But, we'd suggest taking advantage of the fully-equipped resort. The Leisure Centre offers a range of activities including table tennis, air hockey, darts, and a children's play area. There's also a sauna, squash court, and a roof-top space for yoga.