This 3, 4 and 7-day itinerary was shared by Caroline (53) and Pat Philips (60), an Australian couple who travels to Phuket regularly. They enjoy tropical destinations and prefer activities away from crowds.
Phuket is an island in the southwest of Thailand, facing the Andaman Sea. It offers stunning views of beaches and waterfalls and a rich cultural experience – a perfect holiday destination for those looking to relax and try new activities.
Getting Around Phuket
Taxi
Metered taxis are surprisingly cheaper than tuk-tuks, but can be hard to come by, unless you are from the airport. Non-metered taxis are more common, and tend to charge higher than metered fares. Avoid using these for short journeys. However, they can be a good option if you want a single driver to bring you around sightseeing or for a day trip.
You can also book taxis through the Grab app (www.grab.com). Grab taxis use the meter and charge a booking fee.
Tuk-tuk
Tuk-tuks in Phuket are small red vans, different from the three-wheeled tuk-tuks found in Bangkok or other Thailand destinations. Before riding a tuk-tuk, always agree on the fare. Do not let drivers charge per passenger, as this is a scam.
If you are travelling to a more distant location, consider agreeing to a round trip fee or hire them by the hour so that you won't be stranded at the attraction. Beware that some drivers may take you to shops where they receive a commission. If you're not interested, decline with a firm no. Short trips within Phuket Town can easily cost 100 to 200 THB.
Songthaew
Songthaews are small trucks that collect passengers and drop them off anywhere along their route. Their final destinations are usually displayed in English. As there are no physical bus stops, you will need to flag them down in the middle of the street. There are no songtheaws running around the island's perimeter - you would need to connect via Phuket Town. Ask locals where you can flag one down, and be prepared with a GPS to help you navigate your last mile after alighting from a songthaew. Fares start at 15 THB.
Motorbike Taxi
Motorbike taxis are an option if you happen to be commuting alone, or are willing to split up with your travel companions. They are easily available – look out for riders in green or red vests – and can be convenient for short distances. Short trips should cost around 40 THB.
Car and Motorbike Rental
There are plenty of vehicle rental companies in Phuket offering cars, scooters, and motorbikes for hire. If you prefer familiar names, Avis, Budget and Hertz are available at the airport. Car rentals can start from 800 THB per day for small cars. Scooters and motorbikes are cheap and easy to rent from most beach areas (from 200 THB per day for a small scooter), but it's best to do so only if you have the necessary licence and experience.
Boats and Ferries
You can easily book longtail boats (traditional Thai boats), speedboats, and ferries from various beaches to get to nearby islands. You can also privately hire a longtail boat for a day for between 1,000 to 3,000 THB where the driver will wait for you as you explore islands at your own pace. If you'd like to take a ferry, it's best to book your ticket through a tour agent who can also help to arrange transfers to and from the pier.
If you only have 7 days or less to explore Phuket, here are the top activities that we recommend.
Day 1: Visit Surin Beach and watch a Muay Thai match at night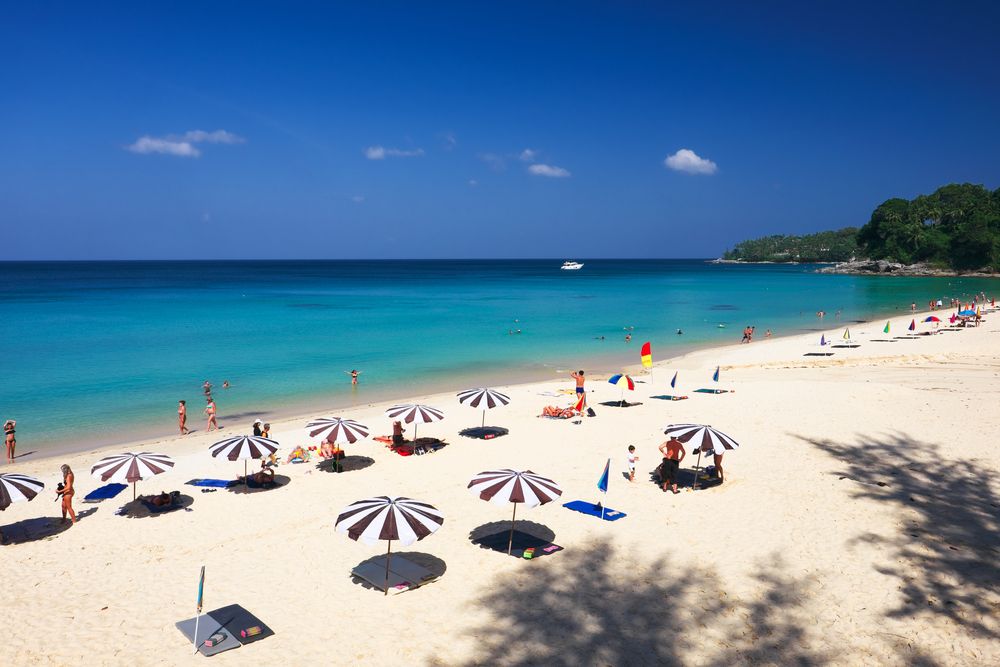 Surin Beach offers the perfect beach paradise to relax in. Photo from Shutterstock.
We prefer Surin Beach to the crowded Patong Beach. The views of the white sands and glittering turquoise sea at Surin Beach are simply breathtaking.
Here, you can snorkel, kayak or go sunbathing. The beach is surrounded by luxury resorts, beautiful beach houses, and high-end restaurants and wine bars that you can drop by for lunch and drinks.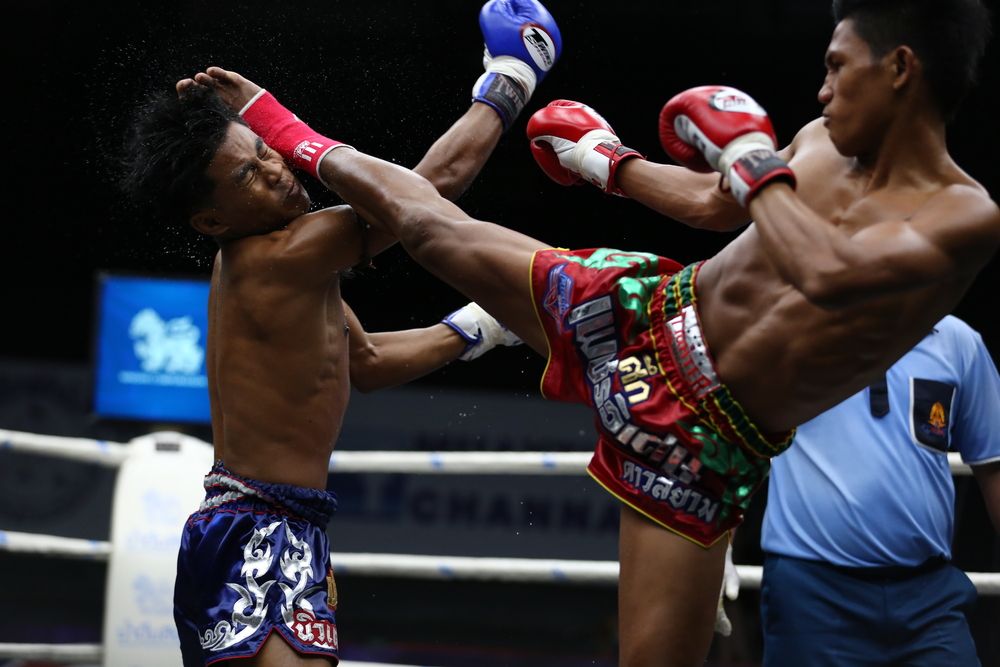 Soak up the atmosphere at a live Muay Thai match while you're in Phuket. Photo from Shutterstock.
In the evening, book yourself online tickets and a transfer to watch a Muay Thai (Thai Boxing) match at the Bangla Boxing Stadium. Matches normally start around 9.00pm and run until midnight. The atmosphere is electric, making it an exhilarating experience watching Thailand's most popular sport live in action. Tickets start from 1,700 THB.
Day 2: Explore Phuket Old Town and catch the sunset at Big Buddha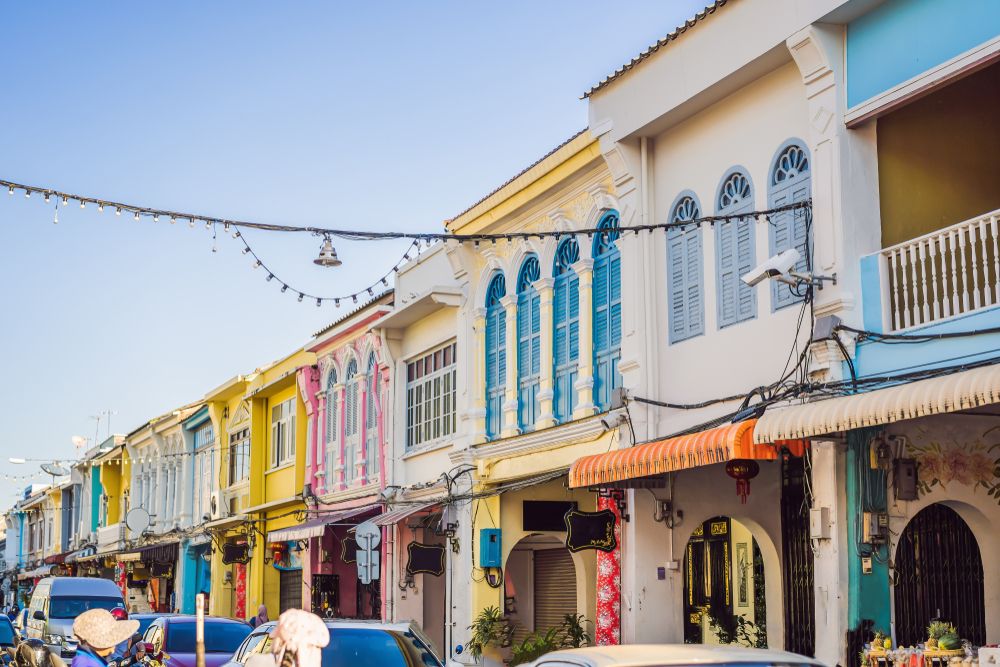 Admire unique Sino-Portugese architecture found all over Phuket Old Town. Photo from Shutterstock.
Start your morning wandering around the old town of Phuket, filled with unique colorful houses, temples, shrines and museums. There are plenty of sights to uncover, such as the Chinese Temple, Sirikit Park and Jui Tui Shrine.
If you feel thirsty or hungry, there are plenty of quaint cafes to pop into for drinks and snacks. For lunch, head to the Blue Elephant Restaurant located in an old Chinese-colonial style mansion for some authentic Thai cuisine set in a posh interior.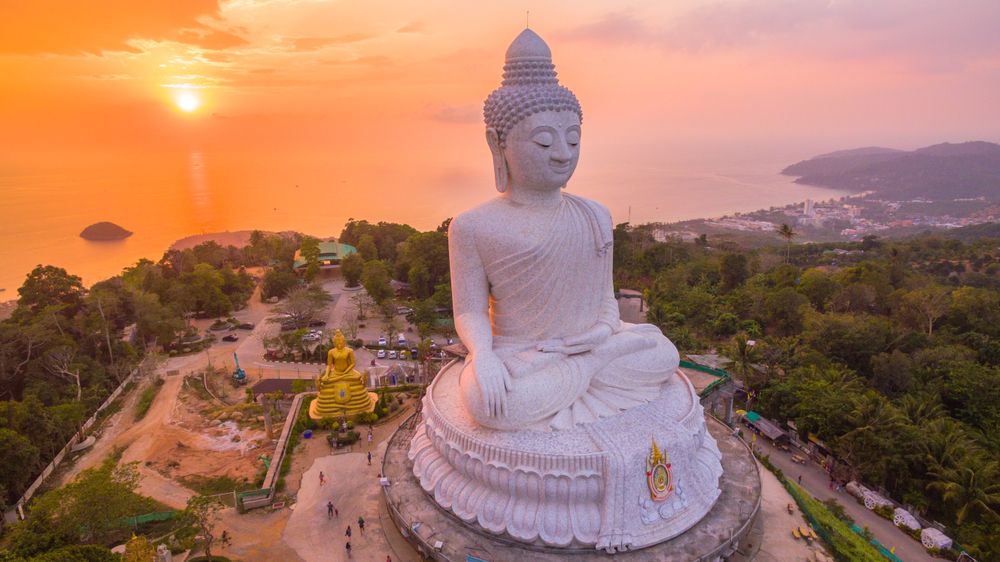 The Big Buddha during sunset. Photo from Shutterstock.
In the late afternoon, visit the Big Buddha at the top of the Nakkerd Hills between Kata and Chalong. The vibe around this revered religious landmark is peaceful, and you'll get a gorgeous 360-degree view of the island. Hang around until sunset for a mesmerizing scenery. Be sure to wear conservative clothes and comfortable shoes as there are many steps to climb.
Day 3: Take a Thai cooking class then lounge at Nai Harn beach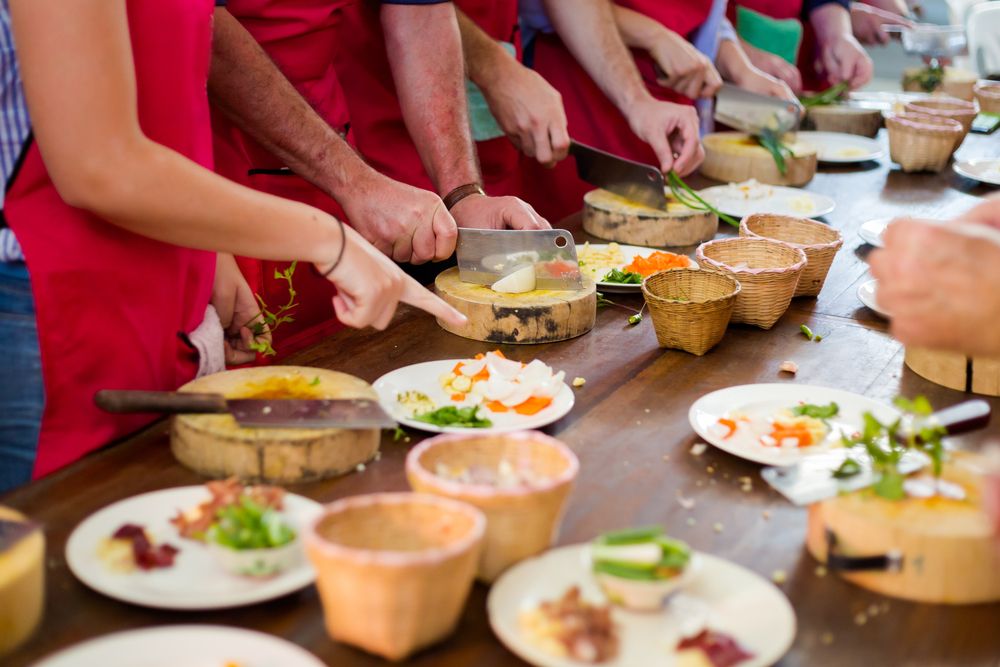 For a fun and immersive cultural experience, try a Thai cooking class and learn to prepare yummy local dishes. Photo from Shutterstock.
Enrol in a morning Thai cooking class with either the Blue Elephant Cooking School or The Boathouse Phuket for an immersive and educational experience on Thai cuisine. Both providers include a market visit in their programme, which is eye-opening and unforgettable.
In the afternoon, relax at the beautiful and serene Nai Harn beach which is usually less crowded.
Got an extra day? Visit a beautiful temple and browse through a market to see what local stalls have to offer.
Day 4: Shop at Phuket Weekend Market, and stop by the Khao Rang Hill View Point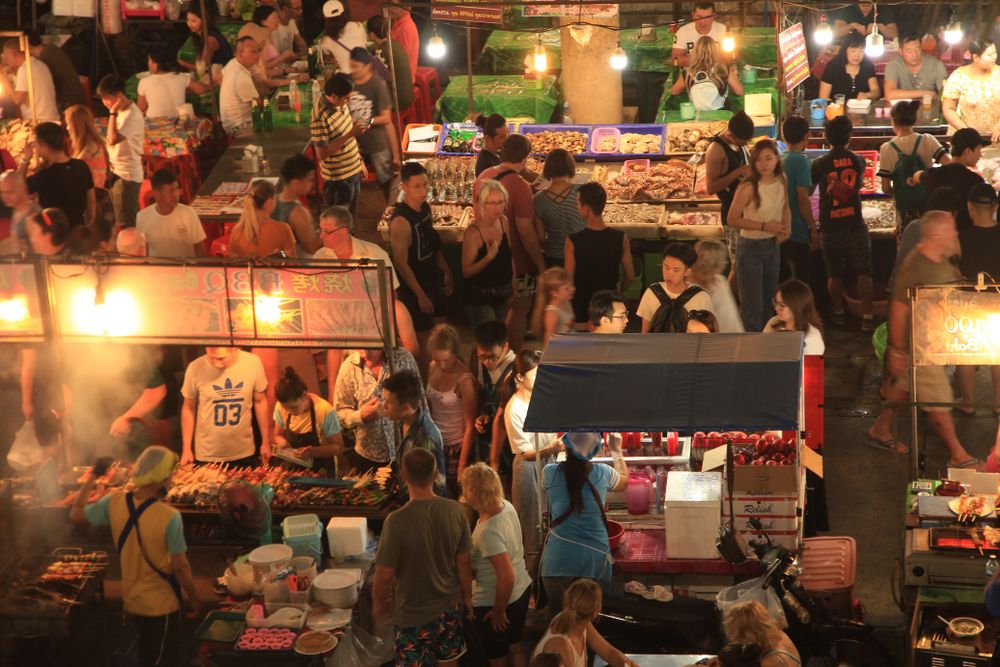 Night markets are quintessential in Thailand tourist spots and are fun to check out at least once. Photo from Shutterstock.
Even if you're not a shopping buff, it's interesting to see the souvenirs and goods for sale. If you happen to be visiting during a weekend, check out Phuket Weekend Market (also known as the Naka Weekend Market) which opens from 4.00pm. Expect a vast range of local and secondhand goods, and street food.
Bargaining is the norm at markets in Phuket. Depending on your haggling skills and the mood of the vendor, you can aim to knock off 25 to 50% from the original asking price. Always keep your exchanges friendly and light; there's no need to be aggressive with sellers.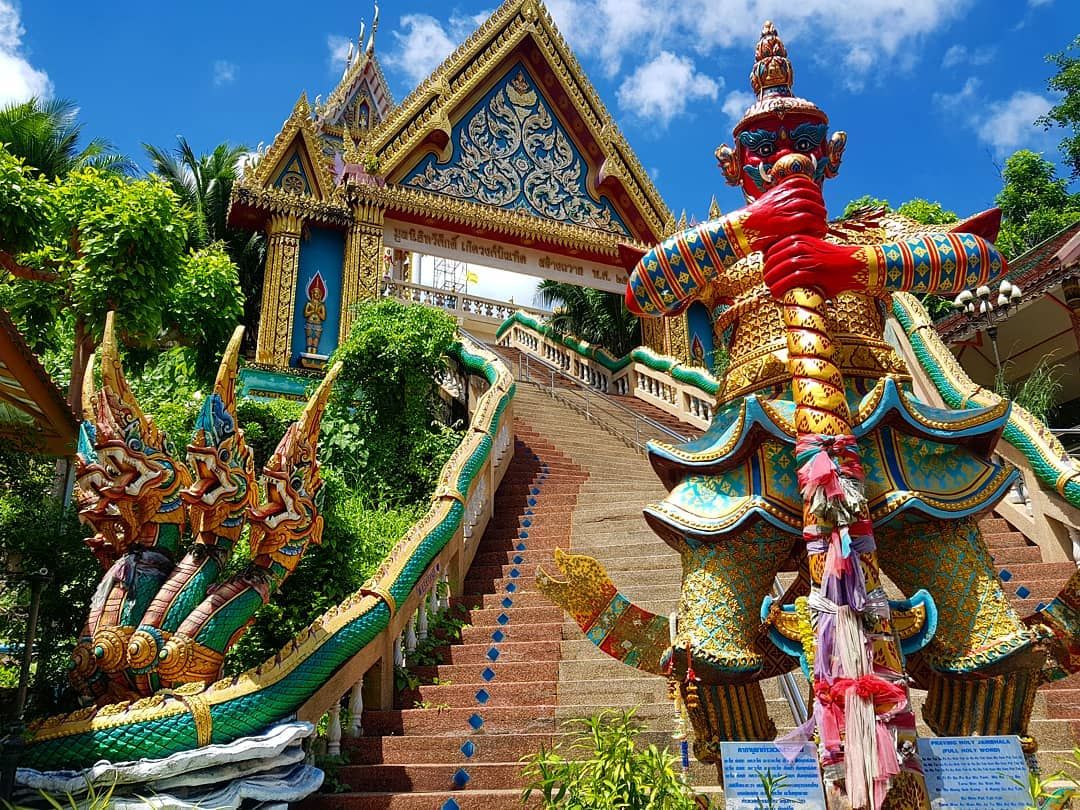 The entrance to Wat Khao Rang temple. Photo from @bariis43 via Instagram.
Before visiting the market, stop by the Khao Rang Hill viewpoint for more breathtaking views of the island. Near the Khao Rang Hill viewpoint is the small but beautiful Wat Khao Rang temple. A quiet setting where you can observe monks in action.
If you only have the option to shop on a weekday, head to Malin Plaza Patong which opens daily from 11.00am to midnight. Malin Plaza is as bustling as most of the other markets, and has cheaper food options around it. After that, make a stop at the Karon View Point (closer to Malin Plaza) where you will overlook the Andaman Sea.
For those planning to stay a week, here's what we recommend you do on days 5-7.
Day 5: Trek to Bang Pae Waterfalls and catch some night entertainment at Ka Jok See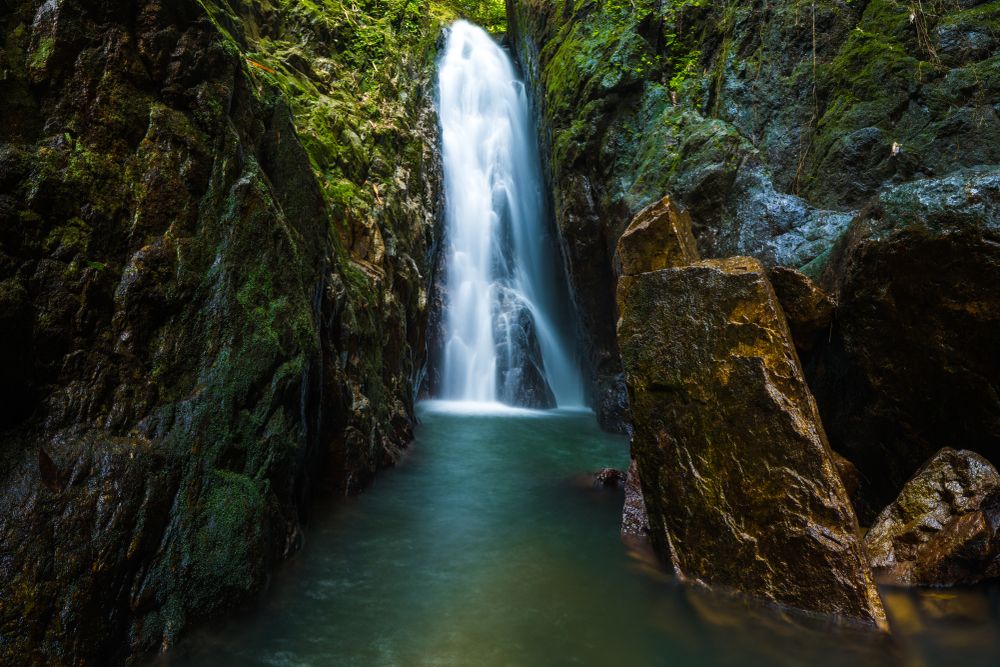 Walk through a tropical rainforest and enjoy the sounds from the Bang Pae Waterfalls. Photo from Shutterstock.
Drive to the Khao Phra Thaeo National Park to see the Bang Pae Waterfalls, the biggest one in Phuket, albeit small by international standards. Have a picnic, take a dip, or find a spot to observe locals taking delight jumping and swimming in the cool waters.
Within the rainforest, you will hear gibbons calling from the nearby Gibbon Rehabilitation Center. Wear good shoes as the rocks can be slippery, and bring along insect repellent.
For dinner, book yourself a seat at Ka Jok See, where a fancy sit down meal is served between 8 to 8.30pm. We don't want to spoil it for you, but you can expect a fun and liberating evening filled with good Thai food and entertainment. The experience here easily beats the night shows at Bangla Road.
Day 6: Take a morning tour at the Elephant Sanctuary followed by an afternoon helicopter ride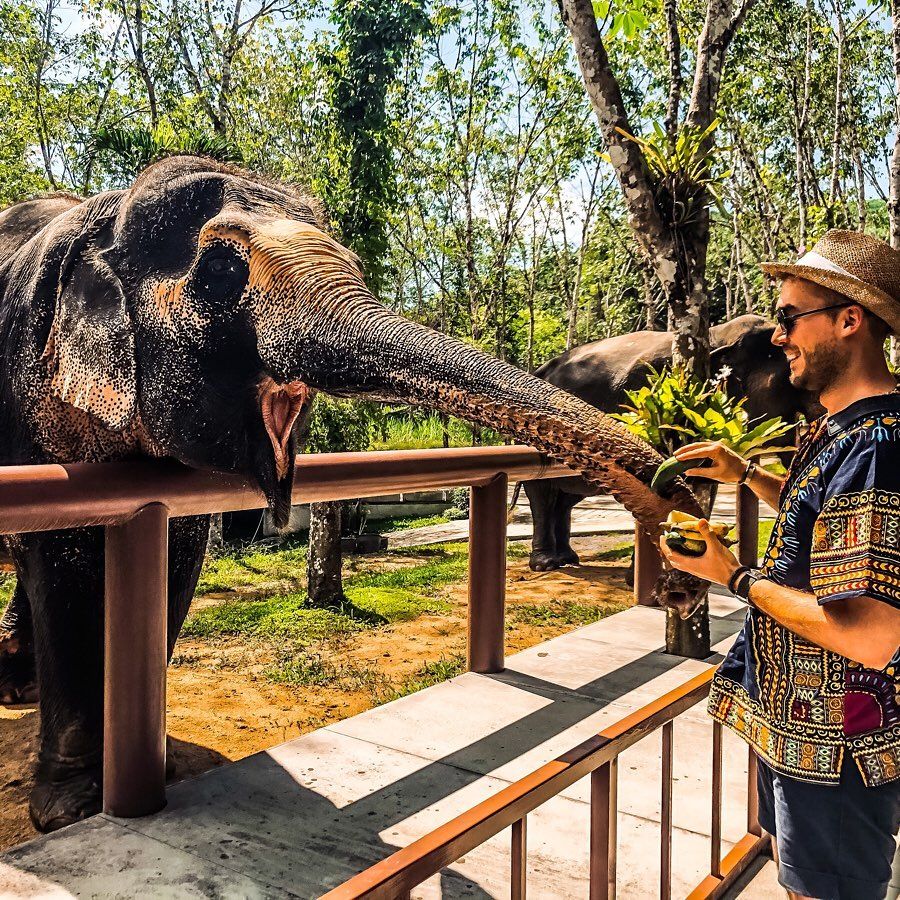 Interact closely with rescued Asian elephants at the Phuket Elephant Sanctuary. Photo by @drtyniec via Instagram.
On Day 6, book a morning tour at the Phuket Elephant Sanctuary for a glimpse into the lives of rescued elephants. You will learn about the Asian Elephants' plight, observe them roaming freely, and help prepare nutritious food for them.
This sanctuary rescues sick, injured and old elephants, and supporting them is the most ethical way to interact with elephants in Phuket.
In the afternoon, treat yourself to a helicopter ride tour for a bird's eye view of the entire Phuket island. There are 30-min and 60-min options available, and you can choose the routes that circle around Big Buddha for a memorable view of the icon.
Day 7: Observe local fishermen at Rawai Beach and head to Baba Nest rooftop bar for a gorgeous sunset view from the southern tip of Phuket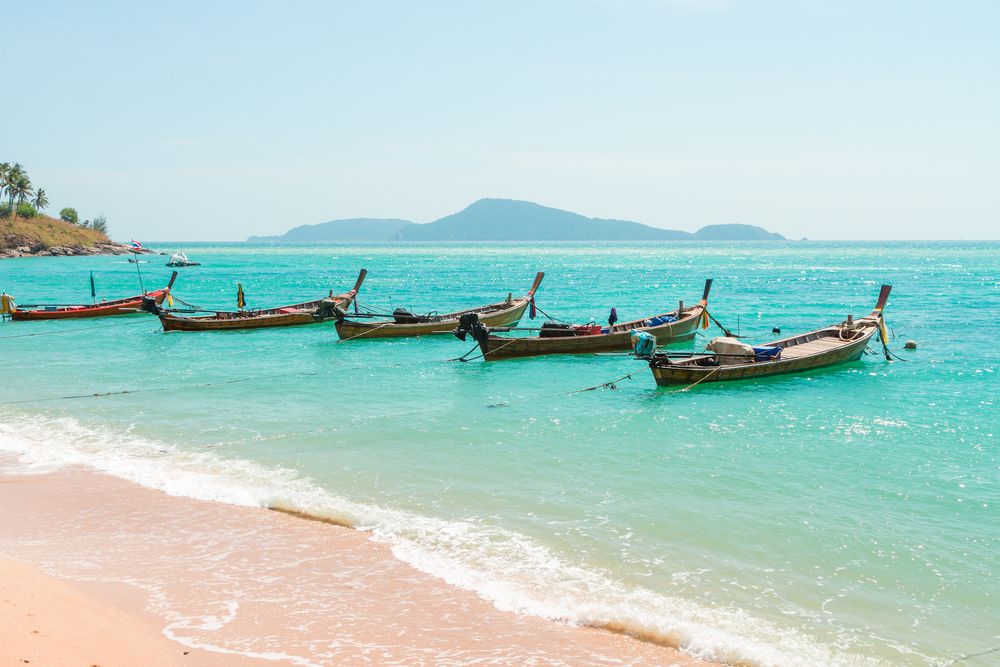 Fishing boats at Rawai Beach, where you can observe their local fishermen community. Photo from Shutterstock.
Gain a cultural insight into the lives of Thai fishermen living at the east end of Rawai beach. Here you can chat with the local fishermen or quietly observe the lives of a community of Phuket residents who have not been affected by the tourism boom.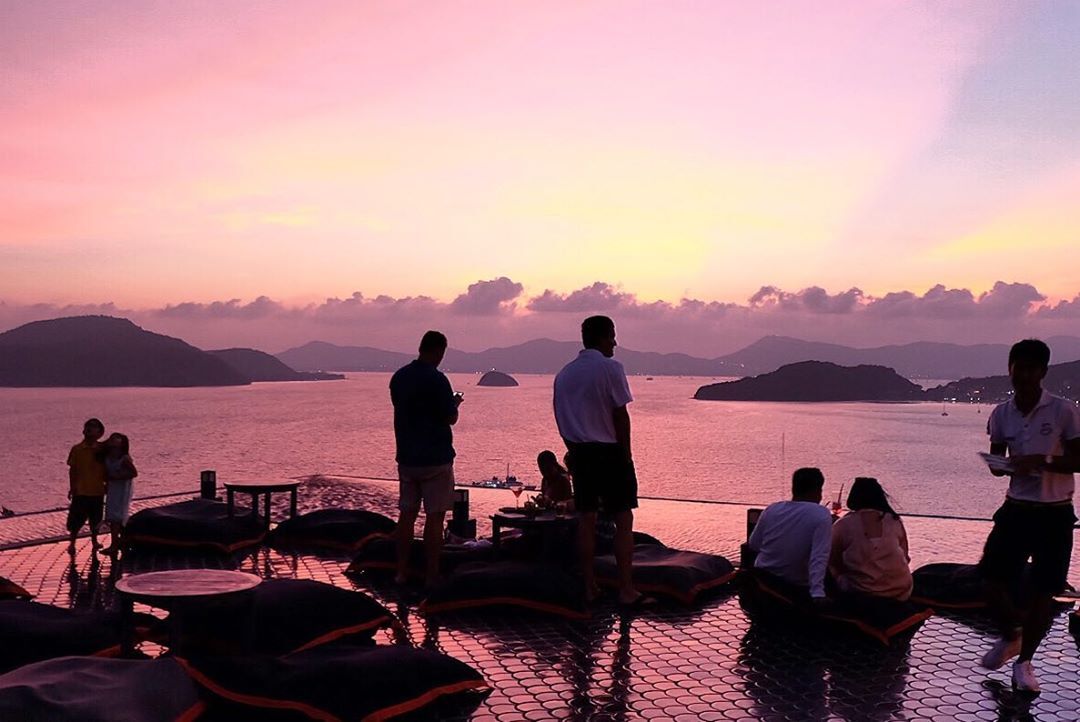 Sunset view from Baba Nest Rooftop Bar. Photo from @mr.golf_wk via Instagram.
Before you leave Phuket, drop by Baba Nest Rooftop Bar for cocktails, Mexican food and a gorgeous sunset view from the southern tip of Phuket. Tables are limited, so be sure to make a reservation at least a month in advance.