This 7-day itinerary was shared by Anne (49) and Steven Young (52), a couple who enjoy pursuing experiences steeped in a country's rich art and cultural landscape. Hailing from Auckland, New Zealand, they prefer warmer climates, a good sea view, and sightseeing.
If you are one for immersing yourself in vacations brimming with art, history and romantic ruins, Málaga, Spain should be in your top fives to visit.
With a historical narrative spanning 2,800 years, the city is one of the oldest in Europe and boasts an impressive amount of churches, museums and old castles to satisfy the history lover in you.
Getting Around
In Málaga, most museums and sights are within walking distance, especially in the city centre. Walking is also an easy way to acquaint yourself with the sights and sounds of this charming city.
Bus/Train (Metro)
The bus and metro trains are the easiest public transport to navigate, with a single-trip bus ticket at €1.30, and a metro ticket at €1.35. If you're travelling with a partner or in groups, consider the Tarjeta Transbordo bus pass which costs €8.30 for 10 trips. This pass can be used by more than one person and is valid for all the urban bus lines except the bus to the airport.
To combine both bus and metro, go for the Tarjeta Monedero (prepaid card). On this card, each trip works out at €0.82 on the metro line and €0.65 if you're transferring from a bus.
Car
The transport method which offers the most freedom and flexibility for travellers – and car rental rates in Europe is particularly budget-friendly. Find the booths in the airport's Terminal 2 basement, or the ground floor of Terminal 3.
Taxi
Taxi stands are located outside most train stations and attractions – you may also be able to hail one on the street. Look for white cars with the city crest, a blue line and their license number painted on the side. Read more tips on taxis and get an estimate of your cab fares at this handy calculator.
The Itinerary
Day 1: World Heritage and Wine
Take a drive down from the airport to the outskirts of the town of Antequera – where 5,000-year old archaeological wonders, the Menga Dolmen, the Viera Dolmen and the Tholos de El Romeral Dolmen can be found. These are collectively known as the Antequera Dolmens Site, the seventh UNESCO World Heritage site in Andalusia, and the 45th in Spain.
The Dolmens, chambers made from stone with no mortar or concrete, are the Spanish equivalent of Britain's Stonehenge, representing some of the most remarkable architectural work in Europe's pre-history, and an important example of Bronze Age stone building techniques.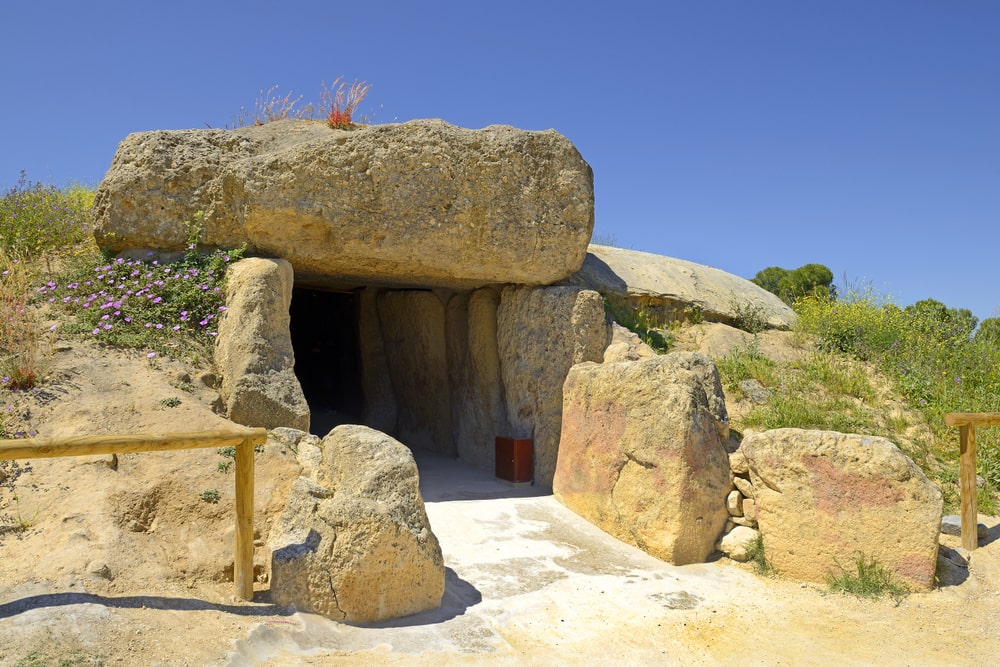 Recognised in 2016 as a World Heritage Site, the Antequera Dolmen Site holds three burial chambers which are considered an incredible feat by prehistoric Europeans. Photo from Shutterstock.
When you tear yourself away from the awe-inspiring landmarks and view, the Laguna de Fuente de Piedra, the largest lagoon in Andalusia, and prime flamingo breeding grounds, await. Several walking trails offer an excellent view of the lake, which hosts a vast number of wintering and migratory birds.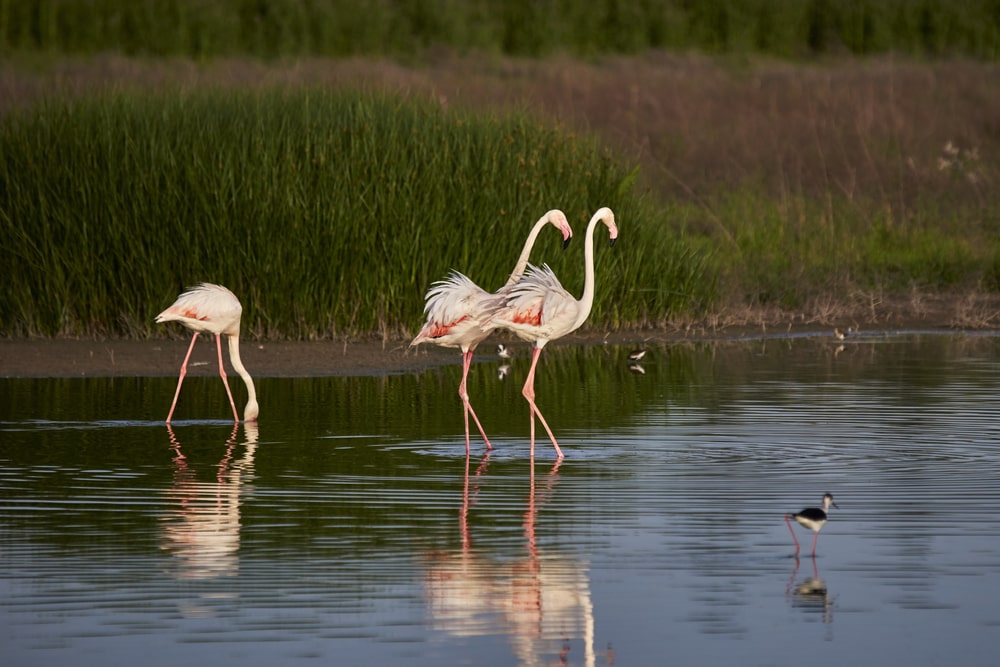 The lagoon is home to the largest flamingo colony in the Iberian Peninsula. Photo from Shutterstock.
Wind down your first day with a nightcap at the Málaga Virgen Bodega, a family-run vineyard with over 300 years of history. The bodega proudly holds the prestigious title of Málaga Denominación de Origen, one that is reserved only for vineyards and wines of the highest quality.
Don't miss sampling the Cartojal if it is in season – a popular sweet white wine drunk chilled during the Málaga Feria, a ten-day annual street festival in August.
Days 2 and 3: A Journey Through Time
Once an old Muslim building, the market centre has been partially demolished, rebuilt in 1879, and restored over the centuries. Photo from Shutterstock.
Return briefly to the modern world in the city centre of Málaga, an hour away from Antequera by car. There, fuel up with light snacks from the Mercado Central de Atarazanas or the Ataranzanas Market. Open 8 am to 3 pm, the market is a favourite of locals, offering fresh produce, seafood, cured meats and other local flavours at wallet-friendly prices.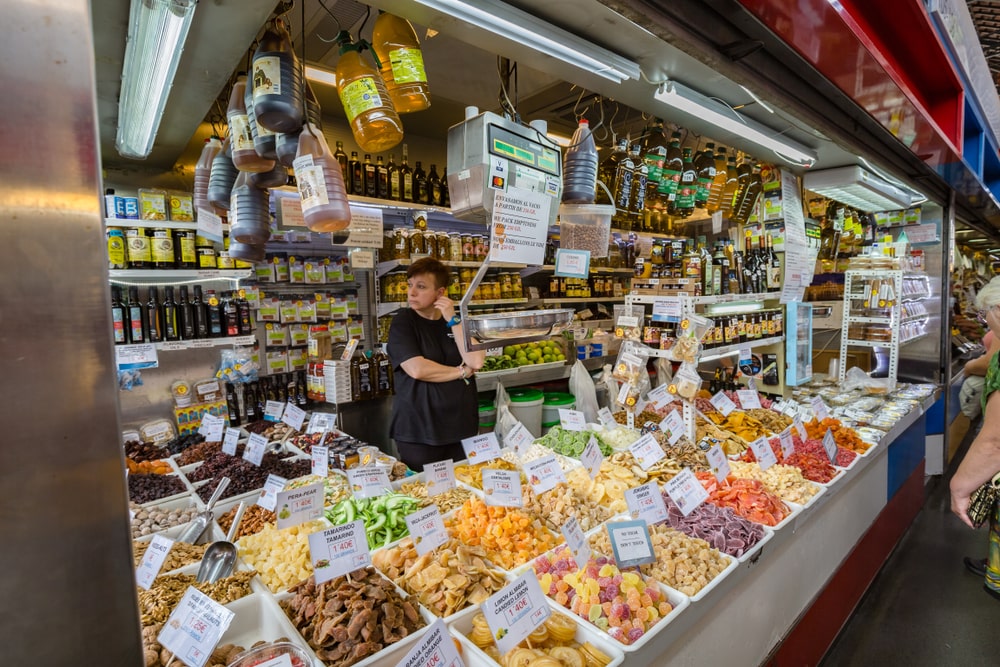 Snacks, finger foods and tapas-style olives and cured meats can be found in plenty at the Market. Photo from Shutterstock.
After your feast, there are a number of famous museums, stunning churches and stately castles – over 50, to be exact – to start your journey through central Málaga's historic quarter.
Art lovers will not want to miss the Pablo Picasso Birthplace Museum, for a collection of the world-renowned artist's works, a recreation of part of his family's home and a rich array of rotating exhibitions.
History buffs can then move on to the Alcazaba, a statuesque fortress and palace. The Alcazaba once defended Malaga from invaders and is a short distance away from two other historical monuments in Málaga – the Roman Theatre and Aduana Palace.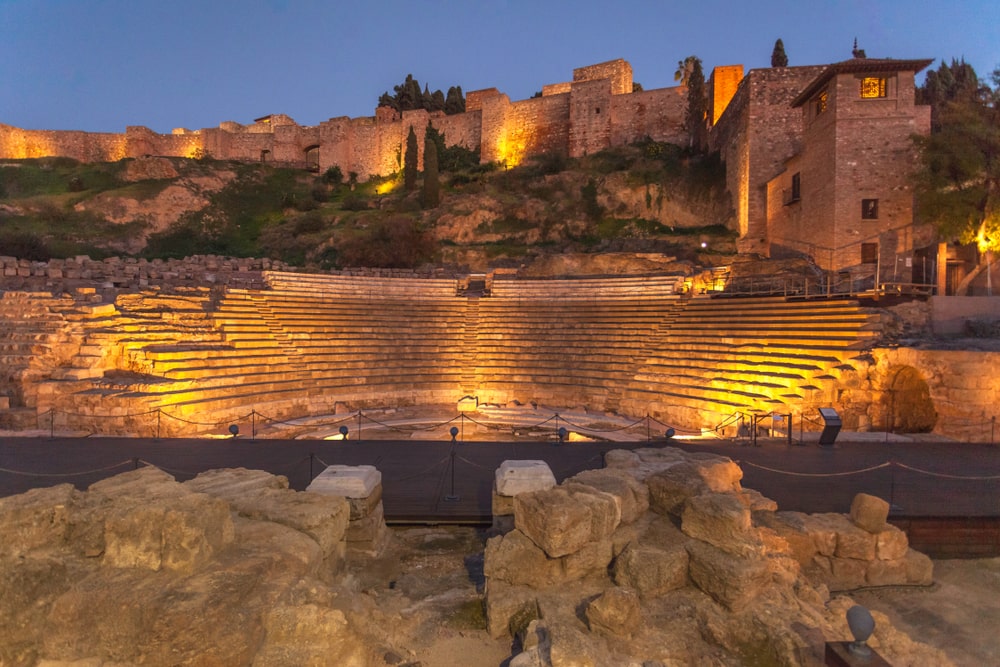 The Alcazaba, which means 'citadel' in Arabic', is located at the foot of the Gibralfaro hill and was constructed over 950 years ago. Photo from Shutterstock.
What trip through Málaga's history would be complete without a tour of its churches? Just under five minutes' walk from Alcazaba is the Santiago Apostle Parish Málaga (Santiago Church in English), the oldest of the city's churches.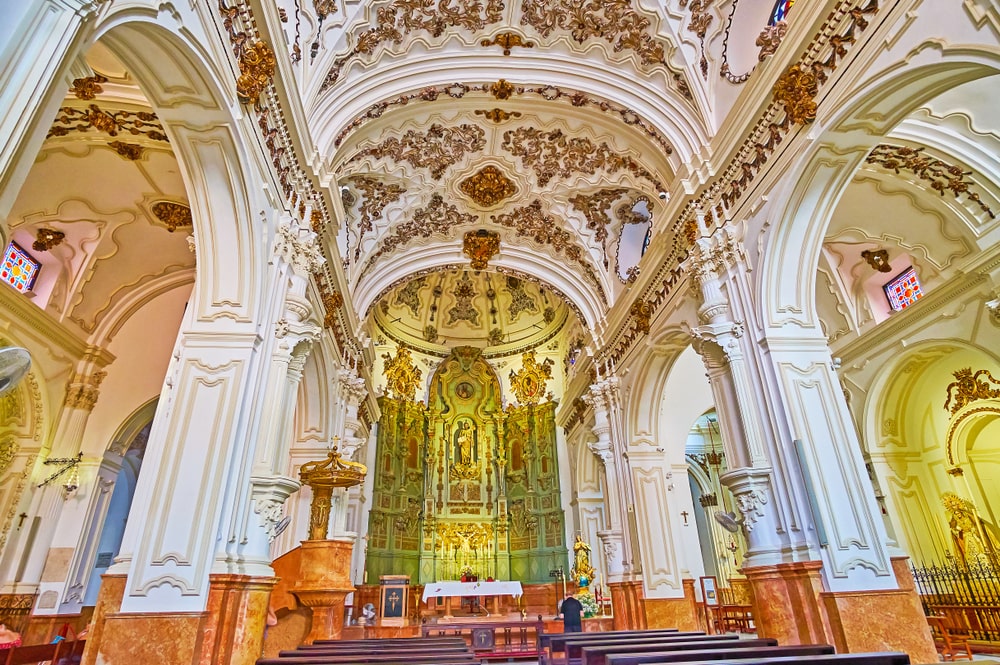 Recently restored in 2017, Santiago Church is an unforgettable stop for tourists with the intricate artistry in its design. Photo from Shutterstock.
Built in 1490 on the former site of a mosque, the church retains the original central entrance, an example of the elaborate Mudéjar style (a fusion of Christian and Islamic artistic styles created between the 12th and 16th centuries). The church is a feast for the eyes with its stained glass windows, collection of religious paintings and vaulted ceilings.
Another notable church to visit is the Santos Mártires Church (Parroquia de los Santos Mártires to the locals). This church is dedicated to St Ciriaco and St Paula, the patron saints of Málaga, and houses several of the thrones, including a detailed recreation of the Last Supper.
Day 4: Old-world grandeur and local goods
On your fourth day in Málaga, take a drive down to Torremolinos, where the beachfront, golf courses and tranquil parks await.
Recharge from the bustle of central Málaga with a lazy picnic brunch at Molino de Inca Botanical Garden, only a 20 minutes' drive southwest from the Atarazanas Market. The site spans over 40,000 square kilometres and boasts over 1,000 plant species, and a dozen bird species, some of which are found only in this area.
After your alfresco meal, sit back a moment and revel in the calming sounds of the springs of Torremolinos before taking a slow amble over to your next destination – La Casa de Los Navajas.
Known for its grand arches and colourful mosaic facades, the mansion was originally built by the Navajas family as a second home over 90 years ago. Today, the restored grounds also provide a majestic backdrop for events and weddings.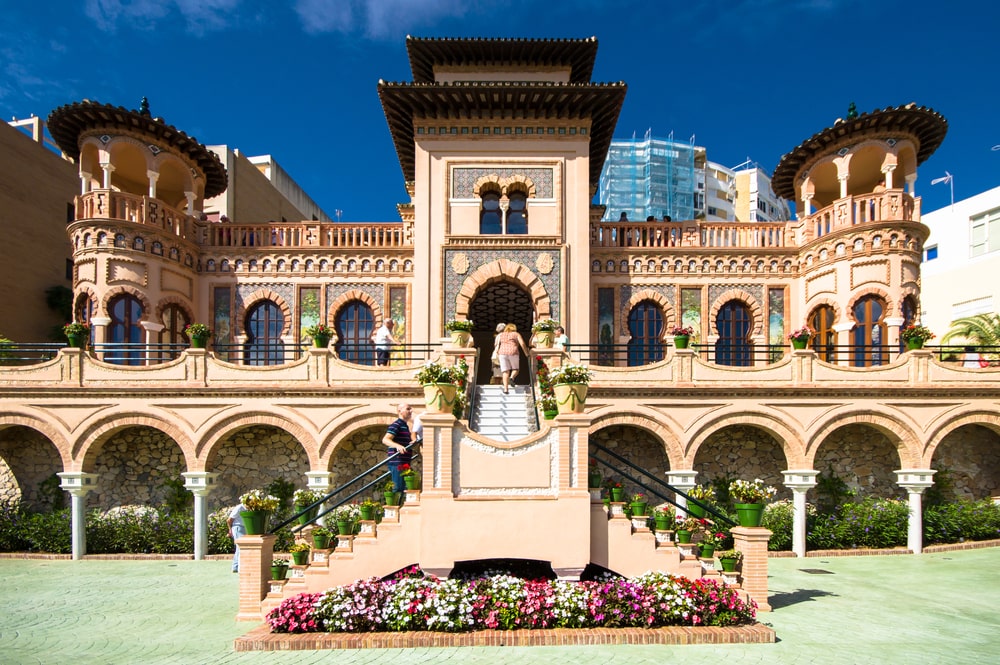 In the 1920s and 1930s, Torremolinos became a favourite of local wealthy families looking to build a second home. Photo from Shutterstock.
Wrap up your day with a visit to the Bioparc Fuengirola, just 27 minutes away by car. The zoo houses over 200 species from all regions of the world, with enclosures which faithfully replicate their natural habitats in the wild. Tickets start from €20.50.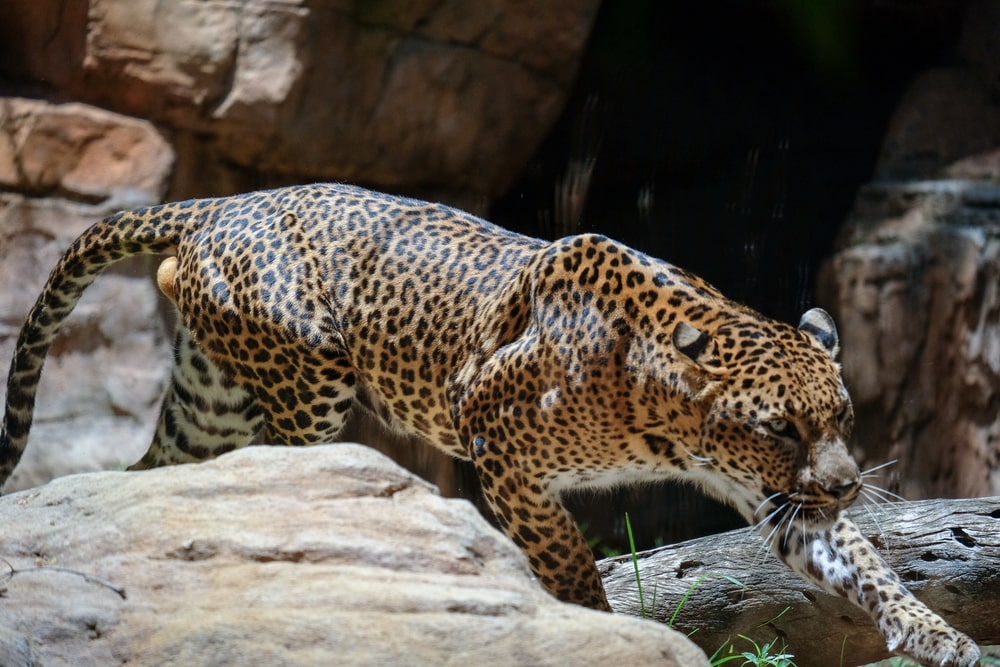 The Bioparc Fuengirola features habitats which are replicas of important rainforests from all over the world, including the Madagascar island, equatorial Africa, and Southeast Asia. Photo from Shutterstock.
Near Fuengirola is the well-appointed CLC Marina del Sol (#1409), which overlooks yet another historic ruin, the Arabic castle Sohail, and provides guests with an unparalleled view of the Mediterranean Sea on one side, and the mountains on the other. With spacious, airy rooms and homely, plush furnishings, this family resort is ideal for couples or families.
Prefer a hotel with more Mediterannean charm? Try the Los Amigos Beach Club (#1979), which boasts a nostalgic architectural style that fits right in with the richly historical spirit of Málaga. For travellers who wish for a quieter day in, the hotel houses on-site facilities for miniature golf, snorkeling and ping-pong.
Day 5: A hole-in-one day
A trip to Málaga would not be complete without a few rounds of golf by the beach and enjoying its beaches. With the numerous golf courses dotting the beachfront, golf lovers are truly spoilt for choice. We suggest getting a few games in before noon, especially in the summer when temperatures can hover around 30°C.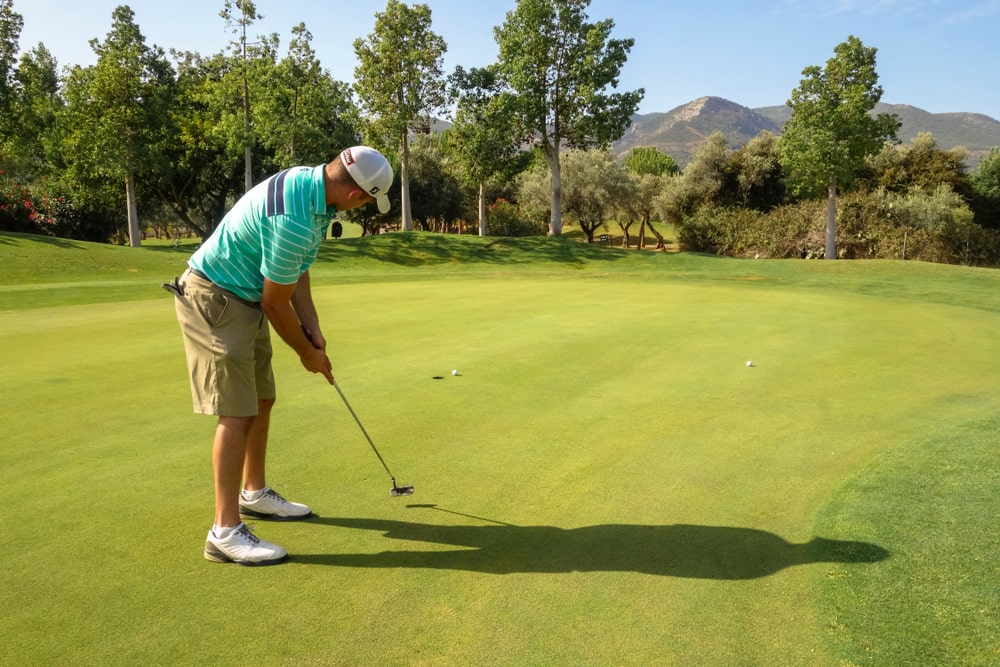 Málaga is home to a dizzying number of golf courses, each with their own unique terrain, and courses for players of all levels. Photo from Shutterstock.
Just under 10 minutes away by car is the Chaparral Golf Club, a lush, forested 18-hole course catering to golfers of all levels. Travellers can get on the green to brush up, or book a private class with the in-house golf academy to refresh your knowledge and get a few pointers.
Day 6: Exploring Marbella
After a day of golf, take it easy with a walk through the colourful neighbouring town, Marbella. Consider the Casco Antiguo, an area of whitewashed houses and flower-filled balconies straight out of a vintage film, or just spotting Salvador Dali sculptures.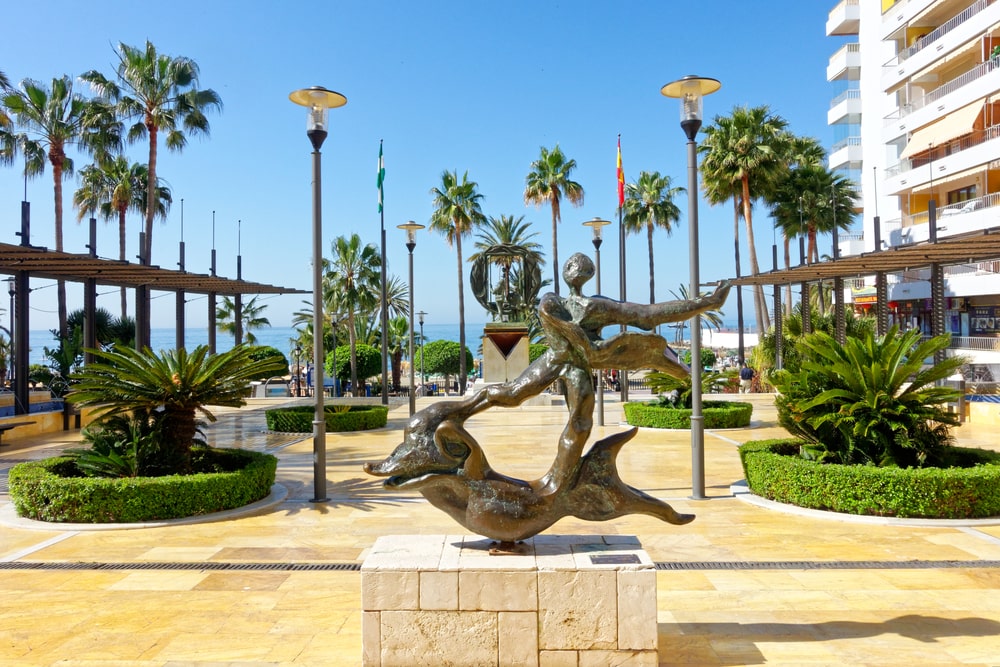 There are ten of the surrealist artist's work spread through the Avenida del Mar, a good excuse to take in more sights as you wander the city centre. Photo from Shutterstock.
Food lovers can check out the three Michelin-starred restaurants in Marbella – Skina (two stars), El Lago and Messina (one star each).
Skina is a highly-rated intimate restaurant which seats 28, and serves creative takes on local cuisine by chef Marco Granada. The restaurant also sources its materials from carefully curated local producers, and its menu is heavily based on seasonal produce.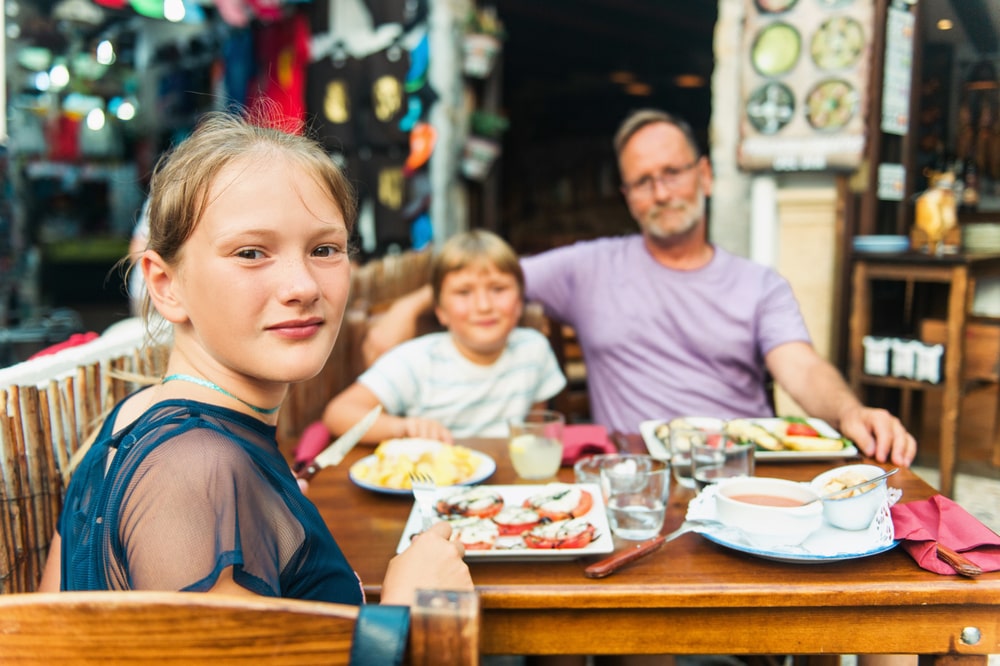 Málaga cuisine is a combination of Spanish, Arabic and Jewish influences, and heavily feature seafood. Photo from Shutterstock.
Another creative yet traditional restaurant, El Lago offers an excellent view of lakes and rolling greens of a golf course, and we hear it's particularly beautiful as a dinner venue. Messina, on the other hand, caters to more international palates with dishes hailing from Spain, South America and Asia.
When you have had your fill of the town, it's time to fall asleep to the hypnotic sounds of the sea – the Heritage Resorts Club Playa Real (#4803), just an 11-minute drive away from Marbella's town centre, offers an unparalleled sea view from a range of one to three-bedroom apartments overlooking the coast.
Day 7: Sand, Sun and Sea
Beaches are an essential part of Málaga's appeal – and a few of them are literally at your doorstep.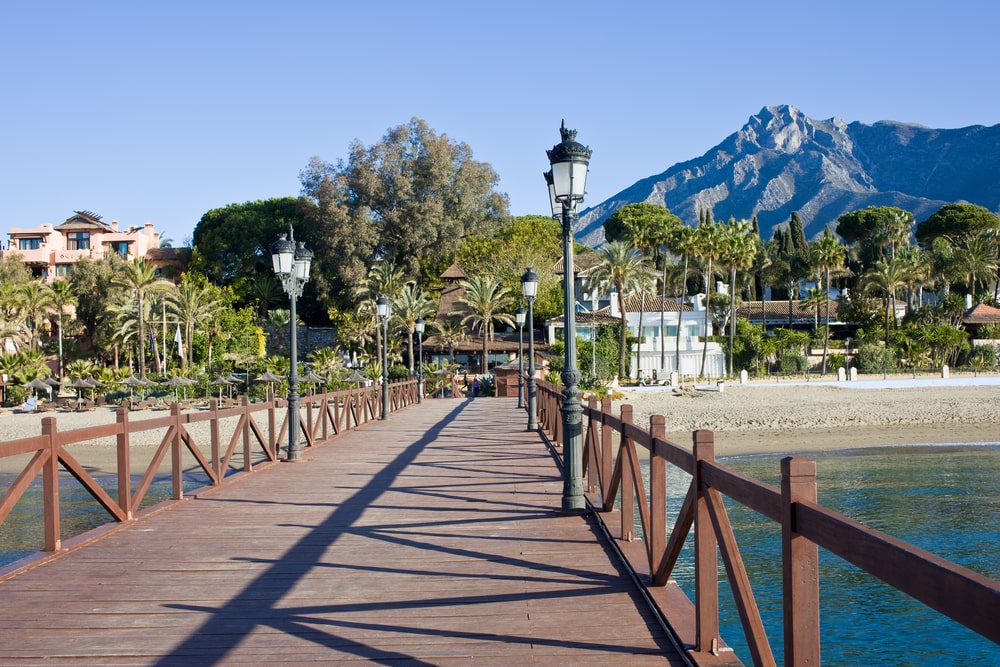 Beaches in Málaga offer a wide variety of sights, activities and sand textures - speak to the locals to find out where the softest sands are if you're looking to take a stroll along the water. Photo from Shutterstock.
Head out to the sands on your final day for some sun and surf. The more adventurous travellers can choose to try water sports such as kayaking and banana boat rides.
Those looking for a more laid-back beach experience can choose to find a quiet stretch of beach to relax on (we hear the Playa de las Cañas beach is particularly idyllic) or amble down the Málaga Coastal Path, a boardwalk that connects 6 kilometres of the beachfront.
Yachts and other boat tours can also be hired for the day, should you wish to venture out upon the sparkling water.