Destination Highlight : Candidasa, Bali
---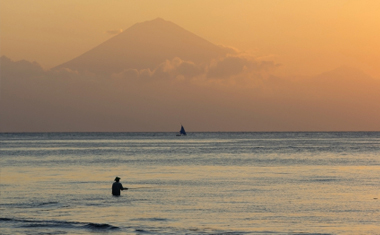 A piece of paradise off the beaten path
Far away from the bustling crowds at Kuta and the manicured resorts of Nusa Dua is the sleepy seaside town of Candidasa. A good base from which you can explore East Bali, Candidasa and the region surrounding it is home to sacred volcanoes, sweeping views of the country, Balinese villages, water palaces and pristine white beaches.
Blessed with almost perfect weather throughout the year, it is an absolute paradise for those who enjoy nature and who wish to get away from the tourist track. Whether you enjoy snorkelling, diving, hiking or cycling... you will find what you wish here.

The area is also studded with boutique Balinese resorts such as Hotel Rama Candidasa. Located right by the shimmering waters of Bali's east coast, this resort is an oasis away from the bustling crowds. Here, you can choose to sip on a cocktail by the pool or grab some sun on the private beach.

And of course, what's a Balinese resort without a spa? Visitors to Bali spend many happy hours (and sometimes days) being massaged, scrubbed, pampered, and blissed out -- and guests to Hotel Rama Candidasa are no exception.

You will be able to indulge in traditional Balinese-style massages and other healing treatments right there on the beach. The spa also offers nail services, body treatments, facials, and massages to pamper you from head to toe.

Coming with the kids? Not to worry, the resort also offers a slew of children's activities to keep the young ones entertained as you and your partner spend some precious couple time together.
Head out of the resort, and you will find excellent shopping and fascinating destinations such as:

Tirta Gangga
Rated as one of Candidasa's top three attractions by TripAdvisor, Tirta Gangga is a water palace built in 1948 by the Karangesem King. It was built on a natural spring in the area which the people of the region believe was a holy spring where the gods bathed. Tirta Gangga was badly damaged by an earthquake in 1963 but has been lovingly rebuilt by local conservationists since then.

Today, the main draw of Tirta Gangga (which means water from the Ganges) is an eleven tiered fountain and wide public pool surrounded by lush tropical gardens.
Here, you will be able to walk through the cool gardens, retreat into serenity, and imagine yourself as Balinese royalty as you take a dip in the cool, inviting pool. Perfect for sultry Balinese days.
Tenganan Village
In the hills, just four kilometres inland from Candidasa is Tenganan Village -- home to the Bali Aga (original Balinese) people.

The villagers still live according to ancient pre-Majapahit traditions such as ancestor worship, cosmology and other animist beliefs. They are also famed for producing some of the finest woven basket-ware and the much sought-after double weave ikat fabric.

Take a walk through the village and the villagers will open their doors to you and invite you to inspect and purchase these traditional pieces of ikat cloth as well as an array of other handicrafts such as intricately painted duck eggs, palm leaf carvings and wood carvings.

The architecture of the village itself is something to see. Separated from the rest of the world by a solid stone wall that encompasses the entire village, the village features identical houses aligned on either side of natural stone pathways. Four gates, aligned to the four compass points, offer the only access to the village. The overall effect emphasises the harmony between God, mankind and the environment.

A visit here will take about an hour. An entry fee is applicable.
Pasir Putih
Just five to seven kilometres northeast of Candidasa is the hidden treasure that is Pasir Putih. It takes some daring to get here as it lies off the beaten track, but the journey is worth it. Here you will find a five hundred metres of clear turquoise waters and beautiful white sand fringed with coconut palms -- a stunning visual contrast to the black volcanic cliffs that rise above it.

Visitors to old Bali say the beach's atmosphere is reminiscent of Kuta in the 70s with its laidback atmosphere and pristine surroundings. There are also a couple of warungs (food stalls) here where you can sit back, sip on a beer, and lounge the day away on a beach chair.
Diving & Snorkelling
If you're looking for places to swim, dive and snorkel -- then you've come to the right place.

Candidasa is renowned for such activities with good sites close offshore as well as around the nearby islands of Nusa Penida and Nusa Lembongan. The close offshore rocky islets of Gili Tepekong, Gili Biaha and Gili Mimpang are also a must-go for experienced divers.

To get to these dive and snorkelling spots, head towards Padang Bai, a beach village 20 to 30 minutes down the road from Candidasa. Here, you will find tour and dive shops ready to put together a package to the destination of your choice. Local boatmen are also more than willing to give you a ride out. Renting a boat for two hours, including snorkelling gear for two, should not cost more than 250,000 rupiah (25USD).

Famous dive sites include Blue Lagoon, Ferry Channel, Tanjung Sari, Temple, the Wall and Bias Tugal.