Destination Highlight : Durban, South Africa
---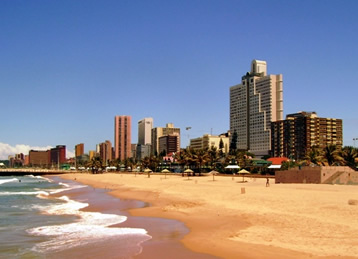 Durban is situated in the province of KwaZulu-Natal, is South Africa's third-largest city and is a thriving industrial centre. It is also the busiest port in Africa. South Africa's most creative crafts and its famous "Golden Mile" can both be found here. Golden Mile is a string of beaches which got its name from the Portuguese explorers who referred to the sea sand along the coast in this area as the 'Sands of Gold'. Sun-worshippers and swimmers flock to Durban to enjoy the sub-tropical sunshine and warm waters of the Indian Ocean. These beaches are protected by lifeguards and shark nets all year round. The "mile" stretches all the way to Suncoast CasinoandEntertainment World,in the north, giving the sun-goers plentiful of locations to lay their bronzed bodies, play games and check out the nearby restaurants.
You'll meet people from a bunch of different cultural backgrounds, hear the buskers serenading all from the sidewalk, see the children feeding the pigeons and have a wild array of aromas to remember, from the surf wax to 'bunny chow'. You might be wondering what this bunny chow is. It's actually a half-loaf of bread hollowed out and filled with mouth-watering, juicy curry: mutton, beef, chicken or bean. And it is considered as the culinary icon of KwaZulu-Natal.
| | |
| --- | --- |
| uShaka Marine World | One unmistakable feature of Durban is the huge Indian population. Descendants of laborers brought in by the British to work in the sugarcane fields during the latter 19th century. A lot of mosques, bazaars and temples, bedecked with wildly colored deities, stand side by side with the Victorian buildings marking out the colonial center. Durban is very family friendly with its funfairs, waterparks, great beachfront hotels and good shopping malls. You cannot leave Durban without visiting one of its key attractions, South Africa's no. 1 resort- the uShaka Marine World. It boasts of having one of the largest aquariums in the world and world-class entertainment, excitement, fun and uniqueness. There's also Wilson's Wharf on the Victoria Embankment, where you can find Durban's trendiest food, top shows and crafts, amidst the rustic interface of a boating marina and working slipways. |

The International Convention Centre Durban

Durban is also a top choice for international conferences and trade expos held in South Africa. The International Convention Centre Durban has hosted a historic line-up of events in which business and debate issues, which have far-reaching effects, not only on Africa but way beyond its borders, are discussed.




A lot of things are always happening at Durban, but if you want to get into the thick of things, do visit Underberg, KwaZulu-Natal for their Splashy Fen music festival during the month of April. It is a feats of mainstream and alternative rock and pop. It offers plenty of facilities but there are great bed and breakfasts in nearby towns for those who believe music festivals can be enjoyed without mud. For the more discerning traveller, however, you can stay at Castleburn, which is 30 minutes away from Underberg and a 2-and-a-half hour drive from Durban. You'll be waking up to the view of the mighty Drakensberg mountains inside Castleburn's thatched cottages. There are various activities that can keep you busy while staying in the cottages, such as hiking, fly fishing, sailing, and kids can roam around freely in the playground.
| | |
| --- | --- |
| | Durban is an exciting city to play, shop, experience the nightlife and to relax on the radiant beaches as you watch the world go by. You will never run out of things to do when you're in Durban, South Africa's Seaside Playground. |