Trading Power Protection safeguards the value of your Exchange Holiday, so if you need to cancel for any reason, you will be refunded the Trading Power used to make the booking. This means you can re-book another holiday in future as your Trading Power has not been affected by your cancellation.
(*Please note that if you cancel your Exchange Holiday and do not have Trading Power Protection, then your Deposit Trading Power may be reduced based on the Trading Power Adjustment Schedule).
When should I purchase Trading Power Protection?
We recommend purchasing Trading Power Protection at the same time as booking your Exchange Holiday. When you purchase the product determines how much you pay, so the sooner the better. If you purchase Trading Power Protection 0-30 days after booking your Exchange Holiday, it will be much cheaper than if you buy it after 31 days or more, when the cost doubles.
How do I add Trading Power Protection if I have already booked my Exchange?
You can add Trading Power Protection online or by calling an RCI Guide .Go to the 'Upcoming Holidays' in your dashboard area, on the right hand side of your exchange confirmation, click on the link to 'Add Protection'. Just follow the steps in the payment section to complete the transaction.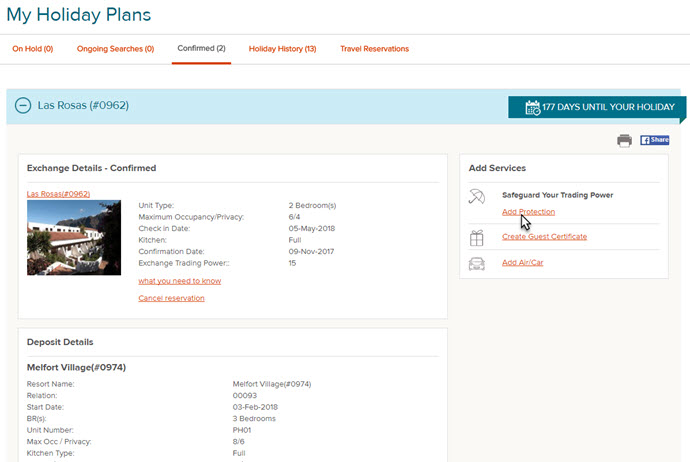 If you are cancelling your Exchange Holiday within 270 days of the start date, you can purchase Trading Power Protect to retain the Trading Power used to make this booking. You can purchase this online as you cancel your booking.