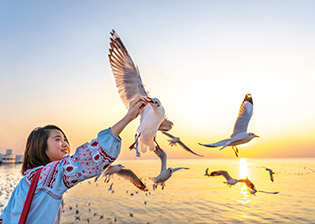 It's better to see something once than to hear about it a thousand times.
Start planning for your next travel today!
Exciting destinations for your next holiday!
GET ENCHANTED IN DENMARK
Say ""hej!"" to your holiday in the fascinating sea bound country of Denmark! Surrounded by the North and Baltic Sea, anywhere in this Scandinavian country is never more than 50 kilometre from the coast. Well-known to be the place where the Viking Age began, some of the Viking rune stones can still be found in quaint little towns like Jelling, which has been honoured as a UNESCO World Heritage site since 1994. Take a day trip to the capital city of Denmark - Copenhagen and hop by Nyhavn to admire the classic sight of brightly-coloured buildings lining the edge of the harbour. Simply sit down at one of the outdoor dining venues and soak in the atmosphere as you enjoy a quick bite with a swig of beer. This enchanting Nordic country has inspired some of the world-famous fairy tales such as The Little Mermaid, penned by Hans Christian Andersen. Head down to the Langelinie Pier to find the sculpture of the Little Mermaid where you'll find her peering longingly into the horizons for her beloved prince.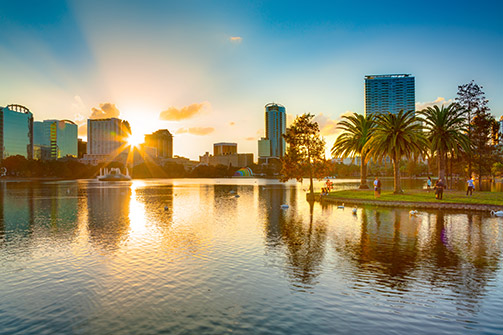 FUN IN THE USA
In Orlando, kids and kids-at-heart won't find any roadblock to fun and entertaining activities. A holiday to Orlando will not be complete without visiting the amazing theme parks which include Universal Studios Florida™ and Universal's Islands of Adventure™. Climb aboard the most cutting edge rides in the Island of Adventure and meet your favourite Marvel characters when you dine in Café 4™ located in Marvel Super Hero Island®. Head down to the Yard House located at ICON Orlando 360 - an upscale, casual eatery where beer and food enthusiasts gather. The restaurant features 140 draught beer taps, including a rotating selection of seasonal and limited draughts on the ""Chalkboard Series"". For the shopaholics, Orlando International Premium Outlets® is the largest outlet mall in Florida which houses over 180 outlet designers where you will find fashion and sports apparels, accessories, audio, shoes and kids' wear at great prices!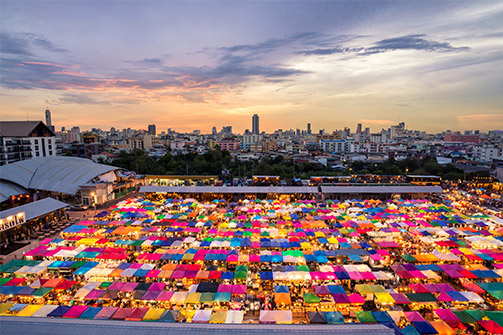 SHOPPING PARADISE IN THAILAND
The vibrant city of Bangkok is one of South East Asia's most popular holiday destinations. One of the many things that it is known for are weekend and night markets where you'll find all sorts of beautiful textiles, handcrafted spoils and nifty trinkets and more to take home as souvenirs for yourself and gifts for your loved ones! Chatuchak Market - a tourist attraction is one of the most famous weekend markets in Bangkok where you'll find everything from handmade jewellery to pet toys! Be sure to hop by the floating markets, where you will find traditional boats piled with tropical fresh fruit and vegetables and even ready to drink coconut juice. Platinum Mall, Pratunam Mall and Siam Paragon are immensely popular fashion shopping hotspots with the locals and tourists. You may end up buying more things than you expect with the attractive prices of the items on sale in the shops!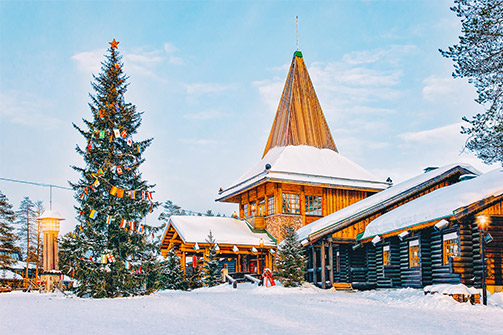 A CHRISTMAS DREAM IN FINLAND
Finland is home to Rovaniemi - the official hometown of Santa Claus. This all-seasons Christmas themed village attracts countless visitors who seek to experience their very own Christmas fantasy. During your stay in Finland, be sure to take a day trip to the village and fulfil your childhood dreams of meeting Santa Claus! Pen down your appreciation for your loved ones at the Santa Claus Main Post Office and let the Christmas magic bring warmth to the hearts of your loved ones as the Postal Elves stamp the letters with the unique Arctic Circle postmark and get them delivered by Christmas! While you are there, don't pass up this once-in-a-lifetime opportunity to cross the Arctic Circle, which runs through Santa Claus Village and receive a certificate for completing the feat.