SUN VS. SNOW: YOUR NEXT LUXURIOUS HOLIDAY IN MALAYSIA & SWITZERLAND
From an unforgettable alpine holiday to a marvelous island getaway in Southeast Asia — RCI can help you unleash possibilities and turn your travel dreams into a reality.
Read on to find out more about our hand-picked destinations for your next luxury getaway.
An alpine luxury holiday in Switzerland
When it comes to luxurious holiday destinations, there's no better place to satisfy your hunger for travel than in Switzerland. Nestled in the heart of Europe, Switzerland is home to astounding mountain scenery, lush foliage, and quaint idyllic towns.
Embark on a scenic train journey via the Bernina Express and cross the Alps. Bernina Express is a historic Swiss red train that can take you to one of the most beautiful railway routes in the world. The route will indulge your eyes in majestic views of the Swiss Alps and glacier lakes.
Whilst in Switzerland, don't forget to try the iconic Hammetschwand Lift. Known as the highest exterior elevator in the entirety of Europe, this lift (that looks like a rocket ready for take-off) will treat your eyes to heavenly views of Lake Lucerne and the surrounding hillsides.
Of course, your Swiss holiday won't feel complete without indulging in classic Swiss chocolate. Don't forget to Indulge the family in a multi-sensory experience by visiting Maison Callier, a Swiss chocolate factory in Bronc. A sweet excursion awaits you in this factory, where you and the kids can explore the history of chocolate. You can also book a workshop with Callier and learn how to make a ganache from the factory's world-class chocolatiers.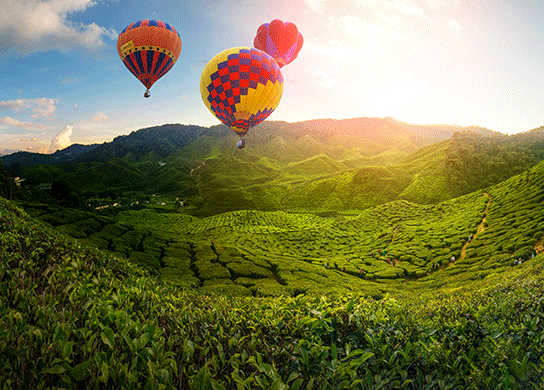 A sun-kissed luxury getaway in Malaysia
If you're looking for an exceptional sun-kissed getaway, your next must-see destination is Malaysia.
Malaysia is a Southeast Asian country known for its rich and diverse culture. An exotic mix of Malay, Chinese, Indian, and British influence shaped Malaysia into what it is today. Malaysia is also blessed with an extensive coastline, sublime beaches, and abundant rice fields.
Whilst in Malaysia, you can travel from coast to coast. We recommend starting from Penang — an island known for its fusion of Eastern and Western cultures. Penang boasts of pristine, sandy beaches, colonial old towns, and mouthwatering cuisine. When visiting the island, make sure to visit the UNESCO World Heritage site of George Town. George Town is lined with colonial architectures — ranging from buildings, churches, and galleries — that also speak of the town's colourful history. At present, it boasts of a burgeoning art scene where galleries and museums abound. And because of its diverse blend of cultures, don't forget to try out local restaurants in this culinary capital of the country.
Afterwards, take a scenic hour-drive to Cameron Highlands. The highlands were founded by a British colonialist named Sir William Cameron and were named after him. Situated on the hillside of Pahang, Cameron Highlands provide a respite from the scorching heat of nearby cities and serves as the home of numerous plantations and farms. Here, you can visit the Boh Tea Plantation or pick strawberries with the family at Raaju's Strawberry Hill Farm.
Cap off your trip by spending the day on the beaches of Kuala Terrenganu, such as the Pulau Tenggol and Kapas Island. These islands off the shore of Terranganu boast of white sand beaches, thriving coral reefs, and turquoise waters. Whale sharks can also be seen here, and make the islands a popular snorkeling and clear-diving spot. And for the ultimate Malaysian experience, have a stroll through Pasar Besar Kedai Payan, a local market known for its wide selection of traditional handicrafts (such as batik and silk cloth) and fresh fruits & vegetables.
Unlock a world of possibilities and have a holiday experience like no other with these destinations! Check out our RCI website www.rci.com for available resorts and begin planning and gain access to over 600,000+ world-class affiliated hotels, resorts, and more.