Rarely does anyone visit Boston without Salem, or visit Newport, Rhode Island, without driving east to the Cape or up the coast to Maine. The region is filled with vacation hotspots, but organizing a trip, especially for first timers, can feel overwhelming.
Unlike other one-stop vacation destinations, this is an interconnected region that is easy to navigate if you know how to do it right. Whether you opt for the full itinerary below or you break it up into multiple trips, this is the perfect New England road trip for first timers looking for an introduction to this charming region filled with natural beauty and historic landmarks.
Rhode Island Roaming
You may be inclined to fly into Boston for a New England road trip, since it's one of the region's major hubs, but for a more seamless road trip for first timers, fly into Providence and drive just one hour south to kick off your trip in Newport instead. Stroll along the waterfront taking in the sights and sounds of boats pulling in and out of the harbor. Spend a day exploring awe-inspiring mansions such as the Breakers, where America's elite once spent their summers. Take a stroll on the seaside Cliff Walk that runs behind them with panoramic views of crashing waves. End your day with a sunset cruise on an old-fashioned schooner in honor of your visit to the city known as the sailing capital of the world.
Laying Low In Cape Cod
Just 90 minutes east is laid-back Cape Cod, once the playground of the Kennedy family and home to seafood shacks, quaint villages, and 40 miles of pristine national seashore. Watch the seals play at the Chatham Fishing Pier and indulge in a delicious bowl of clam chowder at the on-site market. Bike along the Cape Cod Rail Trail, which winds through picturesque parks and towns where you can easily stop for lunch (or ice cream). At the end of the peninsula, vibrant Provincetown is known for being an LGBTQ-friendly hub for dining, nightlife, and charming bed and breakfasts. Cape Cod is a must-do for any New England vacation.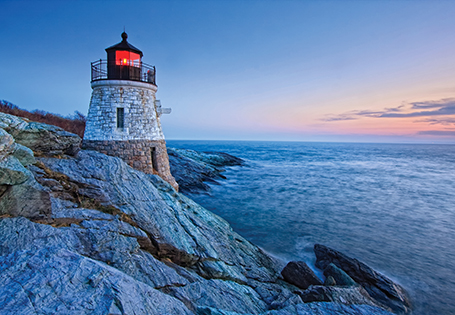 Bold, Historic Boston
A little over an hour north of the Cape, as the locals call Cape Cod, Boston's historic landmarks and famous harbor await. Explore the Freedom Trail's 16 stops, including the Old South Tea House, where the Boston Tea Party began; Faneuil Hall with its many food stalls and whimsical shops; and the 1797 USS Constitution, ​​the oldest commissioned warship afloat. Take a tour or take in a ball game at Fenway Park, enjoy sidewalk shopping along posh Charles Street, and lose track of time inside the beautiful Museum of Fine Arts. No New England getaway would be complete without exploring the historic sites of Boston.
"Sea" It All Along The Coast
The coastal route from Boston to Portland, Maine, is less than two hours, but if you drive direct, you'll miss some of New England's must-see places to stretch your legs or perhaps even extend your trip. History lovers intrigued by the Salem Witch Trials will love a visit to the Salem Witch Museum and town square in Salem, Massachusetts. Architecture buffs and shopping enthusiasts will want to carve out extra time in Portsmouth, New Hampshire. In pedestrian-friendly Kennebunkport, Maine, fresh seafood fills the menus and charming boutiques and galleries remind you why families like the Bushes have vacationed here for years. Your New England vacation can have as many stops as your schedule permits.
The final stop of your New England road trip is Portland, a charming waterfront city with cobblestone streets and red-brick buildings throughout Old Port, the city's main hub. Check out the artsy gift shops and plethora of bookstores, such as Longfellow Books. A beer lover's town, Portland is also filled with local breweries and restaurants serving Maine's famous lobster a variety of ways. Take a foodie tour with Maine Brews Cruise for a taste of both. For the best lobster rolls, nothing beats family-owned Luke's Lobster Portland Pier. Hop on the Casco Bay Lines Mail Boat for a three-hour tour of the harbor while a postmaster delivers snail mail the old-fashioned way, or take a 20-minute ferry ride to Peaks Island to tour this pristine island via bike or golf cart. With several restaurants, an ice cream shop, tons of beautiful homes, and awe-inspiring views along its rocky coast, it's the perfect way to spend a sunny day in Portland. Don't leave without a visit to the historic Portland Head Light in Cape Elizabeth, one of the country's most photographed lighthouses. Nestled within a park, it's a great spot to stretch your legs and take in the views of Portland across the bay.