Sedona Adventure
---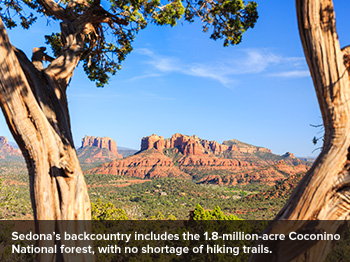 Two hours north of Phoenix, manicured golf greens and lapis swimming pools give way to a jumbled, otherworldly landscape of desert red rock. Sandstone mesas and cliffs—streaked in shades of peach, gold, umber and rust—rise up from a forested valley floor, with millions of years of erosion and upheaval captured in freeze-frame. Welcome to Sedona, Arizona, where geology is king and red rocks are the local religion.

From its arresting natural beauty to its vibrant community of artists, healers and adventurers, there's nothing subtle about this town of 11,000 on the edge of the Colorado Plateau. But Sedona's grandeur is earthy and unpretentious. Instead of architectural icons, its major points of reference are literal landmarks: buttes sculpted by wind and rain and stained with desert patina. Galleries showcase vivid paintings in saturated colors that echo the colors of the land, and the top-rated spas draw on the centuries-old traditions of the Sinagua Indians, to whom this canyon country was sacred. For travelers, Sedona delivers a perfect blend of reverence and indulgence.

The region's varied backcountry includes the 1.8-million-acre Coconino National Forest and a number of wilderness areas. The Boynton Canyon Trail, five miles round-trip, skirts knobby red-rock spires (one is known as Kachina Woman for its human shape), prehistoric Indian ruins and 1,000-foot sandstone walls. The challenging Devil's Bridge Trail (1.8 miles round-trip) winds through piñon and juniper in the Red Rock–Secret Mountain Wilderness to Sedona's tallest stone arch: Devil's Bridge, 54 feet high and 45 feet long.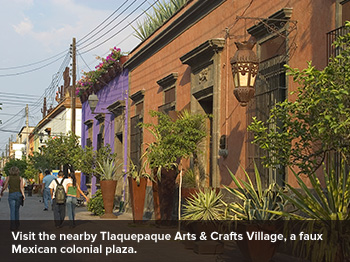 In Oak Creek Canyon, the West Fork Trail follows the West Fork of Oak Creek for nearly 12 miles—but the best views and swimming holes are in the first three miles. Closer to town, the unpaved but mostly flat 3½-mile Bell Rock Pathway passes just beneath Bell Rock and links Sedona with the village of Oak Creek—a terrific trip for a family. End your day at Slide Rock State Park, six miles up Oak Creek Canyon from Sedona. Erosion has carved a smooth slide in the creek, and even when temperatures hit the 90s, the water remains a refreshing 63 degrees.

Sedona's many galleries match the vivid colors and shapes of the landscapes. The showroom at Exposures International is packed with splashy abstract oils by Jim Rabby, renderings of ancient pictographs from painter Bill Worrell and bronze sculptures by Joshua Tobey. Nearby, the Tlaquepaque Arts & Crafts Village is a faux Mexican colonial plaza with a glass art gallery, fine jewelers and restaurants. After shopping, stop by the Oak Creek Brewery & Grill to toast your shopping finds with a handcrafted cold one.


THE DETAILS
Coconino National Forest: fs.usda.gov/coconino

Oak Creek Canyon: oakcreekcanyon.net

Slide Rock State Park: 928.282.3034

Exposures International: 561 Arizona 179; 928.282.1125; exposuresfineart.com

Tlaquepaque Arts & Crafts Village: 336 Arizona 179 b218; 928.282.4838; tlaq.com

Oak Creek Brewery & Grill: 336 Arizona 179 D201; 928.282.3300; oakcreekpub.com