If your idea of a perfect getaway involves book-filled shelves, cozy cafes, and famous literary haunts, these destinations are sure to be your cup of tea. Explore the rich history of American literature, discover new literary scenes, and find your next great read. From indie bookshops and swanky book bars to literary landmarks and historic libraries, these three cities should be at the top of every book lover's bucket list.
1. New York City, New York
New York's literary legacy dates back to the 1800s. Today, the city boasts some of America's most vibrant literary scenes and famous landmarks. Founded in 1906, the majestic Morgan Library is a must-see for bibliophiles. Gilded frescos keep watch over the library's extensive collection of rare books and historical manuscripts. 
The city's largest bookstore, the Strand, boasts "18 miles of books," from modern bestsellers to antique leather bounds. But bookworms in the Big Apple should also check out New York's thriving indie book scene. Three Lives & Company is a cozy neighborhood favorite for classic and contemporary literature. The Mysterious Bookshop is the world's oldest specialty bookstore for mystery fiction. The elegant Rizzoli Bookstore features renaissance-style decor and a collection of high-culture fiction and nonfiction. Books of Wonder is a perfect shop for the young and the young at heart, curating the best of children's literature and a gallery of original children's book art.
New York City's longest bar, Oscar Wilde, is also its most literary. Its lavish atmosphere pays tribute to the spirit of the Irish playwright himself. Relax and indulge in this gilded Victorian bar that is embellished with historical furnishings and Wilde's wittiest quotes. Drink a Lady Windermere beside a life-size bronze statue of Wilde.
For additional literary-themed libations, book a tour with the Literary Pub Crawl. They are currently offering virtual tours, so you can drink and explore from the comfort of your home.
2. Boston, Massachusetts
Hailed as the birthplace of American literature, Boston is a modern arts hub steeped in literary history. The city was the famed residence for a host of literary giants like Ralph Waldo Emerson and Louisa May Alcott. It even boasts its own Literary District where book lovers can explore local literary events and historic sites like the home of Robert Frost and the Old Corner Bookstore.
A local favorite, Trident Bookseller & Cafe combines great food and great stories. Shop for bestsellers or hidden gems, then enjoy all-day breakfast, slow-cooked comforts, and locally crafted drinks like New England beer and cappuccino milkshakes. Indoor dining is currently closed, but their full menu is still available for takeout and delivery.
Less than an hour from Boston, children's literature fans can visit An Unlikely Story, a bookshop owned (and sometimes frequented) by Jeff Kinney, author of the Diary of a Wimpy Kid series.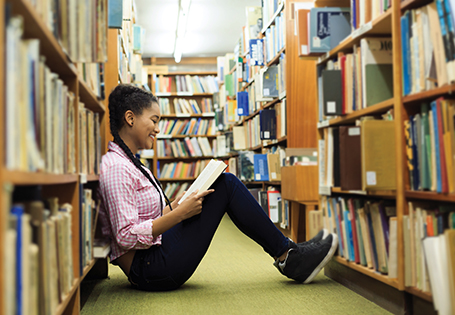 3. Portland, Oregon
Maybe it's the overcast weather that beckons people to curl up with a good story. Or maybe it's the deep emerald forests that inspire musings of mystery and enchantment. Whatever the cause, Portland is a popular haven for writers and readers alike. The city has also served as the setting for beloved books like the Wildwood Chronicles and the Ramona Quimby series. Ramona fans can even visit a Beverly Cleary Sculpture Garden in Grant Park.
No literary trip to Oregon would be complete without a visit to the city of books. Powell's City of Books is a Portlandian icon and the world's largest independent bookstore. Plus, be sure to check out the city's other smaller — but noteworthy — bookshops. A Children's Place Bookstore is Portland's oldest independent children's bookstore. Broadway Books and Wallace Books curate collections of new and used books. Floating World Comics and Books with Pictures offer impressive selections of comics, graphic novels, and local art.
Whether your favorite reading companion is coffee, tea, or craft brew, Portland has you covered. Sip artisanal coffee and whimsical teas at The Dragonfly Coffee House. Savor locally sourced coffee and home-baked treats at Bison Coffeehouse, Portland's only Native-owned coffeehouse. Enjoy a selection of handcrafted loose-leaf blends and bubble tea at Tea Chai Té. The Rose City Book Pub offers a curated selection of books, brews, and comfort food.