Thinking about planning a romantic getaway for two? Whether you're a pair that prefers a more relaxed beach setting, an outdoorsy adventure, or a jolt of excitement in a culture-packed city, these three U.S. cities sure to send your hearts aflutter. Check out these best vacation spots for couples in Asheville, North Carolina; Siesta Key, Florida; and New Orleans, Louisiana.
Get Swept Off Your Feet In Siesta Key
If sun, surf and sand make you smile, unwind at one of the nation's consistently best-ranked beaches in Siesta Key, Florida. This unique beach town is equal parts laid back and full of life, depending on your mood.
Dig your toes in the sand in Siesta Key Beach on your romantic getaway. Made up of mostly finely ground quartz, the sand has a luxurious, powdered sugar feel beneath your feet that stretches out to meet the warm, emerald waters of the Gulf. Pack a delicious picnic and cool beverage and let the days melt into one another as you welcome the ocean breeze until sunset.
If you're looking from a respite from beachgoers, sneak away to Crescent Beach or even further south to Turtle Beach. These lesser-known spots invite you to explore the sea life while snorkeling or cruise the surface on a Jet Ski or kayak.
Take a leisurely walk through the quiet Siesta Key Village. It's home to a colorful array of specialty shops, boutiques, bars, cafes, and restaurants. The Daquiri Deck is a local favorite for both classic and imaginative drinks, live music and a menu packed with fresh and fried seafood dishes, sandwiches and pasta. For a quiet romantic evening, treat yourselves to fine dining at Ophelia's on The Bay. You'll enjoy beautiful sunset views and a rotating menu of fresh selections with an expansive wine list.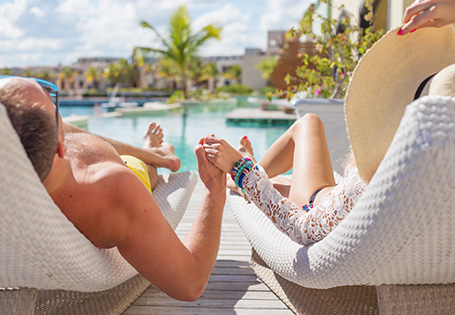 Discover Adventure In Asheville
Sweeping mountain views, lush green forests and architectural treasures make Asheville, North Carolina, the vacation spot to be for couples that look to immerse themselves in the outdoors. Breathe in the fresh, crisp mountain air as you get ready to take on this natural wonder together.
Where to begin, with millions of acres of forests to see and trails to experience? Taking a drive along the Blue Ridge Parkway may just be your best starting point. This scenic route is not only considered one of America's most breathtaking drives, but along the way you'll discover trails leading you to plummeting waterfalls, cascading rivers and photo-worthy vantage points blanketed by native rhododendron.
Spice things up with something unique by going on a bellyak adventure together. A bellyak combines the function of a kayak with the thrill of boogie-boarding. Using your hands equipped with webbed gloves to paddle, you can easily glide through the water from tranquil, scenic lakes to exhilarating white water rapids.
Plan a romantic day when you visit Biltmore Estate. Built by George Vanderbilt and known as the largest privately owned home in the United States, this architectural marvel is home to 250 rooms designed with charm and elegance. Take a stroll through the rich history of the home and tour the expansive, manicured grounds and botanical gardens.
Explore The "Paris of the South" In New Orleans
Big cities offer a rush of excitement with nightlife and famous attractions, but few have the unique charm and vibrant, melting pot culture that the "Big Easy" offers. New Orleans is all things dreamy, thrilling and alluring — the perfect vacation spot for couples looking to enjoy a lively night on the town followed by dialed-back days wandering through the historic atmosphere filled with cafes and Creole cuisine.
Perched along the banks of the Mississippi River and decorated with historic architecture featuring wrought-iron balconies, the French Quarter is considered the heart of New Orleans. During the day, take in the quaint clop-clop of horse-drawn carriages as you visit the open-air artists colonies in Jackson Square, one of the city's most recognizable landmarks emblazoned with Andrew Jackson's bronze statue.
Enjoy classic Creole fare at Tableau or Muriel's Jackson Square and carve out some time to enjoy the world-famous beignets and chicory-infused coffee at Café du Monde. By nightfall, you can experience the throb of music spilling out the doors of jazz clubs and an endless selection of bars with drinks of every color to fit your liking along Bourbon Street.
Tours are a special way to learn about a city's rich past, and New Orleans has plenty depending on your interest. For a romantic experience, hop aboard one of the many boats that cruise the Mississippi River. Choose from options such as a scenic daytime jazz cruise on a steamboat. On foot, another great way to experience the city is by learning about its spooky past on a ghost tour.