There's a reason road trips are such a cherished pastime in the United States. For a quick weekend getaway, there's always something new to see on the open road. Pack the car, crank up the tunes, and start driving to discover a new spin on these familiar weekend road trip destinations.
1. Desert Adventures Start In Las Vegas, Nevada
Beyond the dancing fountains, show-stopping performances, and glittering casino lights of Las Vegas, there's a whole world of natural beauty to discover. Cruise past the Strip to Red Rock Canyon, a stretch of nearly untouched landscape with breathtaking panoramic views. While this relaxing drive is perfect for weekend road trips, it's most memorable on foot — pull off to hike the Calico Hills or explore even further to find the waterfall on Lost Creek Canyon Trail.
Afterward, hop back on the freeway and travel south for about 50 miles to the Seven Magic Mountains, a public art installation in the middle of the desert along Interstate 15. You can't miss the seven brightly colored towers climbing up to 35 feet high.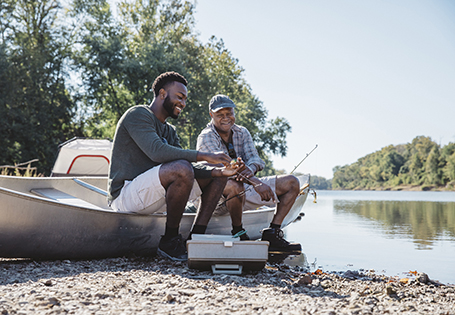 2. Lakeside Leisure Starts In Branson, Missouri
About 90 miles north of Branson, Bennett Spring State Park is nestled in a sleepy valley far from the smog of the city that greets you with gushes of crystal-clear spring water. Seasoned anglers will appreciate the abundance of rainbow trout, but outdoor enthusiasts of every age can meander from one tranquil moment to another in the area's hiking trails.
Keep going north and you'll find yourself at Lake of the Ozarks, adored by many as a destination for boating, fishing, and sunbathing with a splash. The Midwest will continue to surprise and delight you, right down to its impressive selection of wine. Experience it for yourself when you visit the Seven Springs Winery, set among rolling hills between Camdenton and Osage Beach. Swirl and sip a glass (or three!) of local wine and wander the trails as the sun dips below the Missouri foothills.
3. Mountain Views Start in Hancock, Massachusetts
Charm and character define the small town of Hancock, with scenery that begs to be explored. Set out for a leisurely hike for all skill levels at the Cascades Trail. The hike itself is just over 2 miles long, with bubbling streams, wildflower-blanketed meadows, and sunlight peeking through the treetops. Once you reach the end, you're rewarded by a breathtaking waterfall.
Take a scenic drive to Mount Greylock, a National Historic Site and the highest point in the state at 3,491 feet. On a clear day, you can see 90 miles in either direction, but the views aren't the only highlight of this destination. You'll also be treated to an iconic landmark: the Veterans War Memorial Tower. While you can only admire the structure from the outside, it's a powerful symbol representing the historical significance of World War I.
NOTE: Information may have changed since publication. Please confirm key details before planning your trip.