As winter approaches and the days grow darker and colder, the allure of a beach getaway to warmer climates gets all the more appealing. Trade in shoveling snow for sinking your toes into a sandy shore or exploring the natural surroundings of some tropical locales with plenty of winter sun. Since it's never too late to pack your bags in search of some much-needed winter sun, here are three beach destinations perfect for a last-minute winter vacation with RCI.
1. Winter Beaches In Mexico's Riviera Maya
Head to Southern Mexico for a getaway that will bring you even higher winter temperatures. The tropical Maya Riviera also enjoys its dry season at this time of year, meaning you can expect little to no rain.
The Riviera Maya is a 74-mile-long stretch of Caribbean coastline on Mexico's Yucatán Peninsula. In Playa del Carmen, adventurers can roam the region or swim in freshwater sinkholes, explore underground caves, and dive and snorkel along coral reefs.
Pair all that with world-famous beaches, UNESCO World Heritage sites, outstanding culinary offerings, and Mexico sells itself. It's therefore no surprise that it draws sun seekers from all over the world to its white sandy beaches and turquoise seas all times of the year, but especially during winter.
2. Winter Sun At Florida's Beaches & Theme Parks
Florida really needs no introduction. The 'Sunshine State' retains its warmth and blue skies every month of the year. You could hit the beach in Miami, or enjoy the tropical Florida Keys, famous for boating, snorkeling, and scuba diving, at any time of the year.
There's plenty to do inland as well, with the theme parks in Orlando offering days' worth of entertainment for families and big kids alike. The parks are even more magical during the Christmas period, as Universal Orlando Resort creates a Christmas wonderland at The Wizarding World of Harry Potter, and Walt Disney World Resort's awe-inspiring holiday decorations are sure to get you in the festive spirit.
Alternatively, if you'd prefer something a little different, winter is also the perfect time to explore Florida's famous Everglades. Thanks to the lower humidity, the biting bugs are nowhere to be seen, while alligators and other large wildlife are more active, increasing your chances of having a memorable experience (from a distance).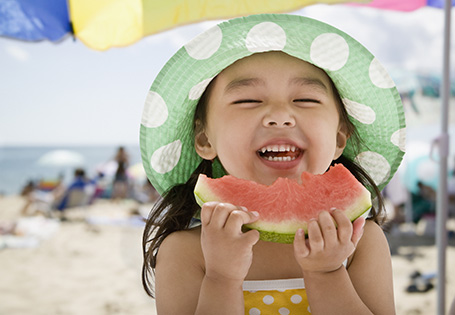 3. The Ultimate Beach Destination: Hawaii
When dreaming of winter sun destinations, the Hawaiian Islands almost immediately come to mind. These tropical, volcanic isles are blessed with a seemingly endless amount of sunshine. Winter temperatures average in the high 70s, meaning you can pack your shorts and enjoy the islands' spectacular scenery and superb beaches all year round.
Take a rainforest hike and witness live volcanoes on the Big Island. Tour pineapple and lavender farms on Maui. Explore the capital city of Honolulu on Oahu. Or, sit back and relax on the beautiful beaches of Kauai. Whichever island you choose, you're guaranteed to find somewhere that suits your vacation style, where you can enjoy the pleasant temperatures and clear blue skies.