It always feels like St. Patrick's Day at cozy Irish pubs, and these five welcome your whole clan. The wooden bars, the fish 'n' chips, the upbeat ditties — Irish pubs have a warmth that extends beyond the pint in your hand. Step in with the wee ones for an experience you'll all enjoy. Sláinte!
1. Raglan Road In Orlando, Florida
Raglan Road, on Walt Disney World property, has all the essentials of a classic Irish pub — in this case Guinness on tap and century-old imported walnut and mahogany furnishings, for starters. It's also all-generations-oriented with free parking and no admission fee.
With musicians playing spirited tunes on a center stage, and Irish dancers often performing alongside them, Raglan Road is as much an entertainment venue as it is a restaurant and drinking establishment. At times children are encouraged to join the fun, doing a little jig along with the professionals.
While parents enjoy contemporary takes on pub classics such as shepherd's pie with Irish peat-smoked mashed potato, the little leprechauns can have what they know with just a dash of the daring, such as "Irish chips" (french fries).
2. Shawn O'Donnell's In Seattle, Washington
Considering kids from the sprawling O'Donnell clan are often in the downtown Seattle restaurant themselves, it's no surprise that Shawn O'Donnell's will welcome your lads and lasses as well.
Sociable servers offer up kid menus, coloring sheets and puzzles, twice-weekly to live music. After your Irish soda bread and bangers and mash, grab a board game to spend more leisurely time amid the Irish knick-knacks and O'Donnell family photos. End on a sweet note with a shared scratch-made Irish bread pudding.
Be sure to take the kids to "the jacks." The bathroom doors at the Fremont Street restaurant are painted to look like Irish telephone booths.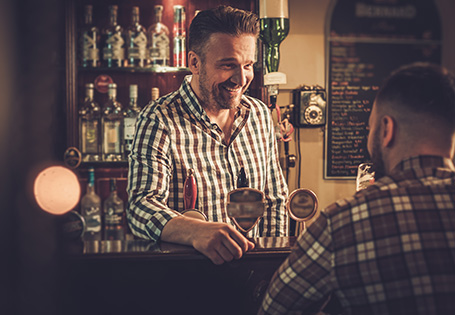 3. Murphy's Grand Irish Pub In Alexandria, Virginia
Gather the tykes around the three-sided fireplace, or on the patio overlooking Old Town Alexandria, to share the joy of Irish pub dining with the next generation at Murphy's Grand Irish Pub.
Go classic with a meal of corned beef and cabbage, or have the same ingredients a fun way—inside Irish egg rolls. Sip a Kilkenny red ale and sing along to each night's live entertainment, with no cover charge.
4. Donovan's Pub & Family Restaurant In Queens, New York
Shimmy a little shamrock into your NYC stay at Donovan's Pub, just 10 minutes from LaGuardia Airport. Since 1961, this traditional space with wood, brick and stained glass elements has brought a taste of Éire to the Big Apple
Upbeat and soulful songs will play in the background while you nurse an ale or Irish Coffee, maybe by one of three fireplaces. Events like Kidz Paint Day and Kids Open Mic lure the orange and the green of all ages. Coloring books with crayons are standard for young 'uns, and free Wi-Fi makes it easy to check flight info between bites of burger or broiled salmon.
5. Nine Fine Irishmen In Las Vegas, Nevada
You'll feel like you have the luck of the Irish at Nine Fine Irishmen, a two-story Irish pub in Las Vegas — built in Ireland and shipped to the casino-hotel New York New York — that's named for rebellious nationalists ages ago. Within a Victorian-esque space, you'll hear a mix of music from sing-along songs to old-time staples. Imagine the smiles as you all belt out the refrains to Molly Malone or Finnegan's Wake.
Share a platter of Irish nachos with beer-cheese sauce before going authentic with Colcannon soup or lamb stew.