The weather is warming up — must be time for a spring-themed vacation! Whether it's spring break, Easter, sweet treats, or blooming gardens that inspire you to vacation, the spring time has seemingly endless opportunities for fun. These six travel ideas with RCI encompass the unique and the mainstream — all kid-friendly for an unforgettable spring vacation experience. Spring fun has sprung. Hop to it.
1. Flower Power In Asheville, North Carolina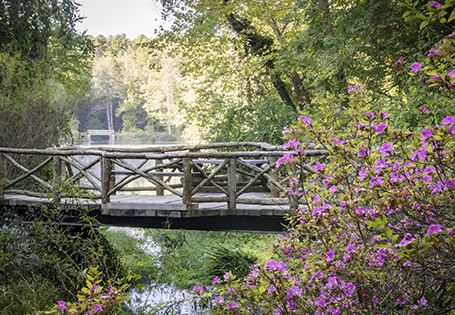 You know that joy you feel when the few bulbs you planted in fall nudge through the soil in spring as colorful tulips? Multiply that elation by tens of thousands. The historic Biltmore estate has tulips, tulips and more tulips abloom among its 8,000 acres as the weather warms, and all it takes to see them is an entry ticket. We're talking quantity — 78,600 tulips, most in a Walled Garden. They're near redbuds and dogwoods first, then azaleas in a rainbow of reds, pinks, and purples as May rolls around. The design is inspiring, an everlasting gift by the legendary landscape architect Frederick Law Olmsted. The backdrop for this vibrant visual? The majestic Blue Ridge Mountains.
2. One Egg-citing Hunt In Knoxville, Tennessee
Sure, you can hide dyed or plastic eggs in your home or RCI resort for the little ones to seek. It's a whole lot easier — and, one might argue, more fun — to let others do the work. Public egg hunts sweep the season from coast to coast. In Tennessee, Zoo Knoxville hosts twin Big Egg Hunt! activities — one for babes 4 and under, another for the 5-12 crowd. At 8:15 a.m. on April 3, 2021, children toting baskets or bags happily gather the thousands of eggs tucked into reachable places. Those who find a golden variety win a prize, and all the kids can trade in their loot for a large chocolate candy. Then stay and play. The entry fee includes zoo admission; you must buy tickets in advance.
3. Garden Goals In Orlando, Florida
Topiaries shaped like children's favorites (Bo Peep! Piglet! Anna and Elsa!) are just the beginning of the spring-related treats awaiting visitors to the Epcot International Flower & Garden Festival. This annual Disney World theme park event runs in 2021 from March 3 to July 5 with serious social distancing measures in place. See how bees make honey, observe butterflies in every stage of their lives, and step into tropical rainforest, spice, bonsai, and bamboo gardens. Dance to musicians as they entertain outdoors. Hunt for decorative eggs placed throughout the park. When hunger strikes, watch as chefs cook foods to order in outdoor kitchens.
4. Spring Fair in Puyallup, Washington
Watch pigs race, dogs dash and monster trucks wreak havoc at the Washington State Fair, from April 15-18, 2021. Over four days, families can try all kinds of all-American activities. Tots can ride tiny tractors along a test track and frolic at a hands-on farm-themed exhibit called Sillyville. Fill up on barbecue dishes made by wannabe competition winners. While you're in the area, watch boat and car Slamfest Demolition derbies.
5. Candy Land In Salt Lake City, Utah
America gets a collective sweet tooth in April, what with all those sugar-coated marshmallows and chocolate eggs. What better way to embrace the season than seeing how those clever orbs come to be? Mrs. Cavanaugh's Chocolates & Ice Cream is a fine place to start. Its North Salt Lake City factory produces the goods for six Utah and Washington stores, and the Cavanaugh family — proprietors since 1964 — invite the public in for a look-see. Weekdays from 10 a.m. to 3 p.m., you can spend 45 minutes watching staffs hand-dip confections. A couple of educational videos and a few tasty samples are part of the program.
6. Namaste and Hippity-Hop Almost Everywhere
Rather than stretch to a yoga video in your resort living room, visit a local studio — and in springtime, do that with adorably little floppy-eared creatures all around you. For bunny yoga, many rabbit rescue organizations bring a bunch of the small animals and let them loose around those doing their Downward Dog and Pigeon poses. Adorable, and heartwarming. Those cutie-pies are often adoptable, but we won't tell the kids if you decline the offer. You'll find special bunny yoga events throughout the season, both in cities and in rural areas. Among them are Orlando, Vancouver, Denver, San Antonio, and Seattle.
NOTE: Information may have changed since publication. Please confirm key details before planning your trip.