Counting the days 'til summer vacation? RCI resorts are ready, whenever you are. Use these five beach vacation travel tips to start planning your next big break. We've also included some helpful recommendations for RCI-favorite beach vacations so you can summer in style. Or, if you'd rather hop in the car and explore, discover these three tropical road trip ideas for Hawaii, Mexico, and the Caribbean.
Tip 1: Choose The Right Beach
First, know what type of vacation you're looking for. Are you in the mood for a relaxing retreat, with only your favorite book to keep you company? Or would you rather stay near town, with shops and coastal cafes close by? Whatever you need, the right beach destination is closer than you think.
Vacation We Love: Dominican Republic
If it's a culture trip you're craving, this Caribbean jewel is just right. There's plenty of white sand, bright blue water and warm tropical sun waiting for you in the Dominican Republic, but that's not all. Take a break from the summer sun to make memories dancing the Merengue or swimming in a cenote.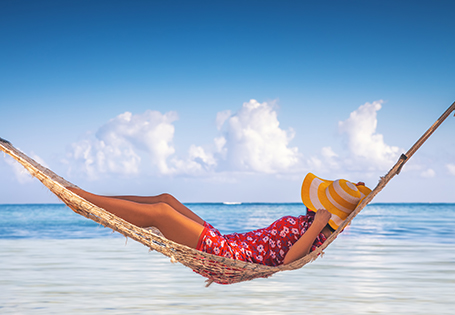 Tip 2: Know What Activities Are Available
What you do is up to you. Of course, travel looks a little different right now and some beach recreation may not be available. Check with your resort to confirm how local social distancing guidelines might impact gear rentals, tours, or large gatherings.
Vacation We Love: Hilton Head
This South Carolina destination has plenty of activities on offer. With 12 miles of beach on the island, renting a bike is a great way to explore the area. If you'd rather make a splash, the beaches of Hilton Head Island offer plenty of water sports from surfing to stand-up paddleboarding.
Tip 3: Pack The Essentials
Too much fun in the sun can put a damper on your entire vacay. Make sure to pack waterproof sunscreen with a high SPF. A wide-brimmed sun hat or stylish sarong are also handy in a pinch. And aloe vera gel is a lifesaver if you do get a little sun burned.
Vacation We Love: Myrtle Beach
With its classic boardwalk and laid-back atmosphere, Myrtle Beach is a perfect summer vacation destination. Forgot your favorite beach bag or sunscreen? Pop into one of the specialty shops along the boardwalk to pick up any extra sundries you might've missed.
Tip 4: Stay Hydrated
If you're spending the full day outside in the sun, make sure you're drinking plenty of water. A metal, BPA-free bottle is another essential item for your beach vacation packing list — keep yours filled with cool, filtered water. Bonus tip: Try adding a few lemon wedges or cucumber slices to freshen it up even more.
Vacation We Love: South Florida
Your reward for drinking plenty of water? Cocktails, of course! South Florida hotspots like Miami Beach cater to stylish vacationers with craft cocktails, world-class galleries, and Art Deco architecture.
Tip 5: Skip The Screen Time
Whether you're solo or with family, vacation is time to recharge your own batteries, not your devices. Give your eyes a rest. Bring along a few card games or toys for the kids, or opt for screen-free entertainment like a book or magazine.
Vacation We Love: Mexico
From the golden sands of Puerto Vallarta to the colorful coral reefs of Playa del Carmen, Mexico offers something for every style of beachgoer. You won't miss your screen time here. Spend your days lounging in the warm sun, surfing and snorkeling, or venturing out to nearby archaeological sites.