Mexico has an uncanny ability to tune into your preferred pace of travel. Whether you like a chilled-out rhythm or love nothing more than getting the adrenaline going, it's all available when you travel to Mexico with RCI. Below are five unmissable experiences you must try out, from relaxing at the best Mexico beaches to staying at Mexico's fabulous all-inclusive resorts. Whether it's your first or 50th visit, you can vacation to your own perfect beat.
1. Kick Back At Mexico Beaches
Just over 6,200 miles long, Mexico's coastline is vast, so finding the perfect playa to lounge on is a serious business. First, you should consider how you like your water, as Mexico rests on four stretches of water: the Pacific Ocean, Caribbean Sea, and the gulfs of California and Mexico. Here's a handy guide to a few of the best Mexico beaches.
Bahía Balandra, Baja California Sur: Shallow and calm waters make this beach popular with families, so arrive at La Paz's city beach early to get your preferred spot on the sand. You'll discover the azure waters are brimming with vibrant tropical fish — be sure to pack a snorkel.
Nuevo Vallarta Beach, Nayarit: If you love a good sunset, this is the Mexico beach for it. It's also a turtle-hatching spot, so you can watch as baby turtles scurry their way to the ocean.
Playa Maroma, Quintana Roo: This particular playa is one of the top beaches in the Riviera Maya on the beauty front, and it can be found in Cancun. Powder-soft sands and the calm waters make this beach serenity personified.
2. Indulge In Cultural Delights
The Mayan ruins of Chichén Itzá are likely to be top of the list for those with cultural yearnings when traveling to Mexico. It is the largest of the Mayan cities on the Yucatán Peninsula, and was the main ceremonial center of the thriving city from A.D. 600 until the 1200s.
The stepped temple pyramid, El Castillo, dominates the area and was built by the Mayans to represent their calendar. Eighteen terraces represent the number of months in the Mayan year, while the four staircases each have 91 steps denoting 365 days of the year.
Palenque in southern Mexico is much smaller, but you will discover some of the richest sculptures and architecture here. The jungle backdrop and dawn chorus of monkeys and parrots set the ambience of this ancient city, which flourished from 226 to 799 B.C. but was mysteriously abandoned in 900 B.C.
The jungle grew over the city, shielding it from view, and it was only excavated and opened to the public in the 20th century. Fortunately, the flora and fauna protected the hieroglyphs, which helped inform academics on thousands of years of Mayan history.
3. Explore Underwater Sites
Mexico is one of the world's best places to get an introduction to cave diving, with several flooded freshwater caves, known as cenotes, in the Yucatán Peninsula alone. Intermediate and advanced divers should try out Cenote Dos Ojos (Cenote Two Eyes), which extends for more than 50 miles, with several dive paths to choose from. It's considered the most extravagant of all the cenotes as there's more natural light for better visibility, plus the water temperature is perfect for swimming and snorkeling.
If you've always wanted to get a good look at life under the waves but don't like the idea of diving or snorkeling, the Sea Trek experience at Xcaret Park in Riviera Maya is perfect. The 40-minute experience involves donning a special helmet and, after instruction, gradually descending 23 feet underwater. You'll use handrails to aid you as you traverse the sea bed while watching out for resident critters.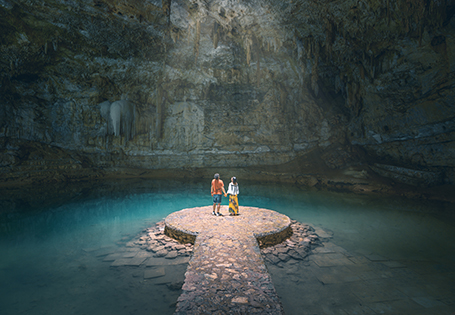 4. Enjoy Spectacular Shows & Entertainment
Mexico knows how to throw a good party — or should that be fiesta? Rhythms of the Night Puerto Vallarta is one of the country's top-ranked dinner theaters. Start your evening with a boat ride across the bay before proceeding to a candlelit beach dinner.
After dining, Savia: The Legend of the Five Suns kicks off in a mystical outdoor amphitheater, surrounded by tropical rainforest and overlooked by the twinkling stars of the night sky. The show was conceived by the co-creator of Cirque du Soleil, Gilles Ste Croix, so you can expect acrobatics, pulsating music, and vibrant dances and costumes that bring the Aztec story to life.
On the subject of Cirque du Soleil, over in Playa del Carmen, JOYÀ also draws on the country's history and heritage. The show tells the story of an alchemist and his granddaughter on a journey to reveal the secrets of life. As well as featuring the performing arts, this unique act incorporates culinary experiences to help engage the five senses.
5. Go All-Inclusive In Mexico
Mexico all-inclusive resorts are the way to go if you want complete relaxation and a totally hassle-free break. With its holiday hot spots of Cancun and Riviera Maya, it feels as if the concept of an all-inclusive getaway was invented just for Mexico. Here are some of the resorts RCI members love most.
UNICO Riviera Maya Resort #DF07: This luxurious, adults-only all-inclusive resort offers poolside and beachside service; five on-site bars and restaurants; and your choice of fragrant essences to perfume your room for the duration of your stay.
Hacienda Tres Rios #A475: This family-owned all-inclusive resort has put the environment first from day one. It is built on 780 stilts, which maintain the groundwater flow and therefore protect the surrounding mangrove ecosystem.
Hard Rock Hotel Riviera Maya Hacienda #6481: Here, fabulous service comes standard, with all the perks of an all-inclusive plus its own water park, Rockaway Bay. A multitude of slides provide a thrilling water experience for the whole family.
This article originally appeared as a blog post by RCI Europe. It has been condensed and republished with permission.