Looking for a respite from theme parks crowds while visiting Orlando? Take a day trip from Orlando to Canaveral National Seashore, which features the longest span of undeveloped public beach along Florida's East Coast. If you're looking for a beach near Orlando, this is the place to go. With 24 miles of pristine beach and 58,000 acres, the Canaveral National Seashore, part of the national park system, beckons you to explore its sandy shores, coastal hammock, pine flatwoods, lagoon, and offshore waters. Here's how to spend a whole day at the beach on your day trip from Orlando.
How To Get There
Canaveral National Seashore offers two entrance points. The north access (just south of New Smyrna) brings you through Apollo Beach. The south access (just north of Kennedy Space Center in Titusville) brings you through Playalinda Beach. Typically, the park opens daily from 6 a.m. to 8 p.m. with a $5 per car entrance fee, but check the park's website for the most current information.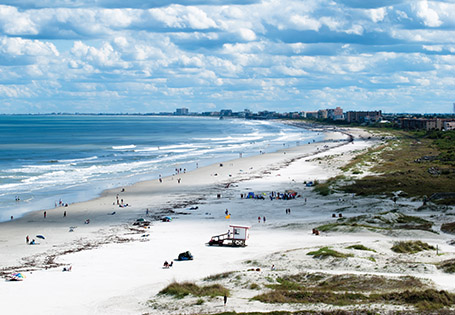 Play On The Beach
Cross the dunes to discover the Canaveral National Seashore's expansive beaches — most notably Apollo and Playalinda — unfettered by hotels, restaurants, and shops. The less-crowded Apollo Beach draws in more families while Playalinda Beach attracts surfers — and nudists on the remote stretch north of parking lot 13. Nestled between the two is Klondike Beach — only accessible on foot or by bike, which requires a back-country daily permit ($10 per person) at the park entrance.
No matter where you visit, this recreational paradise offers plenty to do. Go for a dip in the Atlantic Ocean, ride the waves on a surfboard, or take a tranquil walk along the shoreline. Try surf fishing, go horseback riding (Apollo Beach only), or hike through subtropical coastal hammocks on the Eldora Hammock and Castle Windy trails.
Head to Mosquito Lagoon (which comprises two-thirds of the park) for 156 miles of outdoor play, including a fishing pier jutting out over the lagoon. Try paddle boarding, fly fishing in the oyster bars, or kayaking around mangrove islands. Or launch your own boat to explore the backcountry of this shallow-water estuary.
Spot Wildlife
Teeming with wildlife, this barrier island sanctuary provides habitats to 15 species of federally listed threatened or endangered animals, including leatherback sea turtles, Florida scrub jays, and West Indian manatees. Anglers might reel in red drum, silver perch, and trout, or spot clams, blue crabs, and shrimp. In this birder's paradise, look for bald eagles, Arctic peregrin falcons, Wilson's plovers, and wood stork. And be on the lookout for bobcats, white-tailed deer, river otter, and bottle-nosed dolphins. During nesting season (May-November), sea turtles deposit up to 7,000 nests each year, so watch your step along the beach.
Dig Into History
For a peek into the past, hike to Turtle Mound, which was built by Timucuan Indians who tossed 1.5 million bushels of oyster shells, creating a 50-foot-high pile that offers sweeping panoramic views. Stop in the beautifully preserved Eldora State House for a glimpse into 19th century Florida life. Or tour the Snyder home, which rests atop the Seminole Rest shell mound, stopping in the "digital dig room" that replicates the work of archeologists.
Looking for more travel ideas? Discover the eight best day trips from Orlando.