Known for its beautiful beaches and luxurious accommodations, this popular Mexican destination has so much to offer. Keep reading for six reasons to spend spring break in Cancun, then book your next Cancun trip by going to RCI.com/Cancun.
1. Warm Weather (When You Need It Most)
White sand meets turquoise water on Cancun's postcard-perfect beaches, where visitors enjoy sunbathing all year long. From January through April, the weather in Cancun is unparalleled, with low humidity and little rain. Temperatures top out in the 80s, dipping just below 70 at night — a welcome reprieve as snow blankets Canada and portions of the U.S.
2. Deals & Discounts
Special offers from select resorts make booking your trip practical and affordable. Some deals include free nights, discounted all-inclusive fees, complimentary round-trip airport transportation, kids stay free, and hundreds of dollars in resort credits. Check RCI.com/Cancun for the latest offers.
3. Happy Hour Delights
Have fun in the sun while sipping a mojito, Miami Vice, or banana monkey (delicious coffee liqueur, chocolate, banana, and coconut? OK!). Beer drinkers will want to sample the michelada, a chilled blend of spices, salt, lime, and chili over ice. Order your drink poolside for a sweet treat between laps.
4. Outdoor Adventures
Hikers, swimmers, and culture seekers, listen up! Cancun's beaches and nearby jungles are ideal for activities. Slip on a swimsuit for an afternoon of snorkeling or scuba diving. Back on land, you can power through mud in a 4x4 all-terrain vehicle, explore Mayan archaeological sites, or soar above treetop canopies on a zip line.2
5. Authentic Ingredients
Cancun isn't just paradise — it's also a foodie's paradise. The area's cuisine is largely centered around locally sourced ingredients. And there's no fine dining required to feast on such finds, since many options are available right along the street's food stalls. Treat your taste buds to fresh tamales, lime soup, tacos, and empanadas. For dessert, try a marquesita — a crispy crêpe rolled with cheese and sweet filling.
6. All-Inclusive Resorts
At an all-inclusive resort, you pay one price and almost everything is included, from meals and drinks to tours and activities.1 Cancun is home to plenty of all-inclusive properties, each of which offers its own unique services and amenities. Start browsing your all-inclusive options at RCI.com/Cancun.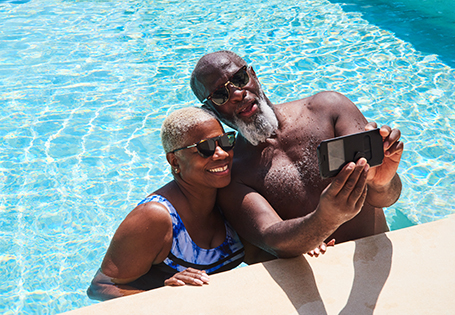 Prior to travel, RCI recommends contacting your host resort as well as local, state and federal websites for advisories that may impact your travel or vacation experience.
1 These vacations are limited and subject to availability. Depending on resort and season, all-inclusive fees may cover meals, drinks, tours, transportation, resort activities, resort amenities, services and facilities. Resorts with mandatory all-inclusive fees require the fees to be prepaid at or before check-in. A member may not be able to purchase food or drink at a resort if he or she chooses not to pay an optional all-inclusive fee. Fees, terms and conditions of packages covered by an all-inclusive fee are determined solely by the resort and are subject to change at any time.
2 RCI does not make any representations regarding the availability of or endorse any of the products or services provided by third parties.