The weather is starting to warm up and it's time to plan your next family vacation! Whether your loved ones enjoy big splashes or relaxing floats, these family water parks are the ideal spot for you. There are so many water parks in the U.S. to choose from, but you can't go wrong with visiting Orlando, Florida and the Wisconsin Dells, Wisconsin. Take a look at the best water parks in each location that'll help you decide where to throw on a swimsuit!
6 Best Family Water Parks In Orlando, Florida
You may think of world-famous theme parks when you hear Central Florida, but did you know about all of the water park options there? There are many different spots to choose from depending on your budget, which resort you're staying at, and other activities while you're visiting.
1. Universal's Volcano Bay
Get ready to say "cowabunga" because this aloha-themed water park features a massive volcano and tropical landscape. With raft rides, tubes, and slides, there's never a shortage of fun.
2. Aquatica Orlando
Experience the world under the sea with raft rides, family rides, and a fast-moving "lazy" river surrounded by amazing water creatures all day long.
3. Discovery Cove
For a more intimate day with beautiful sea creatures and an all-inclusive with food and drinks, Discovery Cove is the place to be. Rent a private cabana, swim with dolphins, and snorkel with amazing animals.
4. Blizzard Beach
Snow in Florida? This water park is themed to a failed ski resort and features rides and attractions with melted snow that powers the park. From a 120-foot-tall Summit Plummet slide and the world's longest multi-passenger whitewater raft ride to a Tike's Peak toddler play area, you'll find something for the entire family there.
5. Typhoon Lagoon
Enter a tropical paradise with plenty of slides and rafts rides, waterfalls, surfing lessons, and a wave pool!
6. Island H2O Live!
This high-tech water park features a massive wave pool, many raft and tube slides, a relaxing lazy river, and even an adult-only pool. It's not connected to a theme park, but you'll be close to outdoor adventures such as airboat rides, ropes courses, kayaking, and so much more.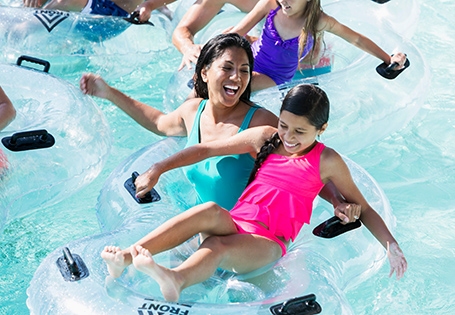 5 Best Family Water Parks In Wisconsin Dells, Wisconsin
Welcome to the "Water Park Capital of the World." The Wisconsin Dells is the spot to visit when your family has one thing on their mind: water parks! If you love the thrills of fast water slides and the option to relax via lazy rivers and loungers, this is the place to be.
1. Chula Vista Resort Waterpark
Enjoy your time holding on tight during the water slides and then a relaxing moment with peaceful river views. Chula Vista is all about relaxation and balancing with the fun of the park.
2. Kalahari Resort Water Park
Take a dive at the largest indoor water park in Wisconsin. This Africa-themed water park also offers many outdoor rides and pools as well!
3. Mt. Olympus Water & Theme Park
With five wild roller coasters, a wave pool with waves up to 9 feet tall, kiddie areas, and more, Mt. Olympus is a spot for everyone looking for that exhilaration.
4. Wilderness Resort Water Park
The Wilderness property features four indoor water parks, four outdoor water parks, and more than a dozen attractions! Enjoy the lake views and exciting rides among the beautiful Wisconsin Dells.
5. Noah's Ark Waterpark
Home to more than 50 water slides and attractions, Noah's Ark is an outstanding park to choose. It features swimming pools, water slides, and rides for all ages.