There's no better way to experience a new destination than to drive through it and its national parks on a road trip, making your travel time an adventure in itself. And if you don't live near a national park, no problem. Embark on a memory-making journey to a beloved national park by flying into a nearby airport, renting a car, and hitting the highway. The scenic views and quality time on the road — paired with the natural beauty, awe, and wonder of these parks — make for an unforgettable experience. Get inspired by these five national park road trip travel ideas, familiarize yourself with these tips for flying and traveling safe, and hit the open road.
1. From Casinos To Canyons
Where To Fly: Las Vegas, Nevada
Where To Drive: Grand Canyon National Park
Hit the road and drive a few hours east of Las Vegas to pay a bucket-list visit to one of the natural wonders of the world. The Grand Canyon's steep walls descend more than a mile to the Colorado River below, and the layered bands of the magnificent red rocks reveal almost two billion years of geologic history. To experience its rugged beauty up-close-and-personal, hike along a scenic trail. Bright Angel, the park's most popular rim-to-river route, offers breathtaking vistas.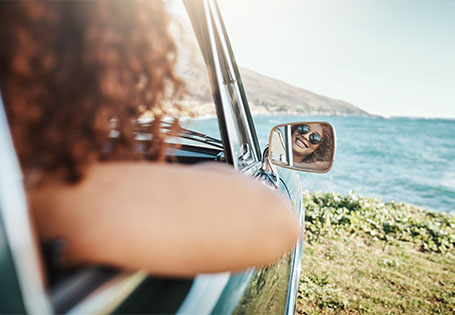 2. From Music To Mountains
Where To Fly: Nashville, Tennessee
Where To Drive: Great Smoky Mountains National Park
Depart Music City and road trip to the Great Smoky Mountains, the country's most-visited national park. With 150 trails to choose from, you'll discover your choice of cascading waterfalls, panoramic vistas, roaming wildlife like birds and black bears, or the iconic Appalachian trail itself. Hit the five-mile round trip trail to Abrams Falls, one of the most popular spots in the Smokies, or take a guided whitewater rafting tour on the Pigeon River and experience a different view of the mountain range.
3. From Theme Parks To Subtropics
Where To Fly: Orlando, Florida
Where To Drive: Everglades National Park
From Orlando, venture south until you land you in the country's largest subtropical wilderness, consisting of 1.5 million acres of wetland. There's no shortage of ways for visitors to enjoy the outdoors in the Everglades, whether paddling along the mangroves, strolling along trails, or biking through Shark Valley. A 65-foot observation tower offers a bird's eye view of the Everglades' diverse habitats and hundreds of species of wildlife, from manatees and alligators to pink roseate spoonbills and the endangered Florida panther. Plus, try these other eight Orlando day trips on for size.
4. From Rustic To Riverways
Where To Fly: Branson, Missouri
Where To Drive: Ozark National Scenic Riverways
Less than three hours from Branson, you can canoe, fish, float, and enjoy countless swimming holes at the first national park founded to protect an American river system. Ozark National Scenic Riverways is a hidden gem of the National Park System and offers outdoor recreation galore with cascading falls, natural springs, and two of the country's clearest spring-fed rivers. On land, take a ranger-guided lantern tour of Round Spring Cave to see impressive cave formations, or embark on one of the trails, either by foot or horseback.
5. From Pike Place To Pacific Treasures
Where To Fly: Seattle, Washington
Where To Drive: Olympic National Park
Head west to explore one of the country's most diverse national parks, a million-acre treasure in the northwestern corner of Washington state. At Olympic National Park, you'll find everything from glacier-capped mountains to lush rainforest and 70 miles of rugged Pacific coastline. Hop on a trail, cast a line and reel in wild salmon or trout, or scan the shoreline at low tide to spot sea stars, rock crabs, and clams in the tidepools. During migration seasons, you may also spot whales off the coastline.
From park passes and more, check out Orlando-area offers to help you save on your next trip. Check it out here.