Costa Rica and Mexico may sit 1,566 miles apart, as the crow flies, on the isthmus connecting North and South America, but these fabulous destinations share a tropical vacation idyll which makes for an exotic escape. With a jaw-dropping natural grandeur and a swathe of culture, these colorful countries are alluring year-round beach escapes offering beaches we dream of, a myriad of watersports, and many other activities to be enjoyed away from their sunny shores. Next time you travel to Costa Rica or Mexico, here's everything a laidback vacationer should do.
Travel To Costa Rica Cool
The beaches in Costa Rica are the main attraction and one of the finest is El Jobo Beach, a dreamy strip backed by lush tropical jungle set in a spectacular location on the El Jobo Peninsula, kissed on three sides by the Pacific Ocean. Lazing on the beach is enough for many, but if you want to get active the region offers everything — from world-class windsurfing and kitesurfing at nearby Salinas Bay, to golf, horse riding, and adrenaline pumping zip line rides.
Separating El Jobo from the laid-back hideaway of Puerto Carrillo to the south is Santa Rosa National Park, a star of the country's impressive conservation drive. It's more Jurassic Park, being home to rare dry tropical forest and sea turtles. Inland, the Rincón de la Vieja National Park is a wild landscape where pumas, jaguars, and sloth bears roam wild. The literal highlight is Santa Maria volcano, which soars to a height of 12,375 feet.
Puerto Carrillo, in the Hojancha in Guanacaste Province, is a Costa Rican oasis, having only 500 inhabitants and a very active fishing fleet. The starched white palm-lined sands of the Carrillo area offer plenty of space for everyone to unfurl their towel on their own piece of beach paradise. You can also snorkel from many of the beaches to offshore reefs where a world of brightly colored coral and exotic marine life awaits.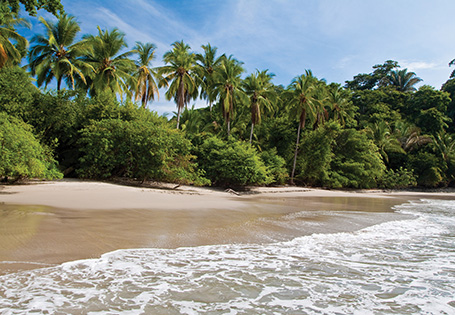 Travel To Mexican Magic
It's hard to imagine that a sunny oasis boasting year-round warmth and now attracting millions of visitors annually was, as recently as the 1970s, little more than a sleepy fishing village. Today Cancún offers a tantalizing taste of both worlds. At the heart of its appeal, however, remains those unspoiled sandy beaches which are fringed up clear waters and tempting offshore islands, all to be found here on the most famous holiday sea in the world.
The center of the tourist action is in the Zona Hotelera. It sits on a 13.5 mile-long island that reclines on the edge of a lagoon and is renowned for having some of the best strips of sand in the Americas. The most famous Cancun beaches include central Playa Tortugas, the less developed Playa Delfines, and a beach with bustling nightlife, Playa Forum. You can kayak or paddle board close to shore or bounce out across the surf, water-skiing or jet skiing. Some of the best surfing lies around the Bahía de las Mujeres, while further from shore deep-sea fishing awaits those in search of big sports fish, such as marlin (both blue and white) and sailfish.
There are plenty of things to do in Cancun on land too. Culture seekers can get to grips with the mighty Mayans at the Museo Maya de Cancún, a history and archaeology museum housed in a slick new building. Golfers will be in heaven with the many world-class courses — a star attraction is the Greg Norman designed course at Playa Mujeres — while the balmy temperatures are a key draw out of season.
Discover the best way to chill. Try these all-inclusive resorts in Mexico and the Dominican Republic.