When thinking of a theme park, a specific ride or experience may come to mind. But more and more, food is becoming the star of the show. Read on to discover can't-miss treats from some of the United States' favorite theme parks.
1. Dole Whip
The Most Magical Place on Earth is full of tasty food, but one of the most iconic is the Dole Whip. This light, refreshing pineapple soft-serve is on many visitors' must-eat lists. Even better, this treat is perfect for those with a dairy allergy. Try it at Disneyland in Anaheim or Walt Disney World in Orlando.
Travel Tip: Opt for a Dole Whip Float, which combines the traditional Dole Whip with pineapple juice for the ultimate tropical treat.
2. Cinnamon Bread
When visiting Dollywood in Pigeon Forge, Tennessee (30 minutes from the Smoky Mountains), Cinnamon Bread is an absolute must. There's a reason why Dollywood sells about 350 loaves an hour. This delectable bread is served fresh out of the oven, with icing or homemade apple butter.
3. Granny's Apple Fries
Everything is awesome at LEGOLAND, including Granny's Apple Fries. Perfect for both kids and adults, these apple slices are dusted with cinnamon sugar and served with a vanilla cream dipping sauce. Try it at LEGOLAND California near San Diego or LEGOLAND Florida near Orlando.
4. Butterbeer
Fans of the Harry Potter books and film franchise know that butterbeer is as recognizable as Harry's scar. This butterscotch drink is traditionally served cold, with a consistency similar to a soft drink. Make it even colder and try the frozen version. Or, if you're visiting during the winter months, warm up with a hot butterbeer. Try it at Universal Studios Hollywood near Anaheim or Universal Orlando in Orlando.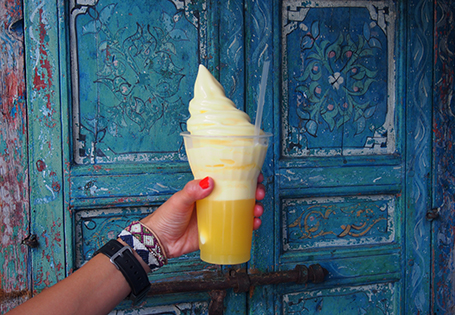 Travel Tip: Cool off with some butterbeer ice cream, or bring the flavor home with some butterbeer fudge.
5. Boysenberry Fun Bun
True to the park's namesake, there are plenty of boysenberry-flavored items at Knott's Berry Farm, but the true showstopper is the Boysenberry Fun Bun. Making a good thing even better, this deep-fried bun is topped with a heavenly boysenberry glaze and powdered sugar. This is a must eat on your next Anaheim vacation.
Still searching for your next theme park vacation? Try one of these eight vacation destinations  with some of the best amusement parks, water parks, and theme parks.