No matter whether you choose the east coast or west coast, these eight cities represent some of the best of Mexico travel. From the best beaches to much-needed relaxation to thrilling things to do, try one of these vacation destinations on your next RCI getaway.
Eastern Mexico Highlights
1. Cancún, Quintana Roo
Situated on Mexico's Yucatan Peninsula, Cancún is a tried-and-true vacation destination. Swim with whale sharks for an unforgettable maritime experience. Discover incredible underwater caverns in the Rio Secreto cenote. Visit the nearby ancient Mayan ruins of Chichen Itza and Tulum. With nearly 11 miles of pristine white-sand beaches and world-class entertainment, there is no shortage of adventure in Cancún.
2. Cozumel, Quintana Roo
Described as having "a Mexican heart with a Caribbean soul," the island of Cozumel sits just 10 miles off the Mexican coastline. Here you can snorkel the only inland coral reef on the planet. You can also hike through emerald jungles and dense mangroves in many of the islands protected preserves. And no trip to Cozumel is complete without a sunrise stroll on the east side of the island.
3. Puerto Aventuras, Quintana Roo
Puerto Aventuras is a scenic resort community in the Riviera Maya district. The community is split into a residential subdivision to the west and a tourist zone to the east. It is the only resort town in Mexico requiring gate access. There are two stunning marinas, a variety of fine dining and shopping options, golf, spas, and more. 
4. Riviera Maya, Quintana Roo
The Riviera Maya is a resort and tourist district located just south of Cancun and along the coast, running through Playa del Carmen all the way down to Tulum. The area is famous for its major attractions and archaeological ruins. The Mesoamerican Barrier Reef System runs along the coastal waters of the Riviera Maya and is the world's second longest barrier reef system. Explore the incredible biodiversity of the marine region with a scuba diving or snorkeling tour.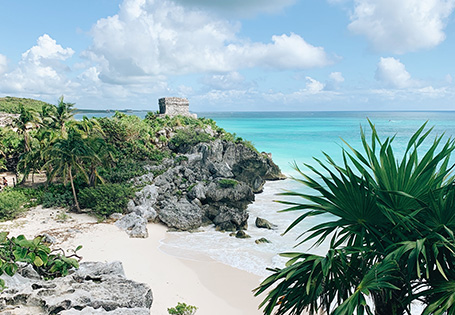 Western Mexico Hotspots
5. Acapulco, Guerrero
Hailing back to the glory days of mid-19th century Hollywood glamour, Acapulco is a beloved Pacific coast city and the largest beach resort in Mexico. Made famous by visiting celebrities and singers from the 1940s through the 1960s, Acapulco embraces its nostalgic past while catering to the needs of the modern-day traveler.
6. Mazatlán, Sinaloa
With a blend of Spanish, Mexican, and German influences, Mazatlán is a popular tourist site among Mexican and international travelers alike. If you have only one day in the city, spend it in Old Mazatlán. This is where you'll find some of Mazatlán's most treasured sights, including the Basilica of the Immaculate Conception.
7. Puerto Vallarta, Jalisco
Rising in popularity in recent years, Puerto Vallarta is an up-and-coming Mexican beach resort situated on the Pacific Ocean's Bahía de Banderas. Enjoy a scenic hike on the Palo Maria Trail and take in the natural beauty of the waterfalls along the way. Another point of interest is Cerro De La Cruz featuring breathtaking views of the city and beaches.
8. Cabo San Lucas, Baja California Sur
Los Cabos are as far south as you can get on Mexico's Baja California Peninsula. This prominent vacation destination is home to many distinctive landmarks, including the Arco de Cabo San Lucas. Cabo is also home to a thriving local arts community. For a truly unique experience, grab a bite at Art and Beer before visiting the Hotel California Todos Santos.