Always in season, mother-daughter getaways inspire visions of sweet talks, unhurried moments, and rich memories to honor a relationship considered one of life's greatest gifts. Here are some fresh vacation destination ideas to consider which will help you create a pitch-perfect itinerary and together, embrace new places and experiences on your special girls trip.
1. Savannah, Georgia
Heralded for its ghostly haunts, this coastal historic city is flush with mystery and intrigue. Stroll among the bewitching live oaks laced with Spanish moss in the Bonaventura Cemetery on a guided tour. Hear the legendary tales of this enchanting place, made famous by its inclusion in the southern gothic novel Midnight in the Garden of Good and Evil. To settle your nerves, tuck into Afternoon Tea at the Perry Lane Hotel for a classic southern experience. In the regal setting of the library, you'll be well-cared for whether it's finger sandwiches or a baked delicacy you're pining for.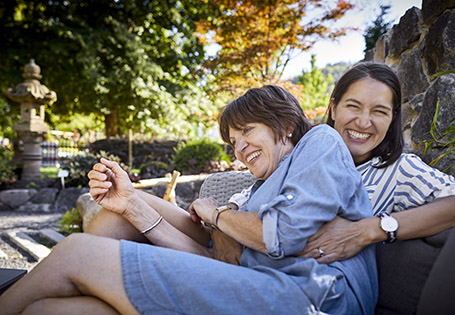 2. Las Vegas, Nevada
Using the city's public bike-share app, rent a bike ($5/day) and peddle through the revitalized Las Vegas downtown, taking your time in the Arts District. Get to know the area by tracking down local iconic street art for your Instagram feed. End your day by joining baby goats and fellow yogis for Goat Yoga, made even more fun with a sunset-wine package pairing goats with pink-purple skies of sunset, views of the mountains, and in the other direction, the famed Vegas strip, and — of course — wine.
3. Palm Springs, California
The Estrella Spa offers to blend the power of the Coachella Valley's healing dry heat and stately palm trees with an unforgettable outdoor spa treatment. Book a massage offered in a discrete outdoor cabana which allows for privacy while not taking you away from the nature. Refreshed, you'll be ready to dive into a cooking class at the acclaimed mother-daughter owned school Cooking with Class in the greater Palm Springs area. Select a specialty cuisine to master on their list of classes or enhance your wine-food pairing prowess.
4. Orlando, Florida
Spend a leisurely day outdoors in Orlando as a mother-daughter duo at The Showcase of Citrus, a family-owned farm comprised of 50 varieties of citrus trees where you pay for what you pick. Browse the Old Time Country Store sipping on a refreshing 100% orange juice slushy or fresh-squeezed juice. Hungry? Lunch is available outdoors at one of the food trucks on sight. An easy-going sunset paddle boarding adventure through Lake Life Paddle Adventures on glowing illuminated boards is perfect fodder for memory-making. At dusk, the Florida sky is spectacular with its spray of colors, uniquely appreciated from a paddleboard.
5. Shenandoah Valley, Virginia
Passamaquoddy Trail in Shenandoah National Park offers an idyllic hike featuring trails flanked by cheery wildflowers. Using the park's convenient wildflower calendar, familiarize yourself with which flowers will be blooming when you go. See a very different side of nature at the Grand Caverns in the town of Grottoes, and nearby at CrossKeys Vineyards, taste Virginia's renowned wine. Plan ahead and book a table for two at their restaurant, The Bistro, on the expansive patio with food on par with the sumptuous view, an indelible way to soak in the enchanting Blue Ridge Mountains in Shenandoah Valley.
Savannah*
Save on your next Savannah trip. Pay no resort fees when staying 3, 5, or 7 nights. Take advantage of this limited time offer (up to a $182USD value!) here.