There's a well-known phrase among skiers and snowboarders, "The mountains are calling!" Once you've been bitten by the winter vacation bug, it won't be long before you hear those mountains for yourself! And, with the right wardrobe and accessories, you can have just as much fun on a snowy mountain vacation as you can on a sandy beach one. So, grab yourself a toasty-warm jacket, gloves, and a pair of snow pants. The secret is to pack base layers, a sturdy pair of walking boots, thick socks, and your sunglasses (yes, you will need them) and head toward the mountains. Here's a list of six ways you can enjoy a winter vacation in the snow without stepping into a ski.
1. Ride A Gondola To The Top Of A Mountain For Lunch
When you combine a gondola ride with a meal, you're rewarded with the fabulous views as well as delicious local cuisine. Why not complement your lunch with a glass of wine as you take in the view? You'd be surprised how warm it can get in the sun, even when you're surrounded by so much snow, and how prevalent deck chairs are on mountain-side restaurant terraces.
2. Watch The Mountain Experts In Action
Choose from ski jumping, ski racing, pairs of skiers, or snowboarders pitched head-to-head in downhill slalom racing, half pipe, big air or slopestyle — think aerial acrobatics on skis and snowboards. For more sedate spectator sports, cheer on biathletes as they ski cross country. Even without the competitions, many resorts stage weekly snow shows put on by ski school instructors. They are usually free to watch, so all you have to do is turn up and cheer them on.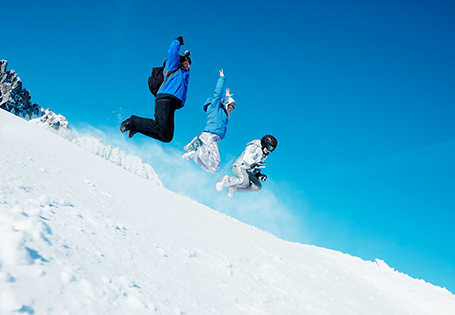 3. Test Your Precision With Curling
To learn the winning techniques of curling, no skating skills are required as you take to the ice for this team game, attempting to outwit your opponents by gliding the closest "rock" to the target. It has certainly been a highlight of the Winter Olympics for the past several years.
4. Soak In A Thermal Pool
Many resorts have heated pools, which have both indoor and outdoor sections. Floating in a steaming pool at night, looking up at a clear starry sky and ghostly mountain peaks looming overhead is a very special feeling. Plus, where you find winter sports, you'll find an abundance of saunas too, which are a perfect way to unwind and relax.
5. Strap On A Pair Of Snow Shoes
Snowshoeing — or snow walking — evolved over thousands of years as our ancestors hunted, migrated, and moved around their snowy landscapes. While the snow shoes have become more sophisticated over time, the simple pleasure of squeaking through fresh, crisp snow at your own pace is yours to discover. Many ski resorts now offer snowshoe walking tours of many different lengths and duration.
6. Cheer For The Home Team At An Ice Hockey Match
Ice hockey — it's exciting, loud, easy to follow, and just pure all-round hearty fun. You pick a team. Cheer them on. And, the team with the most goals wins. You might even be inspired to return the next day to take an ice skating lesson.