It would be crazy to visit Napa Valley and not go wine tasting at the local vineyards. But it would be even crazier to visit Napa Valley and not do much beyond that, especially if you're visiting during harvest season.
"The fall is the most beautiful time to visit Napa Valley," says Emily Martin, a local influencer whose blog, the Jetsetting Fashionista, covers a ton of great spots in Napa Valley. "It can be in the 70s or 80s by day, but in the evening it's much cooler."
Harvest takes place between August and October when all of the year's bounty is at its peak. As you drive around and visit the many wineries, you'll notice workers walking along the vineyard rows picking the ripe grapes that will eventually tease the palates of oenophiles everywhere.
The same landscape that produces world-renowned vintages provides an incredible backdrop for everything from outdoor recreation to shopping, dining, and even cultural pursuits. If you visit for more than a couple of days, there are many great places to explore beyond the beautiful vineyards.
Unwind At Spas
Calistoga is a rustic town with a Western vibe on the northern edge of the valley, and is famous for its mineral-rich waters and natural hot springs. Spend a day relaxing with a volcanic ash mud bath followed by a swim in a geothermal hot spring pool at one of several spa resorts that welcome day guests. "My favorite is the luxurious Solage," says Martin. "It has a pool that's heated with mineral water from the hot springs." Nearby is Indian Springs, which has an Olympic-sized hot springs pool. A more quirky experience awaits at the new Dr. Wilkinson's Backyard Resort & Mineral Springs, which has a kitschy, retro vibe that's perfect for a more down-to-earth, but equally indulgent, experience.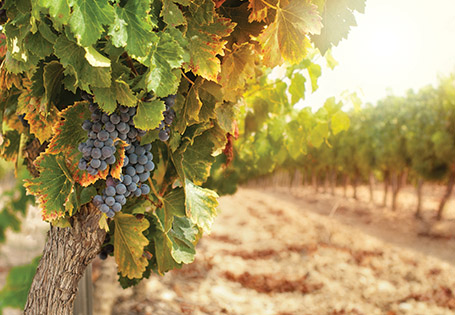 See It All From Above
For a total change of scenery, the views of the rolling vineyards are worth the early wake-up call for a ride in a hot air balloon with Balloons Above the Valley. Napa's cool morning temps and light winds create perfect conditions for soaring across the sky. The experience begins with pre-flight pastries and coffee followed by the inflating of the balloon, a sight to behold in itself, and a one-hour flight. The trip wraps at the Oxbow Public Market with its variety of local Napa food purveyors, including Anette's Chocolates, Hog Island Oyster Co., and so many others it's best to take a lap around the bustling market before deciding on lunch!
Shop 'Til You Drop
When it comes to shopping, "ladies who like to lunch and shop will want to visit St. Helena," says Martin. "It's comparable to New York's East Hampton." Peek inside some of the high-end boutiques and home decor shops then settle in at one of several sidewalk cafes for Grade-A people-watching. Near the center of the valley, downtown Napa has the most diversity of shops, but if you only stroll down one lane, make it First Street. A quirky collection of art galleries and unique shops such as Copperfield's Books, which specializes in tomes about cooking and travel, and Kalifornia Jean Bar flank the road here.
Try Outdoor Pursuits
Ample California sunshine means you can enjoy a variety of active pursuits in Napa Valley, too. Golfers looking to take a break from the wine-sipping can tee off at the pristine Vintner's Golf Club, a championship 9-hole course. The aptly named Chardonnay Golf Club has an 18-hole championship course with a unique layout surrounded by — what else — Chardonnay vineyards.
Cyclists love cruising the scenic 26-mile Silverado Trail that skirts several vineyards and farms, while water lovers go kayaking or stand-up paddle boarding on the Napa River with Kayak NV and Napa Valley Paddle. If a simple nature or hike is all you're after, you'll be spoiled for choices in Napa Valley.
Dine At The Best Restaurants In Napa Valley
All that exploring is bound to leave you hungry. Luckily, you're in one of America's best destinations for that. Yountville is considered the hub for some of Napa's best restaurants, including Thomas Keller's Bouchon and Michael Chiarello's Bottega, but don't overlook the smaller eateries you come across, too. The donuts at the Boon Fly Cafe, for example, merit a stop, as do the wood-fired pizzas at the Outdoor Pizza Kitchen behind the Charles Krug Winery (the gardens and carriage house are worth a stroll after lunch). Housed in an old olive mill since the 1800s, the Napa Olive Oil Company in St. Helena is a roadside shop that makes its own cheeses and hand-cured meats. It's easy to overlook that many of the same vineyards that produce great wines also make great olive oils. The Round Pond Estate offers tastings of their four estate oils. Charsaw Farms is a new family-owned lavender farm that welcomes the public to pick their own bundles. They also produce oils, soaps, and even baked goods from the lavender grown on site.
With no shortage of Napa Valley adventures and indulgences to experience, you may forget what it was that first lured you to the region in the first place — oh yes, the wine! Plus, try four other great wine regions in the U.S.
Start Packing With This Fall Weather Guide
Napa Valley enjoys a near-perfect Mediterranean climate with cool mornings and evenings and warmer afternoons. However, the region's mountains and valleys produce a series of micro climates that can vary widely, in some cases as much as 30 degrees at night. "The trick is layers, flexibility, and versatility," says Martin. "It gets very cool in the evening. That's how the grapes thrive." Warm sweaters, denim or leather jackets, and scarves are the norm.
A good daytime packing checklist includes a pair or two of shorts for active pursuits, the same number of jeans or comfortable pants (depending on how long you're staying), plus a jacket for when the weather turns chilly, and a pair of comfortable shoes. With so many world-renowned restaurants, people tend to dress up for dinner in Napa, so bringing at least one evening outfit is a good idea (think Maxi dresses and men's dinner jackets). "One swimsuit is also important," adds Martin. "Even if your hotel doesn't have a pool, you may want to visit the hot springs."