You could argue there's never a bad time to have a doughnut, but what better day to indulge in a sweet treat than National Doughnut Day? The annual celebration takes place on the first Friday of June and honors The Salvation Army "Doughnut Lassies" — volunteers who began baking fresh doughnuts for U.S. soldiers fighting overseas during World War I as a part of the organization's larger effort to provide support for the troops. In honor of the festivities, check out these one-of-a-kind doughnut shops on your next vacation — your taste buds will thank you!
1. Dat Donuts In Chicago, Illinois
If you've found yourself with a doughnut craving in the Windy City, then you're in luck. Dat Donuts' hand-cut doughnuts really are all dat. Grab one of their famous "Big Dat" doughnuts, hit Millennium Park, and take a picture by "The Bean" (aka Cloud Gate) if you're in the mood for a truly Chicago-themed day.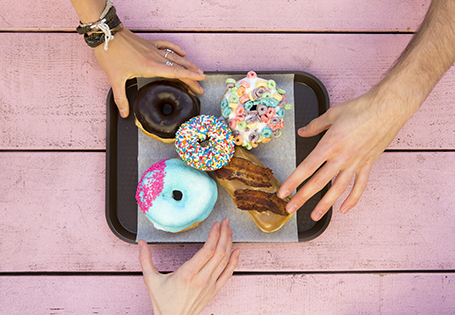 2. Voodoo Doughnut In Portland, Oregon
Ah, Portland — where bibliophiles and nature enthusiasts rejoice. From Powell's City of Books to the enchanting Japanese Gardens — the city has plenty to offer, but a trip Portland wouldn't be complete without a stop at Voodoo Doughnut. Voodoo Doughnut makes childhood (and adulthood) dreams come true with their imaginative ambiance and even more imaginative doughnut flavors. Cereal topped doughnuts? Bacon doughnuts? Themed doughnuts? Whatever your heart desires, you're sure to find it at Voodoo.
3. Café Du Monde In New Orleans, Louisiana
Originally established in 1862, Café Du Monde is a staple of the French Quarter. In between strolls on Bourbon Street and Mardi Gras celebrations, enjoy a Café Au Lait with one of their renowned beignets. It may not be the exact same thing as a doughnut, but a hole-less doughnut just means there's even more of the good stuff.
4. Randy's Donuts In Los Angeles, California
Modern meets classic at Randy's Donuts in LA, just 40 minutes away from Anaheim. Since 1952, Randy's Donuts has been a go-to for both visitors and native Angelenos alike. The menu offers delicious traditional flavors like glazed, as well as more unique varieties like their Matcha Tea doughnut. Whether it's spending a day at the Santa Monica Pier or catching a glimpse of the Hollywood Sign, you're sure to have a long list of things to check off while visiting the iconic city of Los Angeles. Make sure you add a trip to the building with the giant doughnut on top!
5. The Birthplace Of Dunkin' Donuts In Boston, Massachusetts
What better place to celebrate National Doughnut Day than Boston, Massachusetts — home of Dunkin' Donuts! In the suburb of Quincy, what would become one of America's most beloved doughnut shops was founded in 1948 as Open Kettle. Two years later, Founder William Rosenberg renamed the shop Dunkin' Donuts, and the rest is history. Today, you can find dozens of Dunkin' locations sprinkled across the city, making it a convenient place to indulge in a treat wherever your Boston adventures may take you. Whether you're catching a baseball game at Fenway Park or visiting one of the city's charming Irish Pubs, you're bound to find a Dunkin' along the way.