Experiencing the Aurora Borealis, aka the Northern Lights, is at the top of many travelers' bucket lists — and for good reason. Although the captivating phenomenon is most commonly associated with places like Norway and Iceland, you may not have to travel as far as you think to catch a glimpse of the cosmic colors. In fact, you may be able to spot them from your own backyard. Here are some of the best places to see the Northern Lights in the U.S. and Canada — and when.
Where To See The Northern Lights In The United States
1. Alaska
Where: Denali National Park, Fairbanks, Anchorage, Barrow, Coldfoot
When: August – April (Peak: December – March)
2. Maine
Where: New England Outdoor Center, Acadia National Park, Aroostook County, Sugarloaf Mountain
When: December – February
3. Michigan
Where: Headlands International Dark Sky Park, Port Crescent State Park, Upper Peninsula
When: August – April (Peak: October, November, April)
4. Minnesota
Where: Voyageurs National Park, Cook County
When: September – March
5. Idaho
Where: Idaho Panhandle
When: September – March
6. Montana
Where: Glacier National Park, Makoshika State Park, Bozeman
When: December – March
Where To See The Northern Lights In Canada
7. Northwest Territories
Where: Yellowknife, Tuktoyaktuk
When: September – April
8. Yukon
Where: Whitehorse
When: September – April
9. Alberta
Where: Jasper National Park, Banff National Park, Wood Buffalo National Park, Fort McMurray
When: September – April
10. Nunavut
Where: Iqaluit
When: October – April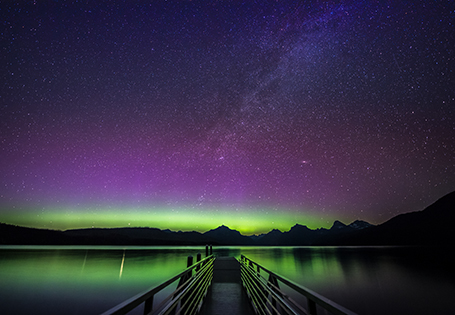 Conditions To Keep In Mind To See The Northern Lights
Wherever you're aiming to see the Northern Lights, it isn't all about location, location, location — timing and conditions are just as important. Clear, cloudless skies are ideal, so head out of the city to avoid excess light pollution. In most regions, the best time to see the Northern Lights is after sunset with peak viewing opportunities around midnight, so be prepared to tap into your inner night owl.
Although cold weather and the Northern Lights seem to go hand-in-hand, it doesn't have to be cold outside to get the best view. This misconception most likely stems from the fact that the Northern Lights are most visible during the winter season due to long hours of darkness. In most locations, September through March is the best time to see the show; however, depending on the region and conditions, it can sometimes be seen during April and August. The Aurora Borealis is technically active year-round, but as a general rule of thumb: The darker the sky the better when viewing with the naked eye.
Travel Tips For The Best Views Of The Northen Lights
If you don't know exactly where to start on your Aurora hunting quest, a solid go-to is a Dark Sky Preserve. After all, the most important requirement is right in the name.
Keep an eye on a region's K-index and weather forecast via apps or the internet. When it comes to evaluating your statistical chances of seeing the phenomenon, let science do the heavy lifting for you.
If you're making a special trip for the occasion, try to stay more than one night. The more viewing opportunities, the better.
Don't think you can make it to peak viewing times? If you're staying in a hotel or resort, try requesting a wake-up call to ensure you'll be bright-eyed and bushy-tailed for showtime.
Like much of nature, the Aurora Borealis can be highly unpredictable. No matter how perfect the night, catching a glimpse of the lights is never guaranteed, but chasing them can be half the fun. With a little knowledge, a sprinkle of patience, and a dash of luck — it's only a matter of time before you experience nature's light show for yourself.