Travel for the torch this summer. As excitement builds around Tokyo's rescheduled 2020 Olympics, the world awaits in anticipation. And with the reassurance of the games being a "go," there's no better time to live the Olympic spirit. Show your support for the sports and teams that unite the world with a vacation to an iconic past Olympic location. Whether you're seeking out adventure or refined relaxation, these four travel ideas are the gold standard in witnessing the Olympic legacy. So dive into history at one of these commemorative cities as you cheer on this year's tremendous athletes.
1. Utah Olympic Park In Park City, Utah
Head back in time to the 2002 Winter Olympic Games in Park City, and you'll experience a park and training center that is coveted by both athletes and enthusiasts alike. Zip lining, ropes courses, tours, shows, and ski and snowboard lessons among other unique offerings keep the Olympic spirit alive any time of year. Summer in particular is a great time to visit this park! Experience one-of-a-kind thrills for any age, including a summer bobsled experience, a zip line tour, extreme tubing, an aerial training splash pool, or an alpine slide — all summer-approved and ready to make memories for a lifetime, while indulging in a taste of Olympic victory unique to Utah.
2. Lake Placid Olympic Center In Lake Placid, New York
Venture to where the past meets the present. Host to both the 1932 and 1980 Winter Olympics, experience a rich history of memorable moments ripe to ring in the Olympic spirit this summer. As the venue where the famous "Miracle On Ice" hockey game was played in 1980, it was here that the U.S. Olympic Hockey Team defeated the Soviet Olympic Hockey Team to capture the renowned 4-3 win in the final seconds of the game! It is also where iconic gold medalist figure skater Dorothy Hamill trained in the arena in 1932. The venue's rich history can be reflected in its museums filled with memorabilia, videos, photos, plaques, and banners from past Olympians. That history lends itself to a modern day experience, where visitors can take a Skyride along the ski lift, or go bobsledding, skating, skiing, and snowboarding, all as a part of a remarkable visit to the beautiful Lake Placid area activities.
3. WinSport In Calgary, Canada
If Calgary and the Canadian Rockies is on your travel bucket list, WinSport is surely a place to be witnessed by athletic fanatics and Olympic enthusiasts alike! Home to the biathlon and cross-country skiing events in the 1988 Olympic Winter Games, the area offers a top-notch fitness facility used by the National Training Centre for Nordic Canada and Biathlon Canada, as well as several academies and ski clubs. Activities this summer to get you in the Olympic spirit include summer mountain biking on lift-accessible downhill trails, a monster zip line, mini-golf, downhill karting, summer bobsleigh, ice rink, and of course the esteemed Performance Training Centre, where professional trainers and coaches teach peak performance techniques for any age or fitness level. In the winter, Canada's Olympic Park houses one of Canada's largest snowboard and ski schools.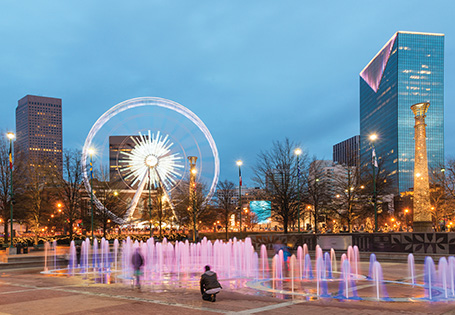 4. Centennial Olympic Park In Atlanta, Georgia
In the heart of Atlanta, Centennial Olympic Park stands out as a must-see on your travel itinerary. Commemorative of the 1996 Summer Olympic Games, Centennial Olympic Park lights up the city with Olympic spirit amid 22 acres of greenspace. Spend the day soaking in the Olympic spirit this summer relaxing on one of the many lawns amidst Atlanta's thriving entertainment district, or visit this exquisite venue for one of their signature events held at various times throughout the year. Take a selfie in the iconic Fountain of Rings Plaza while exploring other landmarks such as the Gateway of Dreams, Hermes Tower, and Paralympic Plaza. For those hot summer days, soak in the scenery of the Unity Plaza and water gardens, then go cool off in the interactive water jets of the Fountain of Rings (pictured above). A cool reprieve from the heat, this zero-depth pool area and photographic landmark delights millions of guests each year. Commemorative bricks line the park, and its legacy lives on as a historical and thriving reminder of the 1996 Atlanta Olympic games.