Break the rules on your next vacation with an activity that is frankly — and we mean this in a fun way — out of place. These family favorites are in locales far, far from where you'd expect them to be. Try one of these unexpected things to do on your next vacation with RCI.
1. Zebra Spotting — In California
Santa Rosa, California (1 hour from San Francisco)
Zimbabwe? Botswana? Nope, those wildebeest, cheetahs, and zebras are in the Golden State.
At Safari West, you can have a three-hour safari experience in or atop a Jeep. A guide will drive you around the 400-acre preserve, pointing out and telling you about zebras as you pass by, ring-tailed lemurs as you look on, giraffes as you gape up. The facility has 90 types of animals, more than 800 creatures in all, living freely on the "Sonoma Serengeti."
For a more private, behind-the-scenes excursion, check out private encounters like Brews & Buffalo or Winos & Rhinos.
2. Wine Tasting — In Texas
Texas Hill Country (1 hour from Austin; 1 hour from San Antonio)
Think the Lone Star State is all cowboys and tumbleweeds? Think again.
Texas Hill Country is home to more than 50 palate-pleasing wineries. The region's rocky soil, high elevation, and ample sunshine allow winemakers to produce varietals similar to those in France, Italy, and Spain.
Head to Grape Creek Vineyards to tour working vineyards and state-of-the-art production facilities. Or go off the beaten path to Flat Creek Estate, where you can pair wine tasting with a round of disc golf.
If you're visiting in April or May, make time for a trip to Becker Vineyards. The property blooms with lavender so beautiful and fragrant, you'll swear you're in Provence.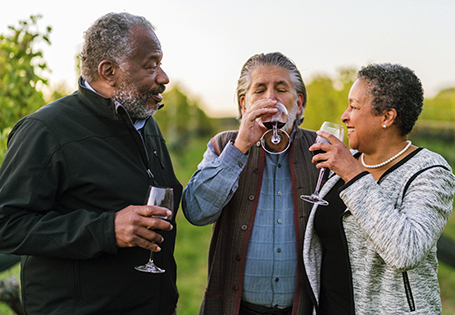 3. Scuba Diving — In Utah
Midway, Utah (30 minutes from Park City)
Not sure about flying to the Caribbean? Take your scuba diving a little — or a lot — inland.
Homestead Crater, a geothermal spring in Utah's Heber Valley, is a steamy 90+ degrees at all times. Strap on an air tank to look beneath the surface at fascinating limestone cavern walls, along with a wagon wheel and figurines added for fun. The space is illuminated, but a dive light will help.
Equipment rentals and scuba lessons are available right on site. If diving isn't your thing, you can also swim, soak, or try stand-up paddleboarding