Late winter or early spring can be a tricky time to pack for vacation with the changing weather and diverse climates. Use these packing lists and travel tips to ensure you have everything you need ready to go on your next trip with RCI.
New England Packing List
February can bring some challenging weather changes on the East Coast. There's still snow on the ground, but the sunshine through the clouds can potentially warm up the day.
What To Pack:
Comfortable, waterproof shoes in case of snow on the ground.
Lightweight bag of earmuffs and gloves — the weather can change from slightly warmer during the daytime back to icy, chilly nights.
Layers are key to be prepared for anything, any time of day. Grab some shirts, sweaters, vests, and long johns and pack those right after your comfortable shoes.
Warm coat, scarf, cozy socks, and gloves for those days that are a bit colder than others.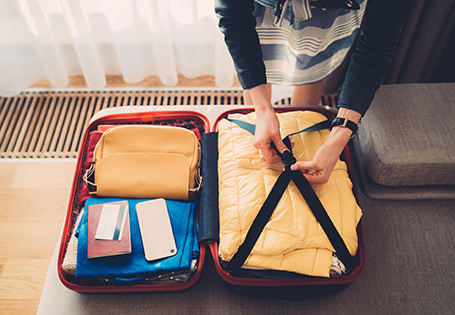 Southeast Packing List
With temperatures between 60- and 70-degrees Fahrenheit, and sometimes even higher, the southern states are ideal for those looking to get away from the snow. Expect sunny, warmer temperatures during the day and colder nights.
What To Pack:
Layering pieces such as short-sleeved t-shirts and sweaters are perfect for easy transition from day to night.
Swimsuits are always a good idea — if the Atlantic Ocean or Gulf of Mexico is too cold, your resort's pool will more than likely be nice and heated.
Sunglasses and sunscreen are a must because most days are bright and sunny.
Versatile shoes so you're prepared for anything from theme parks and beaches to walking trails and museums.
Southern West Coast Packing List
From a wide range of temperatures between 44- and 73-degrees Fahrenheit, the Southern West Coast is a beautiful place to visit in early spring. There are mild chances of rain, wind, and cloudy skies, but for the most part it'll be sunny skies.
What To Pack:
Raincoats and umbrellas should be the first thing in your suitcase. February is the wettest month in California.
Ski jacket, gloves, and warm hat in case you ditch the sand for snow.
Wetsuits if you've been waiting to catch some waves in the Pacific Ocean. The water is still cold, but the sunshine will warm you up on the shore.
Warm layers including long-sleeved shirts, pants, and hats are great to have in the early mornings and late afternoons.
Northern West Coast Packing List
For any time of year, expect rainy weather and 50-degree Fahrenheit temperatures. Always be prepared for the cold, but remember, there's no need to worry about the snow.
What To Pack:
Raincoats because whether you're exploring the hustling streets or the tranquil nature trails, the rain won't stand a chance.
Waterproof bags to pack extra layers, socks, and a water bottle for the entire day of adventuring from the ocean to the mountains.
Hiking and dress up boots for both those hiking trips and days checking out the art museums, local coffee shops, and hot restaurant spots.
Warm coats, earmuffs, gloves, and scarves so you'll always be warm during your vacation.