5 Best U.S. National Parks To Snap A Photo
By Stephanie Trovato
White-sand beaches, glaciers, swamps, caves, hot springs you can swim in (and ones you definitely can't), rainforests, scorching deserts, mountaintops, volcanoes — national park travel can take you to some of the most beautiful environments across America. And these five are some of the best U.S. national parks to take some stunning photos. When you're ready to book your next national park vacation, you can find accommodations close to the parks (and save big!) when you book through RCI-Travel.com. Then get your selfie stick, tripod, or self-timer ready to snap a shot at these photogenic landscapes.
1. Grand Canyon National Park
"Traveled and explored all the major cities in Arizona. South Rim of the Grand Canyon was one of my favorite spots to visit. Well worth the trip." — Dena, Cibola Vista Resort & Spa #DC62
An immense, jagged wilderness, Arizona's Grand Canyon National Park is one of the world's most popular natural attractions, with nearly 5 million people visiting each year. Its central feature is its vast canyon — a vivid sunset-blend of red, yellow, and orange sedimentary rocks, making you feel as though you're standing on top of the world. Whether you choose to walk the trails along the canyon's floor, raft the Colorado River, or just marvel at the views on the Skywalk observation deck, you won't be disappointed.
2. Acadia National Park
Maine's Acadia National Park is an alluring variety of beaches, ocean coastline, granite peaks, calm woodlands, and rippling lakes. As the only national park in the Northeast, its unique locale offers endless opportunities for fun including horseback riding, biking, hiking, and rock climbing. Known for its photogenic lighthouses, weathered pine trees, and sunrises atop Cadillac Mountain, Acadia National Park is an essential stop for that picture-perfect shot.
3. Yellowstone National Park
"We love to kayak and found whitewater kayaking even more exciting and fun! We also enjoyed Yellowstone, hiking, and horseback riding." —Scott & Lori, Aspen Townhomes #1327
Old Faithful isn't the only thing Yellowstone National Park has to offer. After visiting the famous geyser, be sure to check out the mountains, hot springs, waterfalls, and canyons of the oldest national park. This 2.2-million-acre beauty spreads across three states (Idaho, Wyoming, Montana) and is home to countless wildlife, including buffalo, elks, and grizzly bears. At the heart of the park lies Yellowstone Lake, which sits over the Yellowstone Caldera, one of the largest active supervolcanoes in the world today.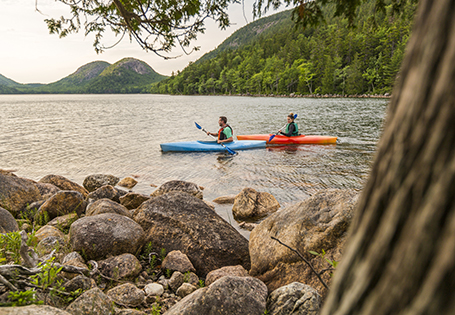 4. Great Smoky Mountains National Park
Home to some of the oldest mountains in the world, Great Smoky Mountains is the country's most-visited national park and one of the few that is free to explore. Straddling two states (Tennessee and North Carolina) the park boasts more than 500,000 acres of dense forests with over 1,600 species of plant life blanketing the mountains and creating a natural masterpiece like no other.
5. Glacier National Park
"We hiked in the park every day, so the private hot tub on our deck was especially appreciated each night." —Lisa, Glacier Wilderness Resort #0575
With its pristine mountain lakes, glaciers, 700 miles of hiking trails, and road trips along Going-to-the-Sun Road, Montana's Glacier National Park represents some of the best nature the U.S. national parks have to offer. Just along the Canadian border, you can experience it all — from majestic peaks and glacier-carved valleys, to gorgeous wildlife, as everything from elk to grizzly bears to wolves to mountain goats call the area home.
Want to make a multi-park road trip out of it? Try one of these three national park road trip routes on your next vacation.
*These vacations are limited and subject to availability.
Many of the products and services available in this program are provided by third-party guides, vendors and service providers ("Third Parties"). RCI does not make any representations regarding the availability of or endorse any of the products or services provided by Third Parties. RCI expressly denies any liability for an individual's engagement in any activity offered by or the use of any Third Parties. Additional fees, terms and conditions, and restrictions may apply and are subject to change as determined solely by the Third Parties. © RCI, LLC. RCI and related marks are registered trademarks and/or service marks in the United States and internationally. All rights reserved. Printed in the USA.