For many people, an important part of travel revolves around food. In fact, the World Food Travel Association describes food tourism as "the act of traveling for a taste of place in order to get a sense of place." What better way to experience a destination than eating a flaky croissant from France, fresh sushi from Japan, or an authentic pizza from Italy? When you crave international flavors, you can either travel abroad or look no further than your own backyard for the best restaurants.
Best Restaurants For Beloved Baked Goods
1. Du Pain et des Idees In Paris, France
The aroma of freshly baked bread wafts through the streets of Paris, well-known for its award-winning boulangeries (bakeries) sprinkled throughout the city. At Du Pain et des Idees, you'll primarily find breads, including freshly baked loaves of sourdough country bread, brioche, and its popular wood-fired Pain des Amis (friends bread). Owner Christophe Vasseur ditched his corporate job in 2002 to pursue his passion — crafting the finest baked goods as a self-taught baker. Housed in an authentic 1875 Parisian bakery, the picturesque Du Pain et des Idees retains the architectural details of painted glass ceilings and beveled mirrors, evoking the historical spirit of its origins.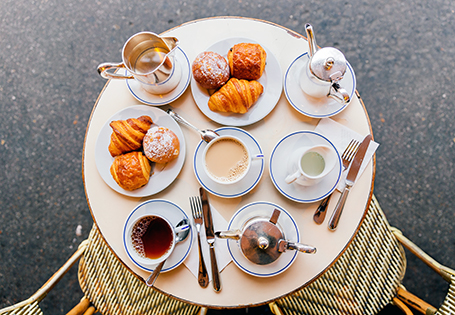 2. La Boulangerie In New Orleans, Louisiana
Located on Magazine Street, La Boulangerie thrives as a neighborhood gathering spot known for its handcrafted pastries and breads, including ciabatta, six-grain loaves, and whole-wheat sourdough boule. With a full menu ranging from sweet and savory pastries and sandwiches to cakes and pies, La Boulangerie serves up breakfast, lunch, and dinner, sourcing from local vendors and farmers to bring that fresh-from-NOLA taste. It's the perfect spot for any foodie traveler.
Best Restaurants For Palate-Pleasing Pizza
3. Pizzarium In Rome, Italy
Good things come in small packages, which explains the acclaim of the landmark Pizzarium. This 500-square-foot pizzeria dishes up more than a dozen kinds of pizzas (all available by the slice) created by dough master Gabriele Bonci. With limited seating, you'll want to grab a slice (or two!) to go. Locals and food tourists alike scramble here for a taste of Italy's best crisp-crust pies, including margherita, pesto, and potato-topped.
4. Spacca Napoli Pizzeria In Chicago, Illinois
When a restaurant lands a spot on Chicago magazine's best pizza rankings, you know the locals love it. Spacca Napoli Pizzeria in Ravenswood nabbed the best Neapolitan in the Windy City, thanks to owner Jonathan Goldsmith's traditional pizza-making prowess. For more than a decade, Goldsmith (a certified pizzaiuolo) has relied on imported Italian ingredients such as flour and olive oil to handcraft authentic Neapolitan-style pizzas, baked in an oven built by third- and fourth-generation Napoli artisans. Don't miss the Bufalina, Salsiccia, and Capricciosa pies — all made with blended San Marzano tomatoes.
Best Restaurants For Superb Sushi
5. Central Market Endo Sushi In Osaka, Japan
For a taste of "the nation's kitchen," locals flock to Central Market Endo Sushi, which has been around for 100 years with fourth-generation chefs now at the helm. Being located right next to the fish market guarantees incredibly fresh fish, perfect for its authentic sushi prepared in front of guests. Diners rave about "Ue Maze" (five different kinds of sushi using a variety of seasonal fish) and red miso soup with fresh clams.
6. Ebisu Restaurant In San Francisco, California
What better place to indulge in some of the best stateside sushi than San Francisco-based Ebisu Restaurant? This small, family-owned eatery has been a local staple for over 35 years and is well known for its ample-portioned bento boxes and fresh, affordable sushi. Chef-owner Steve Fujii and his wife Koko handcraft crowd-pleasers such as Salmon and Lemon 49er Roll, Dragon Roll, and Double Hamachi Roll.
Sushi not your style? Get an overview of a variety of popular Asian noodle dishes, plus quick tips on how to use chopsticks in Know Your Noodle .