Virginia's Shenandoah Valley is home to a pioneering past. Now, modern-day explorers take their turn roaming the region's many parks and natural wonders, sampling the spoils of its terrific terroir or hunting for vintage treasures in its charming valley towns.
Whatever "peaks" your curiosity, you'll find it somewhere within the bordering Allegheny and Blue Ridge mountains. Tackle your travel bucket list head-on with the best things to do in Shenandoah Valley. Will you cross them all off — or forge your own path?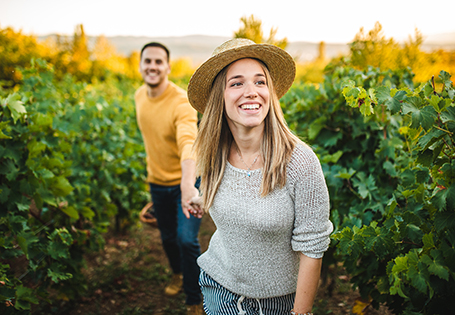 Virginia Rocks
1. Skyline Caverns
The perfect stop along scenic Skyline Drive. See if you can spot the spiky, rare crystal formations resembling orchid flowers far beneath the surface.
2. Luray Caverns
Deep within this intricate cave complex, the stalactites sing with the help of the world's largest musical instrument, The Great Stalacpipe Organ.
3. Shenandoah Caverns
Below Skyline Drive and Shenandoah National Park, brilliant calcite crystals sparkle like diamonds while iridescent drip formations create the stunning Rainbow Lake.
4. Endless Caverns
Countless expeditions have tried — and failed — to find an end to this sprawling network of underground passageways.
Perfect Pours
5. Star in the Valley Estate
Sip small-batch wines made with grapes harvested from some of the oldest mountains in the world.
6. Copper Fox Distillery
Hand-crafted with locally sourced ingredients, this world-class whisky will leave you in good spirits.
7. Brothers Craft Brewing
Learn all about the brewing and bottling process during an immersive craft beer tasting and tour.
8. White Oak Lavender Farm & Purple WOLF Vineyard
Visit this fragrant, family-owned lavender farm to shop their range of spa-quality products and sample a few classic varietals.
Treasure Hunting
9. Clementine Vintage
Search for vintage steamer trunks, repurposed furniture, kitchenware, and trinkets galore in this delightful Shenandoah Valley gem.
10. Massanutten Country Corner
Country charm abounds at this roadside artisan outpost near the Luray Caverns.
11. Shenandoah Heritage Market
From Civil War memorabilia to homemade jams, who knows what you'll find at the area's largest country market.
12. Factory Antique Mall
The ultimate treasure trove of vintage furniture and collectibles. At 135,000 square feet, it also happens to be America's largest antique mall.
NOTE: Information may have changed since publication. Please confirm key details before planning your trip.