You're dreaming of that trip to the Grand Canyon. Hiking the interior. Rafting on the Colorado River. Spotting elk, bison, and big-horn sheep. Marveling at a landscape 6 million years in the making. But your wallet protests, "There's no way you can afford that."
There is a way, and that's one of the best-kept secrets of shoulder season. From March to May and September through November, visitation drops as much as 50% compared to the Grand Canyon's peak summer season — and with it, so do prices.
Shoulder season is the sweet spot of travel. It's that perfect midway phase between peak tourist season and low season. And by traveling during this less popular time, you get to experience hot vacation spots on the cheap. Everything from airline prices to attraction tickets costs less than they would during peak season, which makes it much easier to travel on a budget.
That's not to say you should never vacation in peak season — there's a reason why everyone travels during that time, after all. But when you're looking to save money with the bonus benefits of moderate weather and smaller crowds, shoulder season is your best bet for wallet-friendly wanderlust.
1. Find The Shoulder
Every destination's shoulder season is a little different. It typically occurs around the spring and fall seasons, but it's not just seasonality that comes into play. Everything from school schedules to popular local events to weather patterns are factored in. In general, try to travel during the school year and avoid any major holidays or festivals that you aren't planning on attending. After you pick your next vacation destination, make sure to do a little research before booking your resort to time your trip for its own unique shoulder period.
When you're looking to the beach, spring is a good place to start. For example, in Puerto Vallarta, Mexico, prices drop 30%-40% April through early June, after the winter peak and before the hot, rainy season begins (The Washington Post). It's a great time to lie on the beach and snorkel without the crowds.
For those who hear the call of the mountains, fall is the time to go exploring. The days are chillier, but the hiking trails are dotted with changing leaves. If snow sports are more your thing, most traditional ski seasons don't have a true shoulder. But head to high-altitude destinations like Whistler, British Columbia, and you can still ski — and save — during spring shoulder season from late April to mid-June.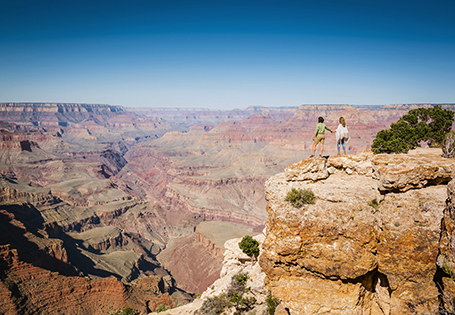 2. Get There Cheap
If road-tripping is an option, that's almost always the most wallet-friendly — especially if you'd have to rent a car when you get there anyway. Otherwise, make sure to compare flights before taking the plunge. Finding a cheap flight boils down to flexibility. As long as you're open to possibilities, you can usually find a good deal during that destination's shoulder season. Use a tool like Google Flights to research and compare itineraries to make sure you're getting the best bang for your buck. Try these travel tips for safe flights.
When researching, play around with the dates. Change the arrival and departure dates by one to three days to identify the most cost-effective travel dates, usually midweek. Plus, picking flights that depart at less-than-optimal times (think red-eye) is another way to save. Keep in mind that each airline has a different policy for the price of carry-ons and checked bags — sometimes the cheapest itinerary isn't the best option if you don't get a free carry-on. Need new luggage? Snag one of these five travel suitcases.
3. Pinch That Extra Penny
Vacations don't have to break the bank. And a good first step is figuring out your budget. When you have a firm price point in mind, it's easier to find ways to stick to it. Whether it's searching for discounts or choosing cheaper activities, there are many options for the savvy vacationer.
If you're flexible on where to travel, consider less expensive alternatives to popular destinations. The Outer Banks instead of Myrtle Beach. Quebec City instead of Paris. The wines of Texas Hill Country instead of Napa Valley. No matter where you decide to go, keep in mind that midweek getaways are typically more affordable than weekend jaunts.
One cost that racks up during every vacation is the food. It can be real tempting to hit that five-star restaurant for an extravagant dinner, but try going for lunch instead. It's cheaper than dinner and just as delicious. And if you still want to indulge in that fancy night out, you can offset the cost with cheaper breakfasts and lunches. Or, find the local grocery store and eat in at your resort for most meals. There's always a way to stretch your dollar to get the vacation you deserve.